Nice Mug!
By
Elyse H.

(Tolland, CT) - December 28, 2013 (
See all reviews by this customer
)
Pictures were nice and clear. The mug is very heavy though.

Super Fast
By
Ashley G.

(Middleton, MA) - November 22, 2013 (
See all reviews by this customer
)
Received my tumbler super quick! Wish it had let me use 7 photos, as there is absolutely room for 2 more photos. Also wish the tumbler held a little more, but it's great for on the go!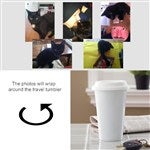 Quality construction but holds less liquid
By
Shopper

(Weston, MA) - June 28, 2013
This product is beautiful and well-insulated as described and the photo quality is excellent. I gave it a 4 instead of 5 because with the double-walled insulation comes the trade off of having less room inside for your beverage. It looks like it should hold 16 oz. from the outside; in reality it holds about 9 oz.

very nice
By
Rey Q.

(The Woodlands, TX) - May 16, 2013 (
See all reviews by this customer
)
pictures came out very clear. My wife loved it. I did think that it would have been a wee bit bigger, but nonetheless, it was nice....AND....now I see that the price is LOWER...I am going to get one for me.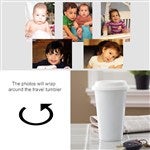 A Spectacular Coffee Traveling Cup
By
Karsin H.

(Licking, MO) - December 26, 2012 (
See all reviews by this customer
)
I gave this traveling coffee cup as a christmas gift to my mother and she loved it! The pictures turned out fantastic and clear, although I do wish the pictures would take up the entire space of the cup rather than just 3/4's of it. The cup is very durable and hard to break. I would definitely recommend this cup to other coffee and cappuccino drinkers.

great gift
By
Shopper

(Tunkhannock, PA) - December 23, 2012
this product is exactly what I wanted. the quality of the photos is excellent. the double wall insulation keeps my coffee hot while not burning my hand. I was skeptical about the silicone lid, but so far after a few uses nothing seems to be wrong with it; it keeps the liquid in just fine. great product! I give it a 4 and not 5 because it is considerably heavier than typical travel mugs, but that is due to the thick wall.

Love This!
By
Shopper

(Ashdown, AR) - December 22, 2012
Great for grandparents! Lots of photos of the grands.

Good gift
By
Holly C.

(Wolfforth, TX) - June 20, 2012 (
See all reviews by this customer
)
This mug made a beautiful fathers day gift. The only reason I didn't put it down for five stars is because when I first got it the silicone stopper plug for the bottom was torn and it hangs down so we can't use it to keep the mug insulated as its supposed to be. But still a good gift.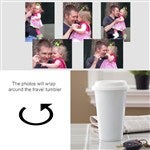 Super cute but small
By
Shopper

(Oro Valley, AZ) - June 11, 2012
I got this as a fathers day gift for my husband from our son. Pictures came out great! The quality is great. It's small but I knew that when I ordered. I wish they offered a larger size.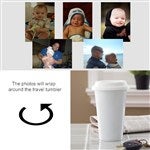 mother's day gift
By
Shopper

(Goodview, VA) - May 6, 2012
I was very pleased with the photo tumbler. I would have liked for the photos to be larger but was very happy with the quality of the color and clarity of the photos. Very nice! I want to keep this for myself!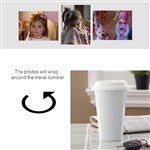 Wonderful
By
Traci W.

(Fairburn, GA) - May 1, 2012 (
See all reviews by this customer
)
It came out exactly the way it looked online. I was only shocked by its weight. I assumed it was a light plastic tumbler and was surprised to receieve a ceramic tumbler. That was my fault, I should have read it.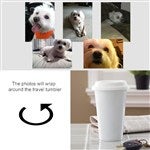 Picture perfect mug
By
Madelyn S.

(Aurora, IL) - April 17, 2012 (
See all reviews by this customer
)
This ended up looking very nice! I got it as a mother's day gift for my mom and have picture of my daughter and nephew on it. It was a little heavier than I thought it would be but I would have bought this anyway if I had known.

Cup looks great.
By
Shopper

(Covington, GA) - January 9, 2012
Printing turned out really nice. Only concern is the soft lid tends to allow drops to roll down the side.

Great gift for Grandpa. . . came out super cute!
By
Shopper

(Dyer, IN) - January 4, 2012
I absolutely loved the mugs- great quality and the pictures on it makes it such a cute gift! Kind of wish the pictures were a little bigger, but overall i would buy another one!

Love the Tumbler!
By
Shopper

(Greenville, SC) - December 30, 2011
Product was exactly as it appears. Great quality.

Fantastic gift
By
Linda T.

(Fall River, MA) - December 29, 2011 (
See all reviews by this customer
)
Wonderful gift for someone who appreciates a more personal touch. Easy to create and arrived quickly.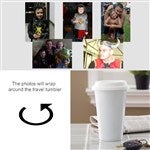 Christmas Gift For My Mother
By
Bradley T.

(Cullman, AL) - December 29, 2011 (
See all reviews by this customer
)
I got this is as a gift for my Mother. I had pictures of all her grandchildren put on it. She loved it, and so did everyone else who saw it. It is a bit heavier than I thought it would be, but other than that it was perfect.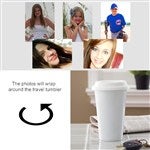 Perfect for a Christmas present.
By
Shopper

(Knoxville, TN) - December 21, 2011
This is perfect for my husband. He is an avid coffee drinker. I covered it with black and white pictures of our son. It looks great! I can't wait til he opens it! It will definitely be used every day. Thanks so much for such a cool product.

too much blank space
By
Jamie P.

(Glendora, CA) - December 17, 2013 (
See all reviews by this customer
)
I thought that the pictures would go all the way around the mug, but they only go around 2/3 of the mug leaving a white, blank area. Would be better if pictures were bigger and connected all the way around the mug.
Other than that its a nice mug and shoudl work great.

Photos Smaller than displayed
By
Charlotte H.

(Alexandria, VA) - May 21, 2013 (
See all reviews by this customer
)
I have always enjoyed products from Personalization.com and have rarely had a complaint. This product is not as good as I thought it would be. The photos are much more smaller on the actual product than displayed in the preview. Over all nice quality cup. The top is useless.

Cute idea but more of a novelty than useable
By
Shopper

(Freehold, NJ) - October 26, 2012
This tumbler was such a cute gift... wish that it was a little more user friendly the lid is slightly flimsy. This gift was more of a novelty for me rather than an everyday object

I HATE THAT IT IS CERAMIC
By
Marlena B.

(BLUFFTON, SC) - August 19, 2012 (
See all reviews by this customer
)
The pictures turned out great, and the thought behind it was good, but it is certain to break & is far too heavy!! It needs to be some sort of plastic & made for travel!!!

Great idea, should be improved
By
Meggan J.

(Greenville, SC) - August 11, 2012 (
See all reviews by this customer
)
I love the idea of this cup, it's a great gift. I got it for my dad for his birthday with pictures of my sister and I, as well as my niece and brother in law. I'm a photographer and my dad loves my black and white shots, so I used those to put on the cup. The pictures were too dark, and too small. They should also wrap the pictures all the way around the cup, not just on one side. Also, the cup it's self is very small. Not your normal sized travel coffee cup size. I guess you get what you pay for.

High quality but pictures are small
By
Shopper

(Hewlett, NY) - May 14, 2012
Am a huge fan of Personalization Mall but I was slightly disappointed with the mug. Although the mug is a high quality ceramic mug with a rubber lid, I had expected the photos to go all the way around the mug. However, it only went halfway around, leaving a large white spot in the back.

photo travel coffee mug
By
Colleen G.

(Manhasset, NY) - February 25, 2012 (
See all reviews by this customer
)
Loved the photos on the travel coffee mug idea. It is much smaller and heavier then I expected when I ordered it. Wish it was a bit taller and held more coffee!! As always, quick service and "turn around time!" I'm a big fan of Personalization Mall!

Nice Gift
By
Marie B.

(Saint Augustine, FL) - January 3, 2012 (
See all reviews by this customer
)
I ordered two of these as Christmas Gifts. One came and it looked great. The other, the pictures were blurry. I sent an e-mail and Personalization Mall replaced both of them for me. I was impressed - as I always am - with their customer service. I didn't care much for the top of the tumbler, as it seemed a little loose, but the reciepents of the gifts liked them very much.

small size, lid is a little funny
By
Rebecca D.

(Snoqualmie, WA) - December 30, 2011 (
See all reviews by this customer
)
I purchased this because I wanted to be able to send our photo mugs through the dishwasher. This mug gets high points for beautiful pictures and being truly dishwasher safe. The internal diameter of the mug is a little small (or else I really like to drink a lot of coffee!), and the rubber top has sort of a funny smell to it that I'm hoping goes away with time. I'd say it was the best I've found for something dishwasher safe, but could use some improvements.

It's ok
By
Tiffany K.

(Pleasanton, CA) - April 7, 2014 (
See all reviews by this customer
)
This mug is very narrow, not holding much coffee. I noticed that the description does not mention the amount of ounces it holds. Also the photos on here are pretty small, they need to be larger...too much empty space on the mug. I have purchased a lot of items from this website and this is by far the biggest let down of the products I've received.

just ok
By
Denea R.

(Windsor, CA) - June 24, 2013 (
See all reviews by this customer
)
The cup is nice, the lid is very cheap and not happy that the pictures dont wrap around the entire glass. Would have liked the option to put more pictures on the glass. Also would be nice if the glass was bigger.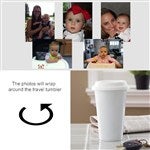 OK
By
Shopper

(San Diego, CA) - December 31, 2012
The cup was smaller than I thought it would be, but that's my fault for not reading the description properly. I was disappointed in the quality and size of the photos. They're quite blurry and only cover a little more than half the circumference of the cup.

Tumbler pictures too small
By
Shopper

(Melrose, WI) - March 5, 2012
I am disappointed with this tumbler....the pictures are too small that they put on it. The description says that the pictures wrap around the tumbler, they do not go all the way around. They could of made the pictures larger to fill the cup up more. I wish I would of done the 5 pic cup. Also, the cup itself is too small, I should of read closer, only 10oz. Oh and the delivery service they use....becareful, they delivered to a different address than ours and our fire # is clearly displayed at the end of our driveway! They did deliver quickly, but then I did pay $8.95 for the shipping, I don't recommend doing, if you are close, I think it would of made it without the extra charge.

Nice, but small.
By
Shawna P.

(Mission Viejo, CA) - February 14, 2012 (
See all reviews by this customer
)
The photo quality on this mug is great and it's nice to have the color photos on the white ceramic mug. However, the mug us much smaller than it appears in the photo and it is ceramic, not plastic. All of this information is in the description.

:(
By
Shopper

(Crosby, TX) - January 10, 2012
wasn't impressed.. pictures didn't come out very good.. to streched .. and only wrappes around half the cup.. everything i have ordered through here i have loved

Disappointed
By
Shopper

(Atlanta, GA) - January 2, 2012
I was really excited for this but ultimately was very disappointed in the quality of the picture on the cup. The cup itself is great quality, but the pictures turn out blurry and very low quality overall. The first cup I received had extra black printing marks on it and the pictures were actually out of focus. I called to complain and have it redone and the second cup I received was better quality (no extra black marks and the pictures were more focused) but the quality of the picture, printing, and colors was awful and disappointing. I was choosing between doing this and doing a picture cup with an insert, and thought this would look nicer and more sophisticated. Instead I would have gotten a much better picture quality had I just done it on my own with an insert. Overall, I am extremely disappointed and would advise against purchasing this item.

So-so
By
Shopper

(Chevy Chase, MD) - December 27, 2011
I was a little disappointed with how this turned out. I thought the pictures would wrap the entire way around the mug and the pictures on the cup came out blurry even thoiugh I used the original photos at a high resolution.

Tumbler Review
By
Kate C.

(Kyle, TX) - December 20, 2011 (
See all reviews by this customer
)
I ordered this one for my dad for christmas and ordered another one for my mom-in-law that had 4 pics and a title option. The pictures are not clear on either one. They look fuzzy, like you want to wipe off dust to see it more clearly, but there isn't any. I have ordered coffee mugs before and those were fantasic, perfectly clear pictures. These just did not turn out the way I wanted. I AM still giving them as gifts, just not happy with result. I am going to get the opinion of the recipients and then decide on return options.

Coffee Mug Photo Collage
By
John C.

(Ogden, UT) - December 20, 2011 (
See all reviews by this customer
)
Was a little let down with the quality of the photos. I shoot with a professional level camera and had to reduce photos down to 2MB so that they could be uploaded. When I received the mugs the photos were very grainy and small. The mug size was perfect for my gift receivers who drink a lot of coffee and so I expected the pictures to be a bit larger on the mugs and cover more of the mug's surface area. The product sample photo leads you to believe that the photos will cover a majority of the product however, in reality, they cover approximately half. Wish I would have known this prior to purchasing the product as a gift.

3 picture mug
By
Shopper

(Vista , CA) - May 20, 2013
Not that impressed, I purchased the 3 photograph coffe cup. The pictures were extremely small and barely wrapped around 1/2 the cup. You can actually turn the cup and not be able to see any photos. Again not at all pleased.

not a good choice
By
Shopper

(New York, NY) - December 17, 2012
So disappointed in this item. The photos are not as large as they look in the online photo. Not even close. And they dont go all the way around

Wish I did not get it for a gift for my mom

Small photo
By
Shopper

(South Windsor, CT) - June 19, 2012
I ordered this mug for my mother in law and was very unhappy. The photos are so small she couldn't even make them out. What a waste, there is so much space on the mug for photos you'd think they would have made them bigger. Would never order again.