Great Bday gifts for girlfriends!!
By
Valerie F.

( Las Vegas , NV) - April 29, 2012 (
See all reviews by this customer
)
I ordered these for birthday gifts for my girlfriends at work, now everyone will know whose drink is theirs!

Love it!
By
Shopper

(Louisville, KY) - April 10, 2012
My mother is a huge coffee drinker and I just knew this would be the perfect gift for her, for Mother's day! I haven't given it to her yet, but the letters are in her favorite colors and I know she'll just love it!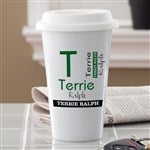 Nice Quality
By
Shopper

(Paso Robles, CA) - March 30, 2012
used as Bride's Maids gifts...they loved them...

Gorgeous!
By
Shopper

(Riverview, FL) - February 11, 2012
Quality of printing and mug itself exceeds the price. Everyone on my list is getting this for Christmas, including myself :)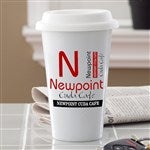 Very nice!
By
Myrna J. W.

(Rio Rancho, NM) - January 15, 2012 (
See all reviews by this customer
)
My tumbler arrived promptly, and is beautiful. Everything is just as ordered and the material is first class. The colors are bright and colorful.

Great B-Day gifts.
By
Shopper

(Holbrook, NY) - January 10, 2012
From start to finish, the process was effortless.

Loving the Tumbler
By
Niccole R.

(Tampa, FL) - January 3, 2012 (
See all reviews by this customer
)
I love this tumbler. It is a little heavy. If you drop it...that's it. I highly recommend this product if you are looking for a reusable tumbler.

Cute coffee mugs
By
Shopper

(Austin, TX) - January 1, 2012
Bought these mugs for my office staff and they were a big hit. Very cute. Excellent quality.

Great Teacher gift
By
Janice A.

(Lawrenceville, GA) - December 31, 2011 (
See all reviews by this customer
)
I purchased this for my best friend who is a teacher. She was thrilled to have a special coffee mug in her place of business. It was so much nicer than the picture....

Wonderful gift
By
Gail S.

(oakland, CA) - December 29, 2011 (
See all reviews by this customer
)
product arrived fast and just as beautiful as promised......and as pictured on line!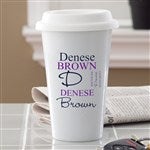 Excellent quality
By
Ieva B.

(Colorado Springs, CO) - December 19, 2011 (
See all reviews by this customer
)
It was a little heavier than I thought but it all worked! A great gift for coffee lovers!

Better than expected
By
Donna D.

(Metairie, LA) - December 19, 2011 (
See all reviews by this customer
)
This is a heavy duty travel mug with lid, should holdup for a long time and the print is great.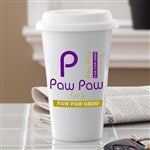 Great Gift
By
Shopper

(Bronx, NY) - July 29, 2013
Good quality and nice feel when holding! Brought for my daughter who drinks her coffee on the go!
Tumbler looks exactly as ordered! My daughter love this!

very nice but....
By
Shopper

(New Hyde Park, NY) - May 18, 2013
the actual cup is smaller than i thought it would be. it is actually one cup of tea. VERY happy with my cup!

Pretty Good
By
Shopper

(Yelm, WA) - January 9, 2013
I think this is a beautiful gift. The design came out wonderfully and it is very good quality as well as the product. The cup is heavy, feels like glass and the lid is rubber. The only complaint I have is that it only comes in one size and will hold less than a normal cup of coffee I think, I was a little surprised at how small it was especially as the cup itself is very thick. Still worth buying, I might even purchase more in the future :)

Ceramic Cup
By
Angela S.

(Benton Harbor, MI) - December 27, 2012 (
See all reviews by this customer
)
I expected the cup to be hard plastic and it was ceramic. Looks nice, rubber lid causes leaks, though.

Red looks Orange
By
Niki G.

(Midland, TX) - December 26, 2012 (
See all reviews by this customer
)
I really liked the cups as a whole but the picture is a little deceiving. It looked like a bright red but when i received them, the red looks ORANGE :-/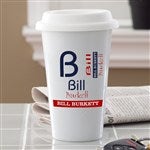 Great gift for coffee lovers!
By
Shopper

(Bronx, NY) - December 21, 2012
I'd love to give this item 5 stars but I'm not a coffee drinker & I haven't given them as gifts yet. However, the shipping was quick and easy and the cups are really nice. I know my coffee junkie girlfriends are going to love them, especially because they are customized just for them! Merry Xmas!!

Nice!
By
Shopper

(Reno, NV) - December 18, 2012
This produc is nicer than I expected. The porcelain is nice and the print it clear. The silicone top pops off a little easily, but it may be better when a hot beverage is inside.

One Sided
By
Ayanna S.

(Rockville, MD) - November 27, 2012 (
See all reviews by this customer
)
Love the cup and the design, I just wish it was on both sides of the cup, not just one

Great gift
By
Judith N.

(Broken Arrow, OK) - November 20, 2012 (
See all reviews by this customer
)
I bought this as a gift. I love the personalized part of this tumbler. My only reservation is that it would not be the greatest one to use to travel since it is glass. I would like to see one made of thermal plastic but maybe it couldn't be personalized as easily. Regardless this is well made and a great gift

Quality item
By
Shopper

(Bridgeport, CT) - November 13, 2012
I purchased this tumbler for myself, and it surpassed my expectations as it relates to quality. The only reason I didn't give it 5 stars was because of the size; it is a bit small.

business gift travel mug
By
Shopper

(East Brunswick, NJ) - November 10, 2012
love it, love the fact its dishwasher safe, but do wish i could choose larger sizes, i prefer them larger for my personal usage

nice
By
Charlene P.

(Carlisle, PA) - February 21, 2012 (
See all reviews by this customer
)
Nice product. Only downfall is it's a little heavy for older people

Classy Tumbler
By
Cynthia O.

(Fremont, CA) - December 9, 2011 (
See all reviews by this customer
)
Bought these for my SIL's - they own very little with their own names. I wish they were a little taller to fit more joe, but not overly priced for the size. They do keep their beverages hot in the cold Chicago winter. One caution: the writing in "beige" appears fuzzy, while the writing in the darker colors (black, navy blue, & burgundy) look clearer. It doesn't appear to be a manufacturing defect, but simply that the lighter color doesn't look as clear as the darker.

Nice mug but.....
By
Carolyn B.

(McGaheysville, VA) - August 26, 2014 (
See all reviews by this customer
)
This is a very nice mug but I didn't realize that it was ceramic. This makes it very heavy for a travel mug. I probably would not have bought it if I had realized that.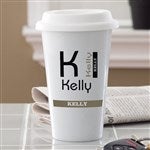 travel mug
By
Shopper

(Orcutt, CA) - December 11, 2013
I love the design of the mug. The personilized name came out great. I was a little dissapointed
That the mug was ceramic. I guess I missed that in the details. Looking at picture
Thought was plastic so I'm worried it will chip or break with a lot of use.

Tumbler looks great, but a bit smaller than I'd hoped for
By
Shopper

(Bakersfield, CA) - December 17, 2012
The personalization on this tumbler came out beautiful (except for the color red, as it looks orange on this cup). I ordered these for my staff at work, and everyone loved them.

Too small
By
Shopper

(Bulverde, TX) - January 13, 2012
The mug looks nice, however it it way to small. Very sad about the purchase.

Smaller than advertised
By
Shopper

(Coppell, TX) - December 20, 2012
Bought these as a gift for my daughter and she measured the liquid in them and they only hold 8 oz. She did say that they looked nice. So if you want a tumbler that holds 8 ounces, they would be fine.

Make Sure To Read Every Detail Before Ordering!
By
Shopper

(marietta, GA) - December 19, 2012
I love working with Personalization mall. Good customer service and rather fast turn arounds. I ordered this product to give to my employees; looked very nice and of course very unique. I even considered buying a larger order to use as promotional items. I unfortunately was surprised when they arrived, to find out they were porcelain. Ugh!!!! Yes, I didn't read the details, however, I have never in my life ever seen a porcelain travel mug. It travels...meaning it could drop and unfortunately if this drops, it shatters. I do not like this style of mug at all. In addition, how are you suppose to carry hot items? Coffee mugs are porcelain, however, they have handles. Great item, just need to be in something durable. I don't want the people I give this gift to worrying will they drop and either shatter or chip their gift. My request is for you to look into a buyer who can provide this product non-porcelain.

Too Small
By
Kelley S.

(Cambria Heights, NY) - February 1, 2013 (
See all reviews by this customer
)
I bought this as a gift for my husband to use when he takes coffee or tea on the go. When I opened the package, my first thought was, "This is way too small" but I gave it to my husband anyway and he said, "Why so small?" I ended up coming back online to see if I could find him a bigger mug to use on the go and noticed that the description of the original mug I had just purchased said plain as day that it is a 10 oz. travel tumbler. I somehow missed that when I placed the order, I think because it looked big to me in the picture. I did find a bigger travel mug (14 oz.). I haven't gotten it yet but 14 oz. does sound a lot more like it, right? ;)