Great mug!
By
Shopper

(Columbus, OH) - September 23, 2013
This is definitely a great personalized gift! You can add 4 of your own pictures and the mug itself is really nice! I didn't give it a 5 because I do think the pictures are a little small and could have been a little bigger.

Nice cup but heavy
By
Theresa F.

(Knoxville, TN) - January 1, 2013 (
See all reviews by this customer
)
I really like this cup because I like to avoid plastic but was unhappy with how heavy it is. Just not something I would want to carry back and forth to my car, work, etc.

GLASS MUGS ARE SOLID!
By
Shopper

(Yuma, AZ) - December 13, 2012
I really liked the mugs . But even more important, the recipients I bought them for, LOVED them! The only suggestion I have, would be, make the pictures larger. They are very small, and if they aren't close ups, they are hard to see.

More of a keep sake
By
Tracy A.

(Chandler, AZ) - December 6, 2012 (
See all reviews by this customer
)
The images that I uploaded look wonderful on the cup. My only issue is the cup may barely hold a cup of liquid and the lid is a soft rubber and would not hold liquid if the cup was knocked over. This cup will remain more of a decoration and that's ok with me. Also, the lid stains easily with coffee.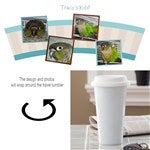 4/5
By
Shopper

(spencerport, NY) - November 24, 2012
Came out a littlle darker then i had liked, but over all a great product!

Perfect gift!
By
Jennifer C.

(Willowbrook, IL) - August 5, 2012 (
See all reviews by this customer
)
This is a great cup! I do wish it was available in other material other than ceramic. I bought it for my grandmother who is afraid to use it that it might get broken. But she loves it!

quality picture travel mug that is mw and dw safe!
By
Shopper

(Mount Holly, NC) - June 22, 2012
My husband loved getting this mug with pictures of our new babies for fathers day. Now he has a nice travel mug for his morning coffee and he has another way to show off his pictures ( & identify his mug).its so nice though he almost doesn't want to use it! The reason I bought this one is that it was the only one w a lid that was microwave and dishwasher safe. I only wish it had a handle. The pics came out nice- 4 pics w a message. The porcelain is heavy but the lack of a handle makes me afraid I'll drop it. It's worth the few dollars more than the other personalized ones I saw on the Web.

adorable...but a bit small
By
Kimberly H.

(Oshkosh, WI) - May 8, 2012 (
See all reviews by this customer
)
this mug is very cute. i am very pleased with the overall product but the size of the mug is a bit small.

Very Pleased
By
Shopper

(Kansas City, MO) - January 3, 2012
My mom loved getting a new coffee cup with pictures of her daughters and grand-daughter. The inside looks like it may only hold a cup or so, but the tumbler itself seems very durable.

Photo Tumbler
By
Shopper

(Springfield, PA) - April 4, 2014
The tumbler is good quality ,but I was a little disappointed that the pictures didn't wrap around the entire mug.There is a big white empty space on the other side!

Disappointed
By
Robyn D.

(Fayetteville, NC) - October 4, 2012 (
See all reviews by this customer
)
I just received my Tumbler. I was so exited when it arrived only to find that the pictures are too small to where I can barely see my childrens' faces. Only one of the pictures is visible because it is a close up picture. It would have been nice if the instructions would have said to make sure the pictures are to be close ups. There is so much unused space on this tumbler that if all the space was utilized, my pictures would have been larger and therefore visible.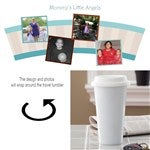 Personalized Reusable travel tumbler
By
Shopper

(Georgetown, TX) - September 7, 2012
The quality of this mug was great, the pictures turned out really well, but I was very disappointed in the size. It just doesn't hold a good size cup of coffee and will probably not be used because of that. It was a wedding anniversary present for my husband and very much a disappointment when I served him coffee using the mug for the first time. I have purchased several items from Personalization Mall and have been extremely satisfied with each of them.

Not what I was looking for...
By
Ryan T.

(Weeki Wachee, FL) - August 19, 2012 (
See all reviews by this customer
)
I didn't realize how heavy this cup would be and the lid has an unusually soft texture. It has an odd shape and would not hold a lot of liquid compared to similar travel cups. Unfortunately, I know my mom will find it more convenient to use a lightweight travel cup with the hard, plastic lid. The pictures were ok, but I purchased a regular mug here as well that was much more clear. I wish I got her the mug instead.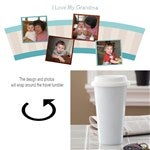 It's ok.... Room for improvement
By
Shopper

(Milford, MI) - June 23, 2012
This travel mug is ok.... I have been ordering from this sight for years and they have much better products. I don't particularly like that the travel mug is ceramic, very easy to break. The pictures are a nice touch but come out a little light in color. I wish u could change the font color. Overall ok product.

wouldn't buy again
By
PAULA N.

(LAKE WORTH, FL) - August 30, 2013 (
See all reviews by this customer
)
The pictures are very small and do not go all the way around the cup. The cup is insulated so you don't have to use a heat sleeve - unfortunately, this takes up much of the inside of the cup and doesn't leave a lot of room for a nice size cup of coffee.

Not what I was expected
By
Megan G.

(Magnolia, DE) - December 27, 2012 (
See all reviews by this customer
)
The tumbler was great however the lid is rubber and is difficult to put on and is very flimsy. I was expecting a normal lid that was plastic not a rubber lid.

not as great as expected
By
Shopper

(Houma, LA) - June 20, 2012
This is more of a glass with a lid that a travel tumbler. Also, there is an area on the back that is blank, which is unattractive. This area could hold more picture, or they could have wrapped the banding all the way around. This was a father's day gift to the grandfathers who drink coffee daily and want to show off their new grandson. But with this item they said it would be their "special cup" and wouldn't bring it anywhere since it looks so delicate.

Not happy
By
Shopper

(Hayward, CA) - May 21, 2012
I was not very happy with this company. I ordered this tumbler for my daughter for Mother's Day...spent the additional 20.00 to get it in time. The order arrived Friday, but was not complete...they left the cover out of the order. I called and was told...it will be shipped on Monday! This should have been sent overnight since it was there mistake. It's really nice to give a present when it's not complete! I have written to them to express my unsatisfaction and still have not received a response!

Not usuable for hot liquids!
By
Stephanie M.

(Columbia, MD) - March 28, 2012 (
See all reviews by this customer
)
I bought two of these for gifts. Both are sadly just sitting out for display to see the pictures because both recipients find the mug useless. The mug obviously doesn't have a handle and it is just way too hot to use for hot drinks like coffee. VERY disappointed in this design!

Too small, pictures very light
By
Shopper

(San Antonio, TX) - February 2, 2012
I was disappointed with this Tumbler. It does not hold much and the lid does not fit well, and leaks. The pictures are small and are light and not very clear. Very disappointing, especially for the price.