LOVE LOVE LOVE
By
Crystal T.

(franklin, OH) - December 30, 2011 (
See all reviews by this customer
)
This was my mom's favorite christmas gift. Great for any mom! She will LOVE it!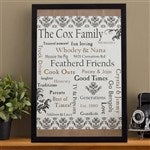 Product Features I Liked
By
Lee L.

(Burlington, NC) - December 23, 2011 (
See all reviews by this customer
)
I was so surprised when I received the Our Family Personalized Canvas Art. It was much larger than I thought it would be. It was sturdy, and lovely. I gave it to a friend for Christmas this year and she was absolutely thrilled. I will order this item again the presentation is great.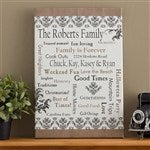 love it
By
Elizabeth C.

(Newport Center, VT) - December 20, 2011 (
See all reviews by this customer
)
I brought this for my husband for Christmas and my whole family loved it. my son said that this PersonalizationMall.com is really neat.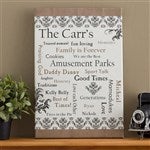 Spectacular Keepsake
By
Shopper

(Peoria, IL) - December 18, 2011
the canvas turned out exactly as portrayed in the preview. What a keepsake! It's a one of a kind. My only complaint would be I wish the canvas were bigger.....but it still looks fantastic either mounted on the wall or propped against a shelf...well worth the money. The colors are neutral so works well in just about any room.

Since my children are married, I used all our family names.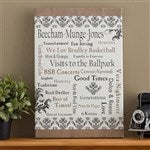 Beautiful!!!
By
Shopper

(Cherokee, TX) - December 14, 2011
We couldn't think of anything to get our parents for Christmas. When we saw this canvas, we knew it was perfect for them! I love your interactive ordering...we were able to see exactly what the canvas would look like. The finished product is beautiful and I can't wait to see their faces when they open it!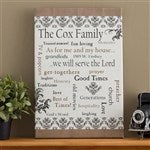 Great Family Gift
By
Laurie B.

(Knoxville, TN) - December 12, 2011 (
See all reviews by this customer
)
I was not disappointed when I received this. It arrives exactly as shown and was processed super fast. I will more than likely be ordering another.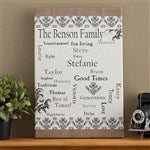 Great Christmas Gift
By
Shopper

(Vancouver, WA) - December 9, 2011
What do you get parents that have no need of anything? This canvas art is beautiful and gives the sentiment that shows how much you care. We were able to add fun trips, places growing up and all of our names on this canvas. The price can't be beat and the quality is beautiful.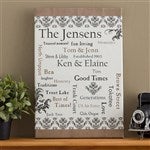 Very Nice, A Little Thin
By
Kristie P.

(Toledo, OH) - November 30, 2011 (
See all reviews by this customer
)
I was very pleased when I received my canvas, It was very well printed, and looks great on canvas. I wish it was a tad thicker, but that's personal preference, it's thinner than other canvases I own. Otherwise, it's all I had hoped it would be. My first order with this site, and I am VERY pleased!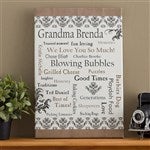 i would totally recommend this !
By
Kyle C.

(Canandaigua, NY) - November 30, 2011 (
See all reviews by this customer
)
it truly is a beautiful canvas ! and totally touching ... i gave it to my mother in law and she's not the crying type...she was so touched she shed tears ! so beautiful !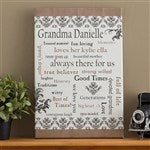 Wonderful Gift
By
Tara S.

(Mount Laurel , NJ) - November 23, 2011 (
See all reviews by this customer
)
I received a Framed Canvas Art for an Engagement gift and I recently purchased an Un-framed Canvas Art for a friends Engagement gift. Both with or without the frame the Canvas is Beautiful! I love it and would definitely recommend it. Very unique and who doesn't like special quotes/memories!!??!!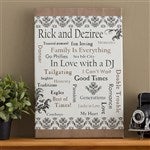 My family Canvas Art
By
Margaret F.

(Hobart, IN) - November 21, 2011 (
See all reviews by this customer
)
The Our Family Canvas Art piece is a new cherished wall hanging in my home. It summarized the joyful events our family has shared over the years. The quality of the print is top notch. Once again, another Personalization Mall quality item.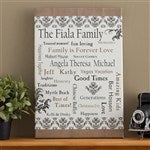 Dad's gift
By
Kara K.

(Wright City, MO) - November 20, 2011 (
See all reviews by this customer
)
I loved it so much that I had to give it to my dad the day it came in the mail, eventhough it is a Christmas gift!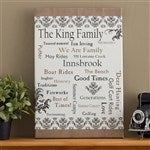 Captures our Lake House on canvas
By
Janey T.

(Kingston Springs, TN) - November 19, 2011 (
See all reviews by this customer
)
The Lake House was built by my husband's father who is deceased now. It holds memories untold of family and activities and in one small canvas art, you have helped us remind all of these beautiful memories. It is now hanging on a "can't miss" wall reserved just for family pictures. What a wonderful and unique addition. Thank you Personalized Gift.

p.s. I have already been asked by several for your web site, which I quickly provided.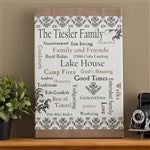 REMAKE AND REISSUE
By
Catherine K.

(Prescott Valley, AZ) - June 16, 2014 (
See all reviews by this customer
)
I was premature in my review...I got hold of Personalization Mall and they remade the print and reissued to my daughter's new address!!!! that is customer service!!! rather than us have to track down the package - they are redoing it....how awesome is that!!??

Thank you Susan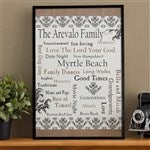 Family souverniers
By
Shopper

(Burlington, NC) - May 25, 2014
We ordered for keepsake for our aunts and uncles they absolutely loved them.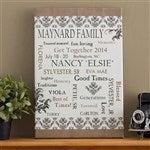 Canvas makes a lovely gift
By
Shopper

(The Villages, FL) - March 4, 2014
The personalized canvas is a perfect way to celebrate memories of a life together. The canvas seems to be of good quality, was very easy to create, and the delivery was timely.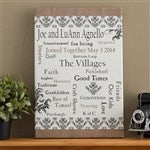 love love love
By
Shopper

(Chicago, IL) - December 20, 2013
The gift is truely amazing. I never have any complaints of the gifts I get from this website.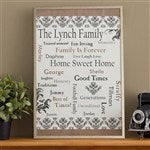 Personalized Canvas
By
John B.

(Huntington Station, NY) - December 19, 2013 (
See all reviews by this customer
)
This canvas superseded all of my expectations. There was plenty of room to include names and meaningful phrases pertaining to my gift recipient's life. The quality is excellent and I know it will be treasured for many years to come. I can't wait for the next occasion when I can order another one of these special gifts!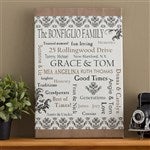 Family Canvas
By
Cathy A. S.

(Fairdealing, MO) - December 4, 2013 (
See all reviews by this customer
)
Your Family Personalized Canvas Art print is the perfect Chirstmas Gift that will be proudly displayed and remembered for years. It's very well made and beautifully printed. The quick turn around was amazing. Thank you for your excellent service and Quaility product. Cathy A.S.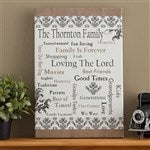 Beautiful!!!!
By
Lynnsie R.

(La Porte, IN) - May 20, 2013 (
See all reviews by this customer
)
I was so excited about putting this together for my parents. It's beautiful!! Nothing but positive feedback since we got it! I'd recommend this to everyone!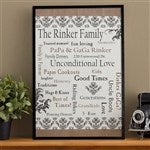 Hits the heart
By
Devon S.

(Ellisville, MS) - December 5, 2012 (
See all reviews by this customer
)
This is a perfect gift for the person who has everything. I loved it!! Only complain is that I wish you could add what you want instead some words come already on the canvas. Also I wish it covered the entire board. Overall: Great gift for the person who has everything and you want to hit the heart :)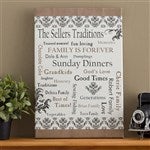 Great gift
By
Marilyn W.

(Bloomfield, KY) - October 1, 2012 (
See all reviews by this customer
)
This was a great house warming gift. Highly recommend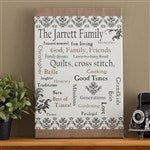 GREAT WAY TO THANK A VOLUNTEER
By
Robin W.

(Aurora, IL) - September 28, 2012 (
See all reviews by this customer
)
We used this item to thank a Cubmaster and his wife the Treasurer for many years of volunteer scouting. They love it!!! My only suggestion would be to get rid of the top and bottom colored border. But they loved it!!!!!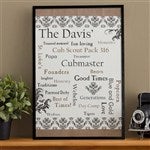 Love it!
By
Shopper

(Tampa, FL) - July 17, 2012
Perfect family gift. Beautiful.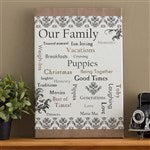 Best Gift EVER!
By
Samantha G.

(Maryville, TN) - May 15, 2012 (
See all reviews by this customer
)
I bought this for my mom (Mother's Day 2012) and it was beautiful! Everyone in the family loved it & couldn't beleive the great price & how specific the text was to our family. Great quality & super pleased with gift. I loved being able to select my own words to match our family! So personal & brought back lots of fun, happy memories. More than likely at least one of my sisters will be getting this for Christmas! LOVED IT & now I need canvas for my house :)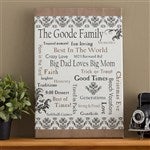 Individualized Gift
By
Virginia R.

(Hanover, PA) - April 10, 2012 (
See all reviews by this customer
)
This purchase was a great idea because it lets the receiver know you have thought of them and know what is important to them. It is also a reminder to them as a couple what was and should continue to be significant events in their lives. This gift will be going to my daughter and new son-in-law. They haven't seen it yet, but, whoever has seen it, loved it.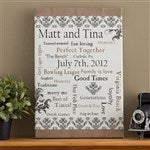 Great Gift & Keepsake
By
Shopper

(Saint Louis, MO) - April 8, 2012
This is the second one that I've purchased for Anniversary gifts, so you know how much I like them! They're very meaningful and special, because you make it belong to your life & your memories. My only small complaint is; they need to give more letters or characters to each line, otherwise it's a treasured keepsake! I will continue to shop your website.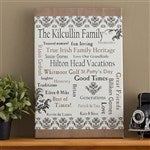 Personalized Canvas Art
By
Shopper

(Louisville, KY) - March 20, 2012
I ordered this as a sympathy gift for a family that just lost a loved one. When they received it they were very touched and remarked what a thoughtful gift this was. They now have a beautiful remembrance that can be treasured for years to come. The art work can also be passed down to the next generation.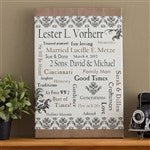 I made this into a 60th birthday gift.
By
SHERRY E.

(FLORISSANT, MO) - February 6, 2012 (
See all reviews by this customer
)
This canvas makes a great keepsake for a birthday gift. The quality is great. Personalization does the best job when it comes to shipping the product you order. They complete your personalization quickly and ship your product very fast. I find them very dependable.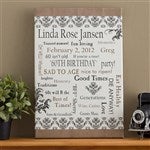 Wonderful Keepsake
By
Amber J.

(Ocala, FL) - January 13, 2012 (
See all reviews by this customer
)
I bought this as an anniversary gift for my husband, but couldn't wait until February so gave it to him for Christmas. He and I are both impressed with the quality of this piece, made extra special because it's "us". It looks fine without a frame and is sure to be noticed by everyone who enters our home. I plan to give this to other couples, as a wedding or anniversary gift. Thanks for providing excellent customer service and a fantastic variety of personalized, high quality gifts.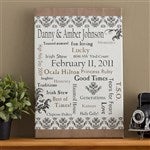 Features that I liked
By
Christine C.

(Louisvillle, KY) - January 2, 2012 (
See all reviews by this customer
)
I liked being able to add phrases of memories that were special to our family.

Love it
By
Shopper

(Newport Center, VT) - December 25, 2011
This so much fun to do as i was able to put our family memories in writting for everyone to see and enjoy. My son said that this site is so cool. Thank you for helping me share our family memories.

Anniversary Timeline
By
Shopper

(SAN ANTONIO, TX) - January 16, 2012
What a beautiful item. I was looking for a gift for a friends 10 yr anniversary and saw this item. I decided to fill the spaces with places they lived, their children's name, what they believe in, and activities the family enjoys. It turned out to be admirable. They quality of the item is great just like everything from this website.

Re-created memories
By
Beth W.

(North Quincy, MA) - December 28, 2011 (
See all reviews by this customer
)
I got this as a Yankee Swap present. Everyone wanted it. I then ordered another one for my mother and it brought tears to her eyes. This sign was created about her parents. Awesome gift!

Perfect Xmas Gift
By
Shopper

(Porter, TX) - January 1, 2012
I bought this gift last minute for my grandparents. Express shipping was not available and while I calculated the gift would not arrive until after Christmas, I knew they would love it. Later that evening I received an email saying the item had shipped! My grandparents loved how unique and personalized it was and I LOVE that the company shipped it in time for Xmas even though I only paid for standard shipping. I will most definitely be using this site again... especially for my more sentimental loved ones. :)

Love it
By
Elizabeth C.

(Newport Center, VT) - January 30, 2012 (
See all reviews by this customer
)
I bought the family canvas for friends and we filled out all things that are importamnt in thier lives. My friends were very impressed because it showed them that we know them very well it was so much fun giving a gift that we can put so love in.

Something Special
By
LINDA L.

(MANCHESTER, MD) - October 3, 2012 (
See all reviews by this customer
)
Ordered this not for a family member, but as a 25 year anniversary at work for my Boss. It turned out really nice, though a few pre-printed items were a little out of place. That is the only reason for 4 stars instead of 5. If they allowed you to input all the sayings on this it would have been PERFECT. They should really design so that you have control of all the sayings and then this gift could be used for so many occassions. Still overall, very pleased with the quality.

nice
By
Shopper

(Canada) - July 20, 2014
This is the second one I have ordered, and this one was for our vacation home. I really like the product but so feel the canval is a bit cheap. More paper than canvas. But for the price I guess I can't complain.

Wonderful Experience
By
Shopper

(Brownsburg, IN) - October 15, 2011
I ordered this for a 25th Wedding celebration. I was very pleased that I could personalize this with meaningful phrases for the honored couple. The quality of the final product was first rate and the delivery was prompt. I would most definitely use PersonalizationMall.com again without reservation!

Really nice product!
By
Jennifer W.

(Medical Lake, WA) - December 7, 2011 (
See all reviews by this customer
)
This canvas was actually nicer than I expected! I loved that I was able to put my own wording in (I used the street names of the 10 houses my parents have lived in over 38 years) and it turned out great. Beautiful colors, and nice quality. It will be a very special gift for them this Christmas!