What a special gift!
By
Jana S.

(Waynesville, MO) - December 29, 2011 (
See all reviews by this customer
)
I purchased this for my friend's birthday. It turned out beautiful and the quality was fantastic! Thinking of ordering this for another friend.

Great quality!
By
Shopper

(Charles City, IA) - December 28, 2011
I had ordered this item before- it makes a great gift! When the mug arrived it was broken- the handle had been broken off, and had scuffed the pictures on the mug slightly. I called customer service and they were very friendly- they replaced my mug and had it shipped to me very quickly! (I think the broken one arrived 5 days before christmas, I called 4 days before christmas, and the new one arrived 2 days before christmas) The recipient of this gift was extatic when she opened it! Also, the one I ordered as a gift for another recipient has been through multiple dishwasher cycles, and is still not faded or discolored! All in all, I would highly recommend this item.

Looks Fabulous!
By
Kristy L.

(Grand Blanc, MI) - December 27, 2011 (
See all reviews by this customer
)
Great quality product and quick shipping. Made a great Christmas present to my Grandmother. She loved it!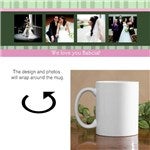 Better Than Expected
By
Shopper

(Owings Mills, MD) - December 21, 2011
I wasn't sure how this was going to turn out due to the actual pictures not being shown on the mug during the preview. I was quite pleased with the outcome. I purchased this for my aunt as a Christmas present. I know she will be surprised to see her and her children pictures on the mug.

Great preview feature when ordering
By
Shopper

(Wilmington, DE) - December 20, 2011
Mugs turned out great - the pictures are very clear - good quality product. When you place your order, there is a very cool feature - it gives you a preview of exactly what it will look like so you can be sure you are happy with it before you place the order - Loved that feature!!

Ordering was easy and delivery was prompt - Overall very happy with purchase.

Would be nice if the mug was available in different sizes (larger).

Great Gift
By
Brittany L.

(Cleveland, TN) - December 20, 2011 (
See all reviews by this customer
)
I got this for our grandma as a Christmas gift and she loved it. Grandmas usually have everything they need and gifts are hard but if they drink coffee this is a great idea! They get to see their grandkids pics while enjoying their morning coffee and doughnuts.

Great Quality & great price
By
Shopper

(Thornton, CO) - December 15, 2011
What a good deal. I keeping coming back to this site to purchase items. I love the deal & quality. picturee are very clear. Nice mug for the ladies.


Love it!
By
Shopper

(Canada) - December 12, 2011
Great Product! Great quality

great grandmother mug
By
Shopper

(Amarillo, TX) - December 12, 2011
made this for my child's great-grandmother and it turned out perfect. such a great memory.

Loved my gifts
By
Shopper

(odenton , MD) - December 11, 2011
Ordered.4 christmas gits off of here and they came out amazing

Thrilled with product
By
Shopper

(Sumter, SC) - December 2, 2011
I was thrilled with my purchase! Colors are vivid and clear as are the pictures on the mug. I can't wait to give to my friend on Christmas!

Such a cute gift!
By
Shopper

(Stratford, CT) - November 13, 2011
I bought this mug for my sister in law and I put pictures of our son on it and a cute note to his Auntie! When I received it, I could not believe how adorable it looked and I know she is going to love it! You will not be disappointed!

Great gift
By
Joni R.

(Ashland, KY) - November 12, 2011 (
See all reviews by this customer
)
Great gift for relatives and friends who live far away. Enjoying a cup of coffee, tea or cocoa while being able to see loved ones you don't get to see everyday!! My friend loved it!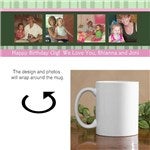 satisfied
By
Shopper

(Indianapolis, IN) - October 17, 2011
cool little gift that is sure to bring a smile to the recipient :)

Great gift mug
By
Shopper

(Hingham, MA) - September 5, 2012
I gave several of these mugs as gifts and everyone loved them. It is best to use mostly close ups for pictures as they come out very small on the mug. The resolution was good though.

Nice Mug
By
Salvatore C.

(Monroe Township, NJ) - May 16, 2012 (
See all reviews by this customer
)
A nice gift idea. Easy to make and quick delivery. Only con if considered that is that mug only came in 10 oz size. Would've like it if bigger sizes were available. All and all happy with the purchase.

Mother's Day
just lovely

Faiza Birthday gift
By
Irfan B.

(Decatur, GA) - February 15, 2012 (
See all reviews by this customer
)
It is a perfect gift to give someone on birthday or any occasion.. Personalized gifts always make people special and so it did to my lil cousin for whome I got this gift!.. The pictures turned out very clear and it looked exactly the way it is shown here :)

Wonderful photo mug
By
Shopper

(Wallingford, PA) - December 28, 2011
Terrific concept. A story can be presented in four photos: dating to wedding, student to grad, baby to 80th birthday, etc. I used it to show the bond between our daughter and her dog. It turned out beautifully. The only down side is the caption on the bottom should be in black, not white, to make the message easier to read and display.

Great Mug
By
Heather G.

(Land O Lakes, FL) - December 23, 2011 (
See all reviews by this customer
)
This is a really nice mug....the size of it is nice and will fit in the automated coffee machines. I really like that I could add multiple photos, and they still came out a nice size on the mug. The pink/green colors really make this a pretty mug for the ladies...and stands out from the plain white mugs you see other places.

Personalized cup
By
Shopper

(Aylett, VA) - December 14, 2011
My order was easy and my shipment was on time. My wife loved the my children pictures on the coffee cup.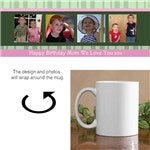 mug
By Shopper (PARK RIDGE, IL) - November 29, 2011
Looks very cool,but I haven't recieved it yet so I'm not sure whether I really like it or not yet.

Liked the collage of pictures
By
Hollie B.

(Neenah, WI) - November 3, 2011 (
See all reviews by this customer
)
Hard to find a coffee mug that you can actually put more than one picture on and have the color border. Loved it!

Personalized coffee mug
By
Sandi C.

(Ipswich, MA) - October 29, 2011 (
See all reviews by this customer
)
The mug was very well received, it was given as a gift to a friend. The only negative comment I have is that one of the pictures came out very dark. Other than that, I would recommend this website to others, nice quality and quick delivery.

graduation cup
By
connie D.

(schaumburg, IL) - June 10, 2013 (
See all reviews by this customer
)
I like the cup & the idea but the pictures came back darker & harder to see than the sample when I was ordering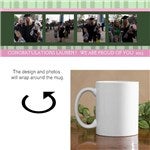 Picture quality was just OK
By
Jen S.

(Liverpool, NY) - April 28, 2012 (
See all reviews by this customer
)
I shoot high resolution pictures but the picture quality of the photos on the mug were just OK. The mug was pretty but nothing extraordinary.