They were soooo happy and proud.
By
Mary Anne P.

(Clinton, MD) - June 10, 2013 (
See all reviews by this customer
)
Beautiful work. I love it. Thank You for making me look good. I promise to recommend you to EVERYBODY.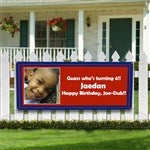 Personalized Photo Banner
By
Paula H.

(Charloatte, MI) - June 9, 2013 (
See all reviews by this customer
)
I was very happy with the overall ordering process. My banner came within the week of placing my order. The colors were bright and printed exactly as shown in the preview. I placed a team picture on my banner, which I needed to do some adjusting to keep from cropping people out. A helpful hint if you are taking your group/team photo is to stand back from the group when taking the picture, which allows no one from being cropped out. I appreciated the 25% off discount coupon the company offered.

good
By
Shopper

(Romeoville, IL) - May 31, 2013
real good work for the price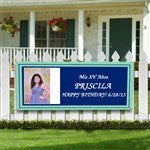 First Communion Poster
I could not be more pleased. The picture is amazing. The writing is awesome. The poster itself is big and not made of a flimsey material. This will be a wonderful keepsake for her. Thank you so much. Will be ordering more for all upcoming occasions! So worth it!!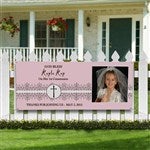 A Great Banner at A Great Price
By
Shopper

(Brookhaven, PA) - April 2, 2013
I purchased this banner for my boyfriend's 40th birthday party. Althought the party has not happened yet, the banner is awesome. The clearity of the picture I uploaded is unbelievable and the size of the banner was more than what I expected. I am pleased with this purchase and would recommend this product to others.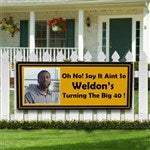 Milestone birrthday
By
Cheryl M.

(Richmond, VA) - February 13, 2013 (
See all reviews by this customer
)
As an event and party planner this is the best banner I've ever created. It was quick, easy, ability to view finished product immediately after designing it and before ordering was excellent. The finished product colors and photography was as it appeared. Excellent value for a banner of this size. The processing and shipping time exceeded my expectation.

Personalized Banner
By
Rhody Lynn K.

(Rockwall, TX) - February 8, 2013 (
See all reviews by this customer
)
Extream Quality and Color! Beautiful, beautiful, beautiful!
Highly recommend this banner for any Ocassion!
Thank you Personalization.com!

Great Banners - and Service!
By
Bonnie A.

(Shorewood, WI) - December 6, 2012 (
See all reviews by this customer
)
Nice coloring, good materials & great look! These banners are top-notch!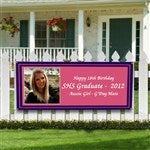 Awesome banner!
By
MICHELE E.

(LA HABRA, CA) - November 18, 2012 (
See all reviews by this customer
)
I was so pleased with the quality of this banner! Exceptional buy at this price!

Great Product for a great price!
By
Shopper

(Los Angeles, CA) - October 9, 2012
We got a banner made for my Dad 60th birthday,it was easy to create. Shipping was fast and the quality was excellent.

Book Club Banner
By
Elizabeth D.

(Suitland, MD) - October 5, 2012 (
See all reviews by this customer
)
On a whim, I decided to take it upon myself to create a banner for my book club. I was already familiar with Personalization Mall and again, I got a beautiful banner! I can't wait to show the girls of my book club!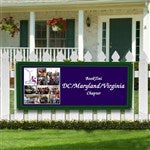 GREAT PURCHASE!!
By
Phyllis D.

(Sacramento, CA) - September 21, 2012 (
See all reviews by this customer
)
We purchased a banner for my Mother's 90th surprise birthday party. I had looked at many different web sites for a personalized picture banner, but did not find one that allowed me to design the border & background colors that I wanted to choose, and for such a reasonable price too!!

Delivery was quick! When I received the banner I was completely satisfied. My daughter's wedding is in March 2013 and I will be returning to make another purchase.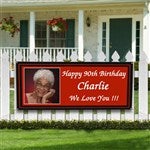 Good value
By
Christian M.

(Cumming, GA) - August 9, 2012 (
See all reviews by this customer
)
Tough to get a picture with enough resolution, but overall a nice value, and a really great idea for an individual to celebrate a special occassion.

Always Pleased
By
Shopper

(Toms River , NJ) - August 1, 2012
This sign was beautiful and of great quality. And as always delivered very fast. I have purchased many products from this company and always satisfied but i am more in love with the speedy delivery!! Thank you.

Great quality
By
Laura C.

(Las Vegas, NV) - June 12, 2012 (
See all reviews by this customer
)
If I had to think of a negative, then it would be the color options when making your banner. The quality is great and the price so good! Very easy to design and purchase. Shipping was so, so fast and inexpensive!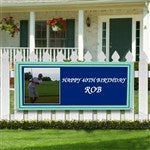 Family Reunion
By
Dana M.

(Clovis, NM) - June 8, 2012 (
See all reviews by this customer
)
I bought this banner for our family reunion using a picture of our mothers when they were teenagers. It came out beautiful and the quality is outstanding. It will now be used by each host family for years to come. I can't wait to get the Anniversary one for my parents 65th next year. I'm still amazed at how fast the quality products are produced and shipped!

Awesome Banner
By
Robyn D.

(Oak Brook, IL) - June 4, 2012 (
See all reviews by this customer
)
This is such a great banner. The quality/value of it is fantastic. Colors were bright and vivid and it was a big hit at my daughter's birthday! Will buy again!

great quality!
By
Shopper

(Frisco, CO) - May 20, 2012
Very impressed with the quality of the banner and the value of it for the price I paid!!

Personalized Photo Banner
By
Shopper

(BEAR, DE) - May 18, 2012
I brought this for my son's graduation party it looks really nice.. and i got it within a couple of days after ordering.. I will def order again from here.. Thank you Personalization Mall.com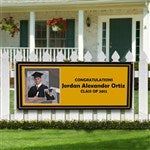 Birthday Banners
By
Mona H.

(Sycamore, IL) - May 17, 2012 (
See all reviews by this customer
)
Last weekend we had a 30th Birthday Bash for our youngest daughter on our family farm in Illinois. I ordered one of your banners in her favorite Iowa Hawkeyes colors with a place for her photo. I picked the wording and the photo then ordered it online. It arrived in 3 days! It was BEAUTIFUL! The construction of the banner was heavy duty with sturdy grommets for hanging. I used a copy of a wallet picture and I couldn't believe how well it reproduced onto the banner. I was so pleased with the quality that I ordered 2 more banners to line the driveway of the farm They also arrived in 3-4 days with the same quality. Many at the party asked where I got them. When I posted the pictures of the party on Facebook, I was asked again where I got those banners. I highly recommended your website to everyone who asked. Thank you for all your wonderful products. I've ordered your quality personalized frames for years. Your page is bookmarked on my computer.
~Mona Hamilton
Sycamore, IL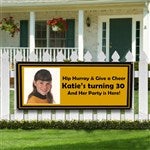 awesome!
By
Kimberly H.

(Oshkosh, WI) - May 15, 2012 (
See all reviews by this customer
)
This banner is awesome! I ordered 2 and couldn't be happier with the quality and size. The pictures turned out great on the banners. I was a bit surprised that the 'rope' didn't come with them so you have to purchase something to hang them separately.

birthday banner
By
kristi D.

(lawrenceburg, IN) - May 11, 2012 (
See all reviews by this customer
)
Wow great banner. The picutre is great! The price even better. I would definetly recommend this to anyone!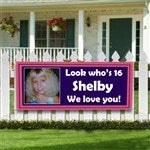 Banner
By
Karen G.

(Virginia Beach, VA) - May 9, 2012 (
See all reviews by this customer
)
Vibrant colors, picture very accurate. Pleased with outcome!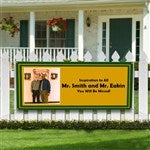 Personalized Photo Banner
By
Shopper

(Arapahoe, NC) - May 9, 2012
Couldn't be more pleased with this banner! It was the perfect size, it was as advertised, and the quality of the photo was excellent. The service was superb - the staff made sure that I received the banner in time for my event -

Rhonda

perfect for 1st birthday celebration
By
Jane S.

(Cohocton, NY) - April 1, 2012 (
See all reviews by this customer
)
I purchased this for my granddaughter's 1st birthday and everyone loved it. It captured the birthday girl's attention and was the perfect backdrop. Ordered it on a Wednesday night and received it on Saturday morning. That is what I call service - no rush fees just when it was done.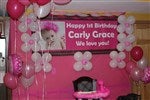 Beautiful!
By
Mona C.

(Kokomo, IN) - March 30, 2012 (
See all reviews by this customer
)
The banner for our mission organization turned out beautifully! Great color! The weight of the banner is perfect for indoor displays--it hangs well and looks very professional.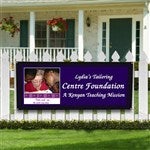 Loved the banner
By
Shopper

(CHANDLER, AZ) - March 13, 2012
We used it as a backdrop for my kid's b'day in a park. We tied this banner in between 2 trees and it worked great for us. The only downside was that, it being 8ft by 3ft, having more than just 4 punch holes to hold it in place would have helped a lot with the wind. But this is just feedback for those planning to use it outdoors. The product in itself was great and I would highly recommend it to anyone planning to buy one.

Excellent Quality Banner
By
Robert R.

(South Windsor, CT) - March 3, 2012 (
See all reviews by this customer
)
We purchased two banners for our Relay for Life Team. One with a photo and one with out a photo. We are extremely pleased with this product. They are of the highest quality and can be used again and again. Exceeded our expectations! I highly recommend their banners--great quailty and great price!!

birthday banner
By
Denise L.

(Ofallon, MO) - February 22, 2012 (
See all reviews by this customer
)
hello, this is really the first review I have ever written. I was completely thrilled with the banner!!!! My daughter was so excited and those attending the party could see it from the street as they arrived. I love to tell friends about a good thing and this is one I am definitely going to share with everyone!!!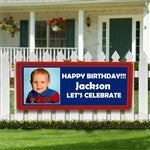 HUGE Attention Getter!
By
KARIN T.

(TEMPLE TERRACE, FL) - November 22, 2011 (
See all reviews by this customer
)
This product made such an impression on all the teams families and the others at the stadium! There was such a buzz about the quality and the vibrancy of the banner! The parents had a banner made of each Senior Varsity player with thier photo on it and it was above and beyond our expectations! We will use this item again and again! THANK YOU