Heartmelting
By
Shopper

(lansing, IL) - December 12, 2011
When this came arrived in the mail I was in awe,I had it made for my boyfriend's family. When I showed it to him the first thing he did was give me a kiss! This is a very tight family and this is going to be something that they will get to cherish for always. It is beautiful, I have to say that I am extremely satisfied and if you have a great family I highly recommend it! The only thing is I have to re-order after Christmas, I left out one name and had to write it in! lol So, make sure you go over and over again to get everyone in!!! Happy Holidays! This is the PERFECT gift!

Very nice!
By
Kelley P.

(Newcomerstown, OH) - December 9, 2011 (
See all reviews by this customer
)
I am very pleased with the product and can't wait to give it to my brother for Christmas!

Great Value, Great Price
By
Abby J.

(Wisconsin Rapids, WI) - November 22, 2011 (
See all reviews by this customer
)
Got this product very quickly and it was a great product for a good price. It was better than what I expected and will buy another for a birthday gift!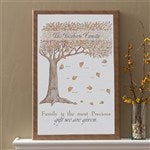 Lovely!
By
Ashley P.

(Jeffersonville, IN) - November 22, 2011 (
See all reviews by this customer
)
I purchased this product as a Christmas gift. I think my grandmother will love it! This is such a unique gift! I can't wait to give it to her! It turned out beautifully, just as it was when I previewed it! Thanks PersonalizationMall.com!!

Great Gift!
By
Dolores W.

(Secane, PA) - November 15, 2011 (
See all reviews by this customer
)
I Have ordered two of these for "hard to buy for" grandparents.
I think this is a perfect gift.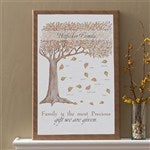 Perfect
By
Shopper

(River Edge , NJ) - November 11, 2011
Just Perfect! Better than I expected. So pleased.

Beautiful Gift
By
Dolores W.

(Secane, PA) - November 6, 2011 (
See all reviews by this customer
)
This is such a nice gift! I purchased two to give as Christmas presents.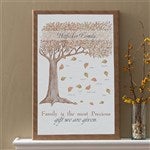 Beautiful Family Tree
By
Shopper

(Winneconne, WI) - October 12, 2011
Ordered this as a gift and I wasn't disappointed. It's beautiful; exactly what I was hoping it would be. It arrived so quickly once I put the order through. Highly recommended!

Great product
By
Shopper

(Falls Church , VA) - June 10, 2014
Get product , my dad is going to love this.

mother's day gift
By
Tanika G.

(Overland Park, KS) - May 12, 2014 (
See all reviews by this customer
)
I bought this for my mother and she just loves it. she likes the leaves with our names on it and she likes the size because she can put it anywhere in her home and it looks great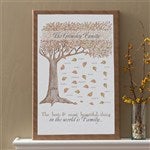 Nice
By
Patricia D.

(Hometown, IL) - February 11, 2013 (
See all reviews by this customer
)
My parents wanted a family tree and I thought this one would be a different take it. It is a nice size the only complaint I have is trying to get the names the fall in the correct order from the tree. I had to go from left to right instead of falling down. Very difficult but they loved it and so do I.

Family Tree- Nice Gift
By
Bree D.

(Oklahoma City, OK) - June 22, 2012 (
See all reviews by this customer
)
For my father for father day; filled with all the kids and grandkids. He was very impressed with the canvas; and liked it so much he couldn't decide where to hang! He was proud of it! Just wish there had been an option for a few more leaves if necessary (names leaves)...although,,,we got what we needed to fit by just sticking to direct kids and grandkids! We just have a big family! :) Really liked this gift! :)

Family Tree
By
Shopper

(Welch, WV) - May 13, 2012
I loved them and the people I got the for did too, I just wasn't expecting it to be vinyl I was expecting it to be a picture in like a picture frame

very pleased
By
Shopper

(Tallmadge, OH) - January 2, 2012
This was a gift for my mother, who was very pleased with the quality. Every time I need that special gift I return to Personalization Mall.

Mother's Christmas Gift
By
Keima T.

(Morristown, TN) - December 30, 2011 (
See all reviews by this customer
)
This is the very first time i have ever ordered ANYTHING on-line. I was a little skeptical at first so I called the number and was greeted by a very nice lady on the phone whom helped me. i placed my order and then I was easily able to track my order and see where it was at EVERYDAY. I ordered it on the 15th and it was delivered to me the morning of the 22nd.It was a perfect size and the colors were great. The only reason i didn't give it 5 stars is that even though i proofed it and had the names where i liked they were not ALL in the exact spots as i wished when i got it, but my mom's smile opening it on Christmas was priceless.

Look closely at this tree
By
Shopper

(Charles City, IA) - November 29, 2011
Ordered this gift for a gift and I truly love everything on this site however, was slightly disappointed in this item. I received it and opened to see it looks like a piece of tape going across the name that goes thru the tree. Then I noticed the verse at the bottom was in two different colors and top line was printing and bottom was cursive. Was not pleased with the effect of the two items and was ready to call and inquire when I went back and looked at it online again. The item is exactly as the photo shows it. It is a very nice gift and one that will be appreciated as a family tree, but I would try to improve it slightly to not have those two flaws.

Lovely
By
Shopper

(Broomfield, CO) - November 20, 2011
Bought this for my parents as a Christmas gift, good quality, looks fantastic in person.

NOT VERY BIG
By
Shopper

(Walters, OK) - December 24, 2011
I was unpleased with the size. I don't remember seeing the size listed on the actual order page. (I AM SURE IT PROBABLY IS LISTED BUT I DID NOT SEE IT)

The picture on the preview makes the picture look big. But IT IS NOT AT ALL.

it wasnt what I had hoped
By
heather M.

(holmen, WI) - December 28, 2013 (
See all reviews by this customer
)
It says its canvas but looks n feels more like a plastic or vynal type of paper. Not what I had hoped for $50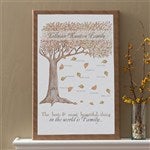 Not what I expected
By
Shopper

(Ermine, KY) - August 25, 2012
The item is smaller than what I expected and looks cheaply made to me I've ordered items from here before and been very satisfied but unfortunately not with this item