Great Gift Idea
By
Shopper

(Meriden, CT) - November 5, 2013
This was such a great gift. Everyone loved it and i like the fact that it can be used for Play-dough as well. I am always satisfied with the quality of their merchandise and how unique their selection is. I have purchased many items from them and have never been disappointed:) You won't be either!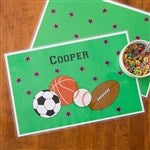 Strong Laminate!
By
Lynne W.

(Raleigh, NC) - September 27, 2013 (
See all reviews by this customer
)
I was very happy with these placemats. Also bought the ladybug. They are well-made and will stand up to spills! My grandchildren will love using them.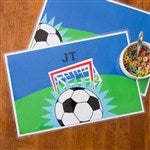 For Nana's House
By
Shopper

(loves park, IL) - August 4, 2013
I ordered this for my grandson to have his special place at the table AND to protect my antique wood table :) I'm very happy with this purchase. It is very good quality. I like the idea of having his name in print in front of him long before he's able to pen it by himself. He is almost eight months old.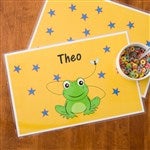 More than just a placemat!
By
LAUREN T.

(PITTSBURGH, PA) - February 10, 2013 (
See all reviews by this customer
)
Not only do kids feel special with anything personalized, but these mats are good for "everything Kid" including mealtime! These are ideal when used as a table protector from any drips, goo or blobs from glue, crayons, paint, markers and provide a non-stick surface for play-doh. PM.com should consider themed mats with runways or roadways for busy time with mini cars & trucks! My Greatnephews would love seeing "RJ International Airport", "Natesville" or "Calvintown" at the dinner table.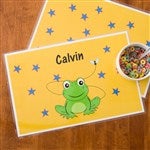 Great Placemats
By
Barbara F.

(Fort Worth, TX) - February 2, 2013 (
See all reviews by this customer
)
These nice easy-wipe placemats were much larger than I expected. They are so easy to wipe clean and the boys love their favorite sport and name displayed.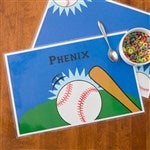 Very cute!
By
Rogene A.

(Las vegas, NV) - January 23, 2013 (
See all reviews by this customer
)
Bought this for my son and he loves it. Good quality. Will buy more for other kids i know. Definitely recommend.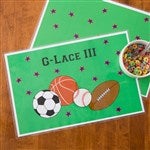 not what I expected
By
Shopper

(Omaha , NE) - December 26, 2012
Personalization was nice, but mat was pretty much a thick laminated piece of paper.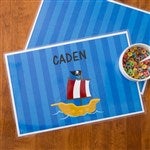 Love it!
By
Ashley N.

(Lakemoor, IL) - December 5, 2012 (
See all reviews by this customer
)
Great quality, nice and thick, this will definitely hold up well! Love it!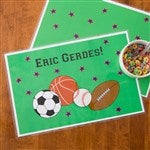 Great Looking
By
Candace W.

(Raleigh, NC) - November 29, 2012 (
See all reviews by this customer
)
I am pleased with my sons placemat. I even ordered a ladybug one for my daughter. They seem to be very good quality and look like they will be able to take the abuse from my babies. I was a little disappointed because there is a small mark on all three from where they might have been punctured by something, but its not terrible.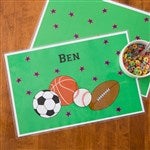 sports placemat
By
Judi T.

(Riverside, RI) - September 21, 2012 (
See all reviews by this customer
)
My grandson happened to see the placemat on your site as I was placing an order for another item. I ordered it for him and he loves it! He's 3 years old and very much into sports, so it was perfect for him. The item arrived quickly and it is very well made. A great purchase!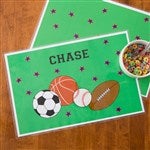 Looks a bit cheap
By
Shopper

(Valdosta, GA) - August 1, 2012
I was hoping for something a bit thicker but it basically looks like laminate over a piece of paper. But it does serve its purpose of keeping the table cleaner and its easy to wipe off.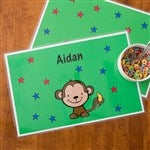 Happy 4 yr old
By
Shopper

(New Lenox, IL) - February 11, 2013
Shippin was fast! Item arrived within couple of days. This time I was very pleased with the packaging because it was not bent as my last item. Our 4 yr old just got out of his highchair and now sits on the "big boy" table w/ Family and having his own personalized placemat makes him feel special.

Great table mats
By
Shopper

(Harrod, OH) - July 20, 2012
These mats are just great for kids. They love to see their names in print.
They seem to be of good quality and should hold up well. You can use both sides of the mats. These were purchased for gifts and have not been given yet.
I am positive they will be received with big smiles!
















Placemat
By
Shopper

(Virginia Beach, VA) - February 16, 2013
Not at all what I expected. It is just like a laminated piece of cardstock. It does not resemble a placemat at all. I bought this for a gift and am embarrassed to give it so I will be getting something else. Huge waste of money.

EXPECTED IT TO BE CUTER
By
Mary M.

(Sicklerville, NJ) - May 7, 2013 (
See all reviews by this customer
)
I was disappointed in the two placemats that I ordered! They were too plain and dull looking. I also feel they were kinda expensive for what you got!

Great!
By
Shopper

(Carmel, IN) - June 4, 2013
Love these, my boys really enjoy have placemats with their names and they are super easy to clean up!

Nice placemat
By
Cynthia W.

(South Park, PA) - October 30, 2012 (
See all reviews by this customer
)
The personalization on this is very nice and it is sturdy enough for a basic placemat and to keep the table clean. Nice gift for my 7 year old boy. Alittle pricey but I am very happy with this purchase.

Personalized Name Placemat-Boys Sports
By
Shopper

(Albuquerque, NM) - August 26, 2013
Good quality. It is thick. Like that there are matching sets. A little expensive but worth it if your child has an uncommon name.

Wonderful Gift Idea!
By
Angela C.

(Wappingers Falls, NY) - February 2, 2013 (
See all reviews by this customer
)
I brought this placemat for my 6 year old granddaughter, as it is unisex in design. This product is rather sturdy and an ample size for the table. She can use it while eating, coloring, etc.. The price was very reasonable and it was delivered quite quickly. I was pleased with it and I know my granddaughter will love it!!!




Hit a Home Run!
By
Shopper

(Louisburg, NC) - April 8, 2013
Grandma hit a home run with this Easter gift for my 4 and 5 year old grandsons. They were thrilled to see their names on a placemat with baseballs on it; their current favorite sport.

Perfect! (as usual!)
By
Shopper

(Viera, FL) - July 16, 2013
This placemat is too cute! I have ordered many items from Personalization Mall and have been more than pleased with every item.

Placemats
By
Shopper

(Canada) - December 10, 2012
These placemats are lovely. They are brightly coloured and good and sturdy! I know my grandchildren will love them!


Pricey but good quality
By
Shopper

(Cottleville, MO) - June 2, 2013
I ordered several of these for birthday gifts. I was pleased with the quality.

great for playdough play time
By
Karen R.

(Plainview, NY) - October 11, 2013 (
See all reviews by this customer
)
Adorable and great priced, I Let my son use it for play doh play. It rolls easily and doesnt stick to it. I may order a separate one for eating time.

Very pleased
By
Shopper

(Camby, IN) - January 20, 2013
Exactly what I wanted