Beautiful Recipe Box
By
Branda G.

(Eldorado, TX) - October 30, 2012 (
See all reviews by this customer
)
This recipe box turned out fantastic! It is so classy!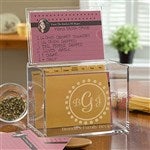 loved it!
By
Jennifer B.

(Houston, TX) - April 17, 2012 (
See all reviews by this customer
)
I bought this for a gift. Great quality. Fast shipping!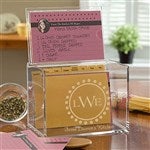 Hard to see Monogram
By
Shopper

(Marana, AZ) - January 11, 2012
Cute gift idea, but the actual monogram was very hard to see. The picture makes the lettering look white, but it's actually more a frosty/hazy clear, almost like an etching. Even with dark paper behind, it was difficult to see the monogram and wording underneath. I wouldn't buy another one... I still love PersonalizationMall though - always fast service and everything else I've ordered was great!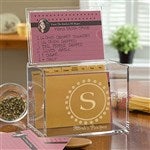 LOOOOVIT!
By
Christina M.

(Omaha, NE) - January 9, 2012 (
See all reviews by this customer
)
It's perfect! I waa so excited when it came!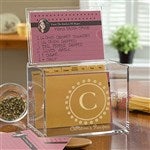 Monogramed Recipe Box
By
Shopper

(Watkins, MN) - April 14, 2014
Quality of the recipe box was good.

The engraving was very sad. On the website it looks to be a very bright white. Not the case when I ordered three of these boxes for my children. You have to hold the box at an angle to be able to read the engraving. Very disappointed in the engraving quality.


Recipe Box
By
Shopper

(Lewisburg, KY) - April 16, 2012
The recipe box was great after I got the correct one. The first one they sent had my name spelled wrong though the packing slip was correct. My second one had an entirely different name on it and the packing slip was correct. Finally, the 3rd box I received was correct.

Monogram Personalized 4x6 Recipe Box
By
Shopper

(Imperial, MO) - April 3, 2012
I love the recipe box. It was very easy to create and review what the design I selected would look like before I placed the order.

One thing i would have liked to have been a little different is for the color on the monogram too have been a little darker to make it easier to see on the clear Recipe box.


Shower gift-barely visible monogram
By
Barbara S.

(Eugene, OR) - May 18, 2012 (
See all reviews by this customer
)
The structure of this box is well thought out and it is very well made. One of the main reasons I purchased it is the ability to place the recipe in a slot on the lid. Would have been better if the slot were on top of the lid so that the box isn't open and exposes the other recipes to drips etc. The monogram and other personalizations are barely legible. They are not as visible as shown in the picture. I have tried various colors of paper behind the monogram in an effort to make it more visible but no matter what I try it is not as visible as in the picture. This is unfortunate because the personalization is very beautifully done - just cannot be seen.

Nice personalized gift...
By
Shopper

(Auburn, WA) - September 23, 2012
I ordered this for my daughter's bridal shower, to put some of her favorite family recipes in, to go along with the larger gift from my mom and I. I didn't know the box came with dividers, and I had ordered those separately from another company. The box is just what I wanted, though, and I know they will enjoy using it. My future son-in-law is an excellent cook, and my daughter is gaining experience!

My only suggestion would be to say that the box includes dividers with it, so that people don't order them separately as I did. However, I am glad that I did, as the ones I ordered from the other company have more category selections and that's really nice to have.

Perfect!
By
Yolanda O.

(Lee Summit, MO) - December 10, 2011 (
See all reviews by this customer
)
Purchased these along with Monogrammed recipe box & happy with both. These just added that perfect touch to a holiday gift! Very easy to personalize and all was delivered quickly!

Exactly what we wanted!
By
Yolanda O.

(Lee Summit, MO) - December 10, 2011 (
See all reviews by this customer
)
Ordered this for my daughter. It will be from her Grandmother for Christmas. We were so excited when we received it! She loves to be in the kitchen with us and needed this to start collecting all of her favorite recipes. Also bought the personalized recipe cards which were also perfect!

Love the recipe box!
By
Shopper

(jacksonville, FL) - April 22, 2013
I ordered this recipe box for my daughters bridal Kitchen & Recipe shower. It shipped quickly and looks lovely! I only wish the divider cards were a different color. I would have liked to have a choice in the color.

A GREAT GIFT
By
Shopper

(NAPLES, FL) - January 2, 2014
GAVE THIS AND THE RECIPE CARDS AND DIVIDERS TO MY DAUGHTER. SHE LOVED IT.

Beautiful Recipe box
By
Shopper

(Santee, SC) - December 25, 2013
I love this recipe box and wish I had ordered it for others on my list! Excellent quality and engraving.

Very sharp looking,
By
Deborah S.

(Bath, MI) - September 24, 2013 (
See all reviews by this customer
)
The product arrived very fast, I was impressed with how quickly I received the order. I bought it as a gift and have not given it yet. I am excited to see if she likes it as much as I do. I am thinking of buying one for myself!

Great quality
By
Shopper

(Verona, NJ) - April 11, 2014
Very nice quality. Satisfied with the purchase.

Recipe box
By
Penny R.

(Canton, OH) - April 7, 2014 (
See all reviews by this customer
)
My purchase was great, nice and sturdy holds a lot of recipes, beautiful monogram nothing was incorrect. It really makes it special. I know it will be loved as one of their wedding gifts. Plenty of 4 x6 recipe holders. It's a great gift Will purchase here again.

Monogram personalized recipe card box
By
Shopper

(Chelmsford, MA) - February 10, 2014
This is a great recipe card box with lots of space for many recipes. I ordered it for my daughter who is getting married and had it monogrammed with her new last name. Can't wait for family and friends to add their favorites and see her surprise at her bridal shower.
Arrived very quickly. Made of durable acrylic.

Very nice quality
By
Shopper

(Port Chester, NY) - March 23, 2013
I bought this as a bridal shower present for my cousin. I was very pleased -- so attractive -- admired by many at the shower -- and her future mother-in-law plans to order one for another future daughter-in-law.

Very nice product!!
By
Shopper

(Murfreesboro, TN) - May 7, 2012
Ordered this for a bridal shower. She is going to love it! The product is great quality and just what I was looking for!! I will probably order one for myself :)

Gift for future daughter in law
By
Shopper

(Broadalbin, NY) - May 6, 2012
Item exactly as described. Even though monogrammed it arrived promptly. Monogramming was very nice and I am very pleased with purchase.

Beautiful gift idea
By
Shopper

(satellite beach, FL) - March 29, 2012
Loved it giving it..Bride to be loved receiving it.Perfect bridal shower gift for all family /friends to contribute to. Monogram was lovely.

wedding shower gift
By
Pam H.

(Bradenton, FL) - February 17, 2013 (
See all reviews by this customer
)
I got this for a friend of mine that is getting married and it was the hit of the bridal shower! Everyone loved the personalization. I also got personalized recipe cards to add to it. The box is quite large, but it is very nice. It fits 4x6 recipe cards, so if you use 3x5 cards, they will look too small in this box.

Exactly what I was looking for
By
michelle K.

(centerville, GA) - December 12, 2012 (
See all reviews by this customer
)
Love this recipe box & love the fact that the lid is used to view the current recipe you are making...bought this for my future daughter-in-law! Perfect!

A memorable beginning
By
Linda N.

(Dyer, IN) - July 24, 2012 (
See all reviews by this customer
)
This monogramed recipe box will add the perfect touch to the newly wed couple's new life together as well as their new kitchen. We decided to have bridal shower guests bring a "favorite recipe" to add to the couple's new recipe box!