Gingerbread ornaments
By
Shopper

(Merrimack, NH) - December 28, 2012
Great way to decorate the tree and hold the memory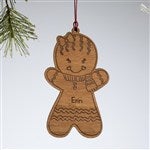 Personalized Gingerbread Ornament
By
Shopper

(Indianapolis, IN) - December 23, 2012
Ver cute!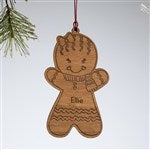 Adorable
By
Elizabeth P.

(Huntingtown, MD) - December 15, 2012 (
See all reviews by this customer
)
Adorable boy and girl gingerbread ornaments. Perfect for my little niece and nephew!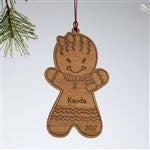 Cute!
By
Shopper

(Jackson, TN) - December 10, 2012
Simple wood ornaments, nothing fancy, exactly what I was looking for. Bought them for a brother and sister. Look really cute together on my Christmas tree.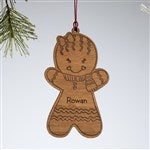 Adorable
By
Mary Lou C.

(Lake Grove, NY) - December 6, 2012 (
See all reviews by this customer
)
Well made and beautifully engraved.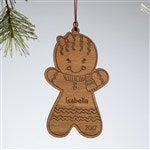 Perfect
By
Stephanie D.

(Lynn Haven, FL) - November 27, 2012 (
See all reviews by this customer
)
I always order ornaments for my children every year. I bought these this year and love them. They are so unique. I would say to all interested it's worth it!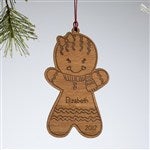 Nice Little Ornament.
By
Wendy H.

(Point Harbor, NC) - January 9, 2012 (
See all reviews by this customer
)
I'm happy with this purchase. My only issue was with the ability to correctly spell my granddaughter's name, which has an accent mark. I could not add that through the personalization. So I used a pen later :)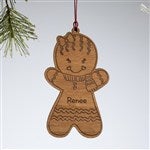 Gingerbread Ornament
By
Delphine B.

(Baltimore, MD) - January 6, 2012 (
See all reviews by this customer
)
Oh too cute, it is better than I thought it would be, Thanks.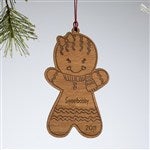 Good
By
Shopper

(Downers Grove, IL) - January 1, 2012
Very nice website, easy to use, good selection.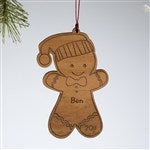 Smaller than I thought and it would be nice if it arrived on time.
By
Micheline A.

(Jersey City, NJ) - January 1, 2012 (
See all reviews by this customer
)
They're pretty and well made but smaller than I thought.
Also, this is the second time I've ordered during the holiday season from Personalization Mall that they haven't delivered as promised and paid for. So, I wouldn't trust them to deliver ornaments on time unless ordered WELL in advance - more than 2 weeks - if even if paid for expedited delivery.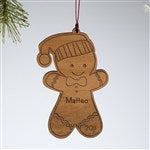 Kid ornament
By
Phyliss F.

(Grand Junction, CO) - November 5, 2011 (
See all reviews by this customer
)
I have been ordering personalized ornaments for my grandkids for several years, from this company. I am always pleased with the result. I have gotten glass, various metals and now wood. I like the gingerbread ornament and think it is cute. I just think glass or metal looks more glamorous. But I wanted this one because it is cute and I also like variety. I love these ornaments for keepsakes for my grandkids.

So cute!
By
Shopper

(Belmont, NC) - April 30, 2012
They are so cute, they weren't exactly what I was expecting, but still very cute! They don't feel like real wood, but I ordered 4 and thing they are very cute for a family.

Personalized Ornaments
By
Kathleen J.

(Phoenix, AZ) - November 5, 2011 (
See all reviews by this customer
)
All three were just adorable. I am sure the grandkids will enjoy them

Cute
By
Shopper

(Rochelle, IL) - November 13, 2012
This is a very cute ornament. I ordered a boy and girl for my children. They are both adorable. Light weight and durable. My son has been playing with his and dropped it a few times, no damage to the ornament. I would definately buy again.

Very cute!!
By
Shopper

(Roscoe, TX) - December 14, 2011
I order my daughter a new ornament every year for xmas and I love this Gingerbread Cookie ornament!! It's very very cute!! The only reason I gave this 4 stars is because the picture made me think it was going to be much bigger, so when I recieved it in the mail I was slightly disappointed, but its so darn cute that it made up for it. Thanks PM!!!!

christmas
By
Cheryl S.

(Columbia Falls, MT) - November 7, 2011 (
See all reviews by this customer
)
very happy with this product and how fast i received it after ordering

Gingerbread ornaments
By
Jennifer G.

(Bangor, ME) - December 27, 2012 (
See all reviews by this customer
)
My ornaments came super quickly, and they were all correct, all in one piece and absolutely adorable. All my co-workers loved them. I'm very satisfied, as usual.

Cute a cookies
By
Shopper

(jeffersonville, IN) - August 3, 2012
I purchase ornaments each year for my grandchildren of both sexes. This is such a great idea since we make cookies each year and one is gingerbread people. Sure want this to bring back great memories when they are older and decorating their own tree.

Cute!
By
Shopper

(Levittown, PA) - January 1, 2013
Cute and adorable. Love it!

Adorable
By
Shopper

(Edinburg, TX) - July 14, 2013
I bought these for my two children and they are so adorable. A must get if you like or collect gingerbread for Christmas.

Cute wooden gingerbread boys and girls!
By
Shopper

(Chino Hills, CA) - January 15, 2013
These ornaments have very cute details. They are lightweight and not breakable so it is a good choice for children.

Soo glad I bought!
By
Shopper

(Keaau, HI) - January 17, 2012
Arrives very well packed and clean cut. All of the edges were overly smoothed and overall it was a lot nicer then I expected. I was able to hand them right to my children to hang on the tree. The personalization was exactly as previewed and it was so nice for my daughter to have something with her unique name on it. I would definetely buy again!

beautiful
By
AMANDA H.

(WYOMISSING , PA) - December 21, 2011 (
See all reviews by this customer
)
it matches the stocking great! its a gift for my mom who loves gingerbread! couldnt have asked for a better ornament!

So adorable
By
karin R.

(woodstock, IL) - November 26, 2011 (
See all reviews by this customer
)
For the past 7 years I have bought our family ornaments from Personalization mall and I am never disapointed!

Very cute keepsake!
By
Shopper

(Signal Hill, CA) - December 22, 2011
These ornaments turned out to be better than I expected! They are well crafted and make a wonderful keepsake. The ones we ordered will definitely adorn our Christmas tree for years to come.

Kay, latham NY
By
Shopper

(cohoes, NY) - January 2, 2012
My grandchildren loved the Gingerbread Cookie ornaments. I ordered one of each and they both loved it. Excellent quality and quick delivery.

Review
By
Lynne F.

(Novi, MI) - December 27, 2011 (
See all reviews by this customer
)
my 5 year old LOVED it, it came just as described.