Beautiful!!!
By
Shopper

(brooklyn, NY) - August 2, 2012
Perfect. My only feedback is you don't have the option to capitalize.

Xmas touches
By
Sunlee C.

(Anchorage, AK) - June 8, 2012 (
See all reviews by this customer
)
This is the perfect addition to my tree and was very affordable.

Love
By
Shopper

(Milton, MA) - May 16, 2012
I absolutely love this ornament. I can't wait to put it on my Christmas tree this year for everyone to see it. It is well made. Personalization mall did not disappoint me.

christmas ornament
By
Linda S.

(Sterling Heights, MI) - January 24, 2012 (
See all reviews by this customer
)
beautiful keepsake for grandparent, godparent or parent.

Feature I didn't like
By
Shopper

(Union, NJ) - January 17, 2012
The ornament is really nice, but I just wasn't crazy about the way it cut off the left side of the large letter M in the upper left hand corner. I thought it could have been placed a little better.

Cute keepsake
By
Shopper

(Muskegon, MI) - January 3, 2012
The ornament is very classy. I would definitely buy another.

Baby ornaments
By
Ellen M.

(Mill Creek, WA) - December 29, 2011 (
See all reviews by this customer
)
I ordered two of these, one for each of my children. They are a little smaller than I thought they would be and very delicate but I believe they will be a wonderful addition to our tree and a great keepsake to pass to the kids when they are older.

Personalized Birth Ornament
By
Shopper

(Saint Charles, MO) - December 27, 2011
These are great ornaments. Just remember to type the words (ounces,pounds, length) or it will be left off and only the number will appear.

Great Christmas gift for baby's 1st Christmas
By
Shopper

(High Ridge, MO) - December 27, 2011
The ornament was bigger than expected, and looked great. The only improvement was the printing quality looked blurry and almost pasted on. Didn't effect the ornament overall, but can cheapen its look.

Cute idea for 1st Christmas
By
Harper A.

(Shawnee, OK) - December 19, 2011 (
See all reviews by this customer
)
I ordered this for my great neice for her 1st christmas. Can be used year round as nursery decor. Great quality from this wonderful website!

Love it
By
Molly M.

(Evansville, IN) - December 16, 2011 (
See all reviews by this customer
)
This ornament is beautiful. It is a little smaller than I expected, but I still love it!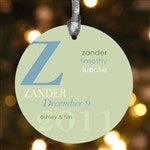 Special 1st Christmas Present
By
Christopher R.

(Baton Rouge, LA) - December 15, 2011 (
See all reviews by this customer
)
I purchased this for my god daughter for her first Christmas. Doing this in hopes of her being able to put this ornament up on the Christmas tree for years to come. When I was young I had one but not as detailed, and I always had it up. Hopefully it will be her first ornament and have some special meaning to her down the road.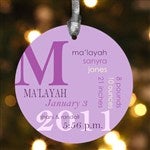 Great Christmas Gift
By
Shopper

(Smyrna, GA) - December 7, 2011
Overall, this is a nice ornament, and is going to be a great gift for my friends that have had babies this year. The large letter wraps around the back of the ornament a little more than I would have liked, but it's still nice and a great gift. I would definitely recommend this product, especially if you can get it on sale like I did!

Precious Ornament
By
Shopper

(Oconto Falls, WI) - December 5, 2011
I love the ornaments. I bought for my nephew for this christmas and thought it was so cute that I actually bought for my girls to have even though they weren't born in 2011. The T is cut off a little too much that kinda makes it look funny but you get the idea. One of my girls ornaments had a big drip on the side. Other then that I still would buy again. Wonderful keepsake.

Great
By
Shopper

(Hazlehurst, GA) - November 28, 2011
I really love this ornament. I got this as a Christmas gift for all the new babies in my family. I ordered a total of 3 and was really proud of how they turned out. My only problem with the ornament is with some letters the letter will cut off on the side. I found this to be true with the T and the B. My A ornament was perfect though.

Happy Shopper
By
Shopper

(PAUMA VALLEY, CA) - November 28, 2011
I bought this for my daughter to put on the tree for my granddaughters first xmas. After I saw it, I'm gonna buy for all 4 of my grandkids to put on my tree. Love the detail of weight, time. etc...cause we tend to forget those details

After re-do, product was okay
By
Shopper

(Apple Valley, MN) - November 26, 2011
At first, product did not meet expectations. Graphic was not placed correctly on ornament and ran off the edges. I requested it be re-done and it came out better, although I do think the letters are still a bit blurry. the ceramic make up of the ornament was a pleasant surprise. I thought it was going to be a hard plastic.