Adorable
By
Lynn A.

(Saint Charles, IL) - August 1, 2012 (
See all reviews by this customer
)
i loved the ornament. it was so clever and my daughter loved it.

Beautiful
By
Shopper

(Chittenango,, NY) - August 1, 2012
Just loved all our glass ornaments. Nice quality too.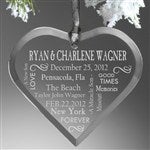 Our Life Together© Personalized Couple's Ornament
By
Susan R.

(Dimondale, MI) - August 1, 2012 (
See all reviews by this customer
)
My son got married this summer and I ordered this for their first Christmas together. It has all of the meaningful words from their wedding along with the dates. It is very nice and I am quite pleased with the result.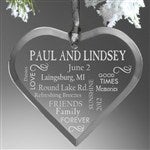 Just Precious
By
Karen L.

(Spartanburg, SC) - July 31, 2012 (
See all reviews by this customer
)
This ornament exudes my love for my family and the memories we've created. What a wonderful and precious ornament that will be a part of our annual family tradition of putting up the Christmas tree. Love this.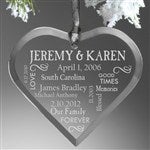 Beauty
By
Kevin G.

(Watertown, WI) - July 30, 2012 (
See all reviews by this customer
)
Very pleased with this item. Better than I thought

Absolutely precious!
By
Shopper

(Cumming, GA) - July 28, 2012
I love this product! I bought one for my husband and I and it looks just like in the picture! I plan to get one for each kid we have and pass them down as cool memory sakes!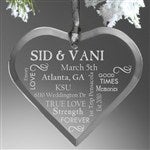 Perfect little ornament
By
Shopper

(White Plains, NY) - July 27, 2012
Very well done -precise and good quality. VERY fragile and will shatter - be careful I had to purchase another one ;-)

Awesome memory gift
By
Shopper

(RIVERSIDE, CA) - July 25, 2012
This gift is for my son and his bride to be and I love it. It has all the information on it and will bring many years of great memories every year at Christmas time. They love ornaments for their tree and this is perfect. I will continue to order gifts from Personalization.com because they are unique and one of a kind. Very happy with my purchase.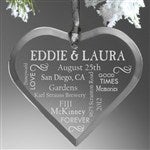 Great way to remember special dates!
By
Shopper

(west chester, OH) - July 23, 2012
I put one together that highlighted our wedding day, and it turned out beautiful!

Truly Beautiful
By
Linda K.

(West Seneca, NY) - July 22, 2012 (
See all reviews by this customer
)
The heart ornament was more beautiful than I ever expected. I was looking for something for a same sex marriage gift, and this fit perfectly with the ability to personalize it my way. I know the couple will be thrilled and touched by this very personal momento.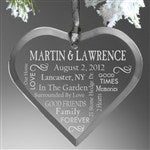 Great!
By
Shopper

(Gulfport, MS) - July 18, 2012
Love it! got it on sale during the Christmas in July sale!! couldn't have gotten such a personalized ornament for that price anywhere!!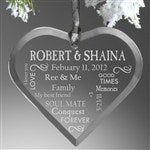 perfect anniversary present
By
Shopper

(Crown Point, IN) - July 17, 2012
Looks exactly like it does in the picture, perfect for my husband's anniversary present and you can't beat the price! comes in a nice velvet gift bag which makes wrapping it easy!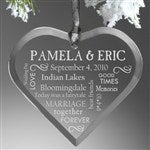 Very lovely
By
Shopper

(Camp Verde, AZ) - July 16, 2012
This was a nice little gift for my son and daughter-in-law. Couldn't beat the price.

Awesome Ornament, Love the Detail!
By
Sarah P.

(Canada) - July 10, 2012 (
See all reviews by this customer
)
Highly recommended. Love the details and the little personalizations with it. I bought this as a stocking stuffer and it turned out great. LOVE THIS!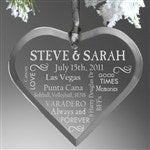 So Fun to Add Such a Personal Touch
By
Shopper

(Milan, IL) - July 10, 2012
These ornaments are beautiful! It was so much fun to pick the details of other's lives and bring them all together in this special memento at Christmas. The cloth gift bags these arrive in are an extra special treat when giving and for storing. Exceptional for the price!

A beautiful keepsake
By
Shopper

(Saint Cloud, FL) - July 6, 2012
This ornament is beautiful and will be a wonderful wedding keepsake for my sister. I liked the fact that some phrases are already included, but there is a lot of space to add your own phrases and really personalize the item for the couple and their special day. The ornament is of good quality and comes in a nice little velvet-y bag that will protect it until it is given as a gift and then when packed away after the holidays (if the couple decides not to display it in their home year-round!). I'm very pleased with my purchase.

Gorgeous
By
Dana M.

(Clovis, NM) - June 9, 2012 (
See all reviews by this customer
)
As always the quality was wonderful and I received it superfast. I love displaying this all year long. My sisters all want one now too!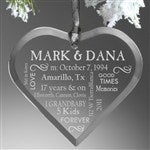 Perfect Engagement Ornament
By
Sue B.

(Oak Forest, IL) - May 5, 2012 (
See all reviews by this customer
)
Received my ornaments within 3 days of purchase and they are as beautiful as the picture your see!! Loved the way I got to see my finished product and how easy it was to place my sayings where I wanted them. I definately recommend this to anyone with a special event coming up!

Great 1st Christmas together gift
By
Shopper

(Madison, SD) - May 1, 2012
I bought this for my best friend who got married over the summer. It looked beautiful on their tree and will be a reminder of their first months as a married couple for years to come.

Nice sentimental momento
By
Shopper

(Melbourne, FL) - April 15, 2012
Another great turn-around time for my orders from the personalization mall! This one arrived quickly and looked exactly like the preview I approved before shipment. I am very pleased.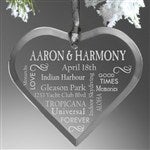 Great wedding or shower gift!
By
Shopper

(Wesley Chapel, FL) - April 6, 2012
Bought this ornament for my sister who's getting married this December. Very easy to personalize the ornament and was very legible upon receiving it. Highly recommend this product for any special couple! What a nice keepsake!

Very Nice Personalized Ornament
By
Shopper

(Paducah, KY) - March 23, 2012
Purchased this for my niece who was recently engaged. Loved how you can add so much information to make it truly personalized to the specific affair. I was able to add Names, places, towns, etc. to make it very unique. Turned out great!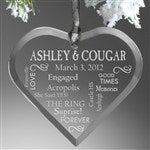 Great Product and Service
By
Pedro P.

(New Windsor, NY) - March 13, 2012 (
See all reviews by this customer
)
Although this is listed as an "ornament", I thought it made a great gift to give to those who will be us on vacation during our anniversary in July. Because you can customize every field, I was able to preview and play around with the text to create a gift that would highlight memories of the day before I placed the order. What I previewed is exactly what arrived and fast! I also ordered the gift boxes which are heavy weight, sturdy, and stylish...and are so nice they don't need to be gift wrapped. I would definitely recommend and order from this company again.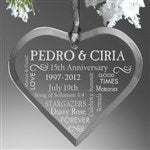 great gift idea, new couple
By
Shopper

(Baltimore, MD) - March 4, 2012
I purchased this for my new husband last Christmas and loved it so much I created one for friends who are soon to be married. A classic gift I hope they'll cherish for many years!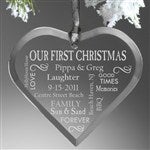 superior service
By
DEBBIE Y.

(SAN MATEO, CA) - February 20, 2012 (
See all reviews by this customer
)
speedy, quality, superior service, what an excellent company, i couldnt have asked for more, perfect present, super prices, i would recommend anyone wanting this type of gift to buy from here, 100% thank you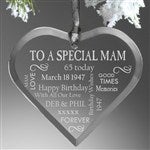 Perfect!
By
Leslie W.

(Lanham, MD) - February 17, 2012 (
See all reviews by this customer
)
I was looking for an inexpensive but not cheesy memento to mark my son's First Valentine's Day. This was my first order from PM.com and I am happy with the product, the price and the timeliness of it's arrival. I also received compliments from everyone I showed it to.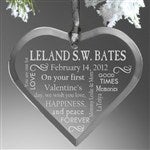 Beautiful
By
Patti B.

(Durham, NC) - February 13, 2012 (
See all reviews by this customer
)
The quality was "top notch". You can use this to hang on an ornament hanger or even place on a Christmas Tree. This gift will be seen year round. I was so very pleased with this Ornament. Thank you for offering something so special.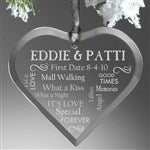 Great gift for engaged couple
By
Shopper

(Orlando, FL) - February 8, 2012
The ornament is excellent quality with good weight and crisp engraving. The perfect remembrance of a special day for the couple and generations to come. I have already ordered it for 2 couples and will make it a standard gift for the future.

Fantastic Workmanship
By
Shopper

(Schuylkill Haven, PA) - February 8, 2012
Absolutely beautiful! I've ordered numerous items from Personalization Mall.com and have never been less than extremely pleased with the products and quality of workmanship. My favorite shopping place ever!

for my valentine
By
Kate M.

(Atlanta, GA) - February 6, 2012 (
See all reviews by this customer
)
I had gotten behind and never ordered an ornament to commemorate celebrating my first Christmas with my husband. So I ordered this ornament as a Valentine's present for my husband. I LOVE it! It's very pretty. And I love the fact that the personalization looks great and says exactly what I want it to say.

My favorite thing about this product is being able to see what it will look like before it arrives. I'd order it again and again (and maybe I'll make some for my in-laws)!
Thanks for a great product with fast shipping!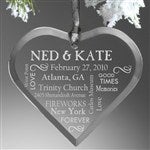 Created a memorial ornament for my brother's and sister.
By
SHERRY E.

(FLORISSANT, MO) - February 6, 2012 (
See all reviews by this customer
)
I especially liked this ornament because you can add the comments you choose. It truly made a beautiful memorial gift for remembering our mother. I presented this at Christmas because this was our 1st Christmas without her. I ordered several ornaments and again Personalzations speedily completed this order and shipped it quickly. It is placed in a gift bag which is a nice touch when giving as a gift.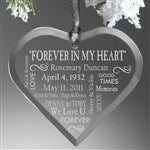 One of the most unique gifts I've ever given!
By
Shopper

(Tifton, GA) - January 27, 2012
The couple we gave this to just loved it!

ABSOLUTELY LOVE IT!!!
By
Amy M.

(JBLM, WA) - January 18, 2012 (
See all reviews by this customer
)
This is the BEST sentimental ornament I have ever seen...BY FAR!!!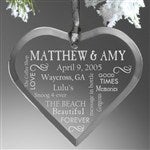 Love it!
By
Jamie Z.

(Wilmington, DE) - January 17, 2012 (
See all reviews by this customer
)
Got this for my husband for our 1st married Christmas together. It turned out beautifully and I love the whole idea behind it!

Beautiful, Unique Keepsake
By
Shopper

(Foster City, CA) - January 16, 2012
I ordered the Couple's Ornament as a 20th Anniversary gift for my husband. This was the 1st time I bought something from PersonalizationMall.com and I was more than satisfied. The ornament is beautifully etched with about 10-12 lines of personalization. I put the place we had our first date, where he proposed, our favorite vacation, our kids' names, etc. It was nice to have so much room for personalization. The ordering process was super easy, the turn-around very fast and the quality is really excellent. I bought a few other things at the same time and everything exceeded my expectations. I will definitely buy more and it has already become my favorite place to buy special, one-of-kind, personal and treasured gifts.

Who could ask for anything more?
By
Shopper

(Pittsburgh, PA) - January 15, 2012
This is my favorite ornament! I ordered quite a few and I love~ love~ love this one!! It is so personal and so beautiful. I am so glad I got this one!

Great for very personalized gift
By
Cathy R.

(Dallas, TX) - January 15, 2012 (
See all reviews by this customer
)
I love how this ornament looked after it arrived in the mail. It's wonderful to be able to personalize many unique lines for couples or families. I ordered for my family, as well as other family and friends. Just make sure you look at the preview and adjust the order of the lines, if necessary, since not all are printed in order.

ornament
By
Tonya S.

(Jonesville, LA) - January 15, 2012 (
See all reviews by this customer
)
i got this for my brother and sis-in-law when they married...they are a combined family so i put all of their children's names on there along with Disney and castle b/c that's where he proposed to her...she cried when she got it...this is the perfect wedding present.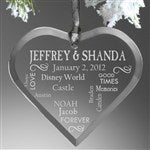 Ornament
By
Sandra A.

(Orlando, FL) - January 15, 2012 (
See all reviews by this customer
)
the idea of past events really touched my brother and his wife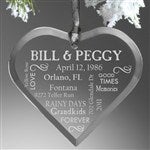 Loved this
By
Shopper

(Greenwood, MO) - January 15, 2012
This was such a fun gift to give - definitely looked like more than what I paid for it and the recipients loved it.