Special Wedding Gift
By
Shopper

(North Mankato, MN) - August 28, 2013
The groom was a close friend of my husband who died last year. I wanted the couple to know that my husband was there in spirit to celebrate their special day. This ornament allowed me to do that. I added it along with my gift to them. The ornament came quick and flawless. The price was right and accomplished exactly what I wanted. I have ordered from Personalization Mall in the past and have always had superior service and quality in my orders.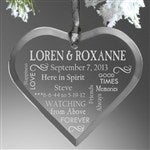 Turned out nicely!
By
Shopper

(Boulder Creek, CA) - August 27, 2013
Ordered this because I wanted something more personal than just a typical "our first Christmas together" ornament. It turned out great and I'm very happy with it.

personalized ornament
By
Rhonda B.

(Brighton, IL) - August 26, 2013 (
See all reviews by this customer
)
beautiful!!!!!!!!!!!!

Couple's Ornament
By
Shopper

(Gray, TN) - August 20, 2013
I bought this as the "gift tag" for a wedding gift (which was the Everlasting Love Engraved Wedding Clock). It's perfect! I am sure they will love it as a Christmas ornament beginning with their first Christmas as a married couple!

Fun Anniversary Gift
By
Shopper

(Flower Mound, TX) - August 19, 2013
This was an unique anniversary gift with the ability to personalize with special events, dates, children's names, anything with special meaning to the couple. The quality of the etching and glass ornament is very good. They really enjoyed it, and they will enjoy it for years as a Christmas ornament, too.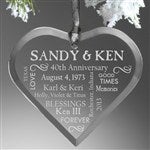 Perfect Gift
By
Dianne G.

(Macomb, MI) - August 17, 2013 (
See all reviews by this customer
)
I've purchased this gift several times as an Anniversary or Christmas Gift.
I love that you can personalize it any way you want with dates or words.
You are not forced into a strict format.

Great Ornament For ALL Occasions
By
Mary M. J.

(Forney, TX) - August 13, 2013 (
See all reviews by this customer
)
I use these ornaments for ALL life event occasions: Births, wedding and deaths. The families I give these to when a loved one has passed away love it. They hang it on the stand to view everyday and then transfer it to a Christmas tree during the Christmas holidays.
My goal this year is to have a Family Remembrance tree for all of my families life events: Birth, Baptism, First Communion, Confirmation, Wedding, Graduation, First Home and Death.
I sure hope they never get rid of these ornaments. It's so great to be able to personalize it to the special occasion. I have always been pleased with every purchase.

Personal Touch
By
Shopper

(Lincoln, NE) - August 12, 2013
Beautiful product! So personal and I love the fact that you are able to add many of your own descriptions. I would buy this ornament again for multiple gifts. I just bought 3 - I love them all! Packaging is wonderfully protected, and it's just an overall very nice product.

Beautiful!
By
Debra L.

(Livonia, MI) - August 9, 2013 (
See all reviews by this customer
)
This is the second ornament like this that I ordered for a wedding. I love that each ornament can be personalized to make it individually special to the recipient. My brother and his new wife loved it! Ornaments are special treasures in our family and this one will be cherished forever. The beveled glass, the etching, the beautiful silver bow ribbon are all beautiful and perfect. I plan to have this ornament made for every bridal couple in the future. Highly recommend. Ordered on a Sunday night for a Friday wedding and the ornament was in my mailbox by Wednesday. I love Personalization Mall!

lovely wedding gift
By
Lisa E.

(Edina, MN) - August 6, 2013 (
See all reviews by this customer
)
it was perfect. I put the wedding dates, church name, place the reception was held at, etc.

Fabulous Keepsake
By
Gayle B.

(Swanton, OH) - August 5, 2013 (
See all reviews by this customer
)
Can't believe how high end this looks, especially for the price! I bought several and made some about weddings, some about children, even one for a couple who has moved all over the country. Your imagination is your only limitation. Highly Recommend!

Sweet Gift Item
By
Shopper

(Grovetown, GA) - July 27, 2013
I made this gift to add to a wedding gift. It was fun to customize it especially to their life. This is a beautiful and quality etched glass item that they will treasure for life.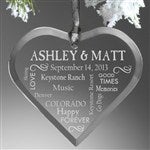 SO SWEET
By
Jennifer Z.

(Lehigh Acres, FL) - July 23, 2013 (
See all reviews by this customer
)
Love this !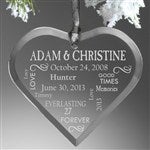 Gorgeous!
By
Shopper

(Livonia, MI) - July 22, 2013
I ordered this as a gift for my daughter and soon to be son-in-law. Ornaments have always been a way to symbolize special events in our lives so this is a perfect way to honor their wedding day for years to come. The beveled glass and etching are very rich looking. Perfect. Highly recommend.

Perfect gift the first time so I purchased another !
By
Shopper

(coatesville, PA) - July 20, 2013
This is the perfect little gift for a 1st Christmas ! Quality item , for the 50 % off price so I've bought a second one for a future gift.

Heartfelt Gift
By
Shopper

(Bettendorf, IA) - July 19, 2013
Great wedding gift! Well planned and fun to compile too. Quality of print was excellent.

Special ornament
By
Celia L.

(Carrollton, GA) - July 17, 2013 (
See all reviews by this customer
)
This is a very unique gift and you can add lots of personalization to make it very special.

anniversary gift
By
Shopper

(Mentor, OH) - July 16, 2013
My fiancée and I have been together 8 years and have shared many memories. I purchased this during the Christmas in July sale and I gave it to him in the summer for our anniversary. He loved how every big memory we shared was displayed in this glass heart. Even though it's a Christmas ornament, we put it on the fireplace year round.

Gorgeous
By
Denise B.

(Phoenix , AZ) - July 16, 2013 (
See all reviews by this customer
)
I got this for my daughter who just joined the Air Force and it was very easy to come up with lots of words/memories

I used honeymoon cruise destinations with wedding date!
By
Shopper

(Fredericksburg, PA) - July 14, 2013
This is the PERFECT ornament for newlyweds who also had a once-in-a-lifetime honeymoon...you can list all their destinations on one ornament!

elegant ornament
By
Shopper

(Clifton, NJ) - July 14, 2013
Can't wait to give this at Xmas time. As always, whatever I order I am more than satisfied. Thank you again.

Wedding ornament
By
Shopper

(Crystal Lake, IL) - June 29, 2013
This may be my favorite order ever! I love that there is the opportunity for so much personalization! I played around until I had the the right font and location for each aspect of my niece's wedding day. This will be the perfect keepsake.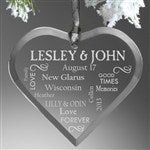 Great grad gift, also
By
Shopper

(Holly, MI) - June 2, 2013
I made this ornament into a momento for graduation, and it turned out SO nice. What a fun personalized gift.

Great wedding gift
By
Shopper

(Holly, MI) - May 17, 2013
After receiving ornaments as one of our own wedding gifts, we decided that it was something we wanted to share with others. How great to find one that is so personal and unique. It turned out just BEAUTIFUL, and comes so nicely packaged. Thank you!

couples ornament
By
Shopper

(PALM BAY, FL) - May 16, 2013
i really liked the couples ornament but was dissappointed in the size of it. i thought it would be bigger. but everything but the size is great on it.

Love it!
By
Shopper

(Naperville, IL) - May 6, 2013
I include this with every Wedding Shower gift I give and the Brides-To-Be just love it!

Ornaments aren't just for Christmas
By
Jan J.

(Dallas, TX) - April 6, 2013 (
See all reviews by this customer
)
I ordered this for one of my daughter's 3rd anniversary. Crystal or leather are the materials suggested for gifts on the third wedding anniversary. Although this is lucite, it is so pretty and personal. It will hang on their Christmas Tree in December of 2013 to commemorate 3 years of marriage and all of the major events that have happened in their lives during the 3rd year!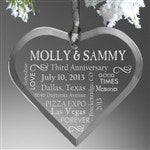 Unique Personalized Heart
By
Charlene H.

(Corona, CA) - March 3, 2013 (
See all reviews by this customer
)
This unique personalized heart is absolutely wonderful! Have never seen anything like it! The ability to put numerous phrases and words on it that have meaning in our lives was unbelievable! The quality of the glass and the lettering was perfect, as was the cost and the speedy delivery! Thank you for offering this very special item!!

Great wedding present tag
By
Stephanie D.

(Mandeville, LA) - February 18, 2013 (
See all reviews by this customer
)
Good price - Great quality - Fast delivery - Wonderful memories of their special day - I'm satisfied

Wonderful Gift
By
Shopper

(Oakville, MO) - February 16, 2013
The quality of this ornament is great, and the ornament came exactly how I ordered it. It is a great size for the tree. There are no rough edges. When you don't want to give the couple just an impersonal check for their "Big Day", add this ornament for something they will remember for years to come!

good job
By
Lea B.

(Cambridge, MA) - February 14, 2013 (
See all reviews by this customer
)
love it

Great gift
By
Shopper

(Murrieta, CA) - February 9, 2013
I got this as a gift to my parents, with various dates and places that hold special meaning to them. They loved it and put it on display on their piano right away. I would order this again.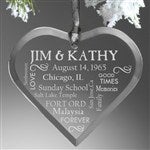 Great Review of the Year Ornament!!!
By
Teila T.

(Portland, OR) - February 8, 2013 (
See all reviews by this customer
)
I'll be ordering this every year now! It's a wonderful way for us to review our year, events and trips we've done throught out marriage. I imagine our tree 20 years from now with all of our personalized ornaments telling the story of our lives together. Just beautiful.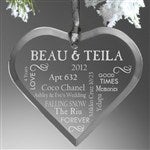 the perfect 25th anniversary gift!
By
Shopper

(Thonotosassa, FL) - January 25, 2013
My husband and I had looked at lots of 25th anniversary ornaments but none were personal enough. When we saw this one we knew it was exactly what we both wanted. It was shipped extremely quickly and was more beautiful in person that shown on the website. Will definitely order more for others as the occasion warrants!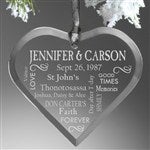 25 th anniversary
By
Joyce B.

(Queensbury, NY) - January 22, 2013 (
See all reviews by this customer
)
I ordered this as a keepsake for our anniversary..loved the way it came out! It has all our special days and dates ..a wonderful way to remember our special day! Quality is excellent!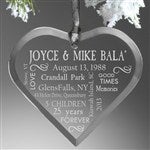 Just Married
By
Shopper

(Easley, SC) - January 16, 2013
Loved this ornament!!!!

Simple and beautiful
By
Crystal M.

(Lake Villa, IL) - January 14, 2013 (
See all reviews by this customer
)
Very pleased with this item. Easy to create and oh no personal.

Personalized ornament
By
Shopper

(Dedham, ME) - January 14, 2013
I love the personalization of these ornaments...to be able to add little notables from the past year and bringit out year after year is such a treasure! Will continue to order these year after year!

I LOVE this!
By
Cherrie L.

(Hampton, CT) - January 14, 2013 (
See all reviews by this customer
)
This is the 4th or 5th one I have purchased, These are simply beautiful! Fantastic anniv. gift!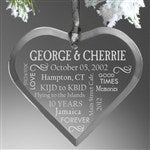 Unique gift
By
Erika H.

(Groveland, MA) - January 8, 2013 (
See all reviews by this customer
)
Purchased this for a friends wedding. I love the amount of personalization that you could do with this style . Plus it doesn't have to be a Christmas gift. It would look pretty hanging in a window year round. Nice quality and fast service.