Love it! But smaller then expected!
By
Shopper

(Elkton, KY) - November 14, 2011
I ordered this for me and my husband because this is our first Christmas together being married! I love the ornament, the engraving is beautiful! the only thing is the picture online made the ornament look larger then it really is so it was kind of a let down when I opened it and it was so small! But I am very pleased with it overall and would order one as a gift as well!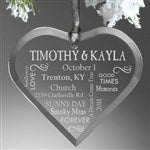 ornament
By
Shopper

(Collierville, TN) - November 11, 2011
Personalized ornament received on time and exactly as ordered.

Great Way to Remember Your Wedding
By
Shopper

(Massapequa, NY) - November 8, 2011
I bought this Christmas Ornament to remember our wedding day. It is a well made ornament, and the ability to personalize is with those little things that mean something special is what sold me! The only reason I didn't give this product 5 stars is because the ribbon included is a little cheap looking, but that is easily replaced. I would highly recommend purchasing this ornament!


Wedding gift
By
Shopper

(Manteno, IL) - March 10, 2014
The ornament is very nice, but it is not as thick or precisely etched as I expected.


Couple's Ornament
By
Alan P.

(Lincoln, NE) - February 1, 2014 (
See all reviews by this customer
)
Lettering was to small and to light. Really hard to see what is written. A contrasting background would of made the writing easier to read.

I was pleased but not please at the same time...
By
Shopper

(Bel Alton, MD) - December 31, 2012
i loved the thought of this ornament how you can personalize it with different things..but you can only put 1 or 2 words in certain areas before it starts looking to small and you cant read it..i bought 4 of them for friends and family and i would not buy these again..they still loved them, my mother actually asked me what hers said for one line. if you buy these keeps the lines short.

Love The Concept/A Bit Disappointed in the Quality
By
SueAnn S.

(Cincinnati, OH) - December 26, 2012 (
See all reviews by this customer
)
I ordered this item for my niece and her new husband, and LOVED the idea of customizing this ornament to reflect their wedding date/location/honeymoon destination/hobbies/etc. I am pleased with its uniqueness, but a bit disappointed in the quality of the etching. It seems uneven in depth, and some small type is very hard to read. I wish the actual etching/engraving read as clearly as the digital proof that I approved, or the sample that is reflected on the website. But, overall, it's a special gift celebrating my niece's special day, and would rate it 3-1/2 stars if that option were available.

Lovely idea.....
By
Shopper

(Parma, OH) - December 25, 2012
It's a beautiful piece, but it truly is too small in my opinion. The ornament being clear glass ends up disapearing into the tree because it is so little. Also some of the lines of text are so small they're nearly indistinguishable because they are tiny. The thought of hanging this on an individual would prevent it from getting lost within the tree, but it's size would make it somewhat odd looking being on its own. I believe the size should be increased to at least 4x3.5 to really appreciate the piece.

Noy What I Expected
By
Shopper

(Scottdale, PA) - December 23, 2012
I WAS DISAPPOINTED THAT SOME OF THE ENGRAVING WAS SO SMALL IT IS PRACTICALLY UNREADABLE; I WOULD RATHER HAVE LESS SCRIPT ON THE HEART AND THE ENGRAVING BE MORE PROMINENT

small
By
Maureen F.

(naperville, IL) - December 10, 2012 (
See all reviews by this customer
)
This item was much smaller than anticipated and expensive for what it was. a little disappointed.

Turned into family ornament
By
Gayle D.

(Howell, NJ) - March 24, 2012 (
See all reviews by this customer
)
I cheated and used this 'couples' heart to include several family members' names. It's a nice ornament, heavy and thick. I didn't like that two of the entries were sooo tiny you could barely read them, though. I may have returned it for that reason only, but it was too close to Christmas and I needed to give it to my MIL. She loved it all the same and it's so nice that it includes the year. Price was decent too.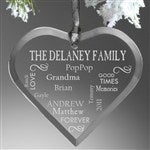 Cool personalized ornament
By
Jackie M.

(Isanti, MN) - December 30, 2011 (
See all reviews by this customer
)
White on letters seem to be somewhat faded... but overall good. We'll see if it lasts.

Heart Ornament
By
Shopper

(Lithia Springs, GA) - December 30, 2011
I really liked the ornament I purchased. My only complaint is that I wish the writing was darker on the glass. Some parts seemed to be faint.

Pretty Small
By
Zulay D.

(Homestead, FL) - December 21, 2011 (
See all reviews by this customer
)
Make sure you check the size specifications. This was a lot smaller than I had anticipated. Very nicely done, just small.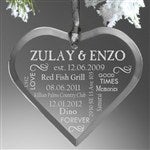 adorable
By
Jennifer D.

(Yonkers, NY) - December 17, 2011 (
See all reviews by this customer
)
This ornament is adorable and it has tons of space to add pets and special dates ... I even put our current address on it since it is always a great marker of time. The cost seemed reasonable considering how much information you are able to personalize.
I wish I had read the bad reviews before I purchased the ornament because I was dissapointed in the quality. The ornament is a very thin piece of glass and I am worried that it might break one day ... you need to be extra careful with this one and hang it high on the tree so no one can touch it.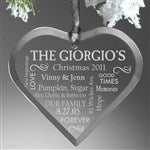 Cheap Looking
By
Christopher T.

(Glen Allen, VA) - December 18, 2013 (
See all reviews by this customer
)
Quality seems fine, given it's an ornament I haven't tried dropping it. It just looks like cheap plastic rather than glass. Wouldn't order it again.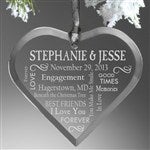 It was ok.
By
Amanda C.

(Copiague, NY) - December 11, 2012 (
See all reviews by this customer
)
This is the first time I was really kind of disappointed. On the website the ornaments lettering looks very bold and bright. When I got mine the letters were not bright and you could barely read some parts of it. Its a shame too because I was very excited about this gift, now not so much.

Print not clear
By
Shopper

(Pleasant Hill, IA) - December 5, 2012
I love the idea of the ornament. After ordering other glass ornaments, I'm disappointed in the quality of the print on this one. No doubt it is because it is not engraved as the others that I have ordered were. The words are hard to read unless they are against a black background. I'm concerned that the words could come off since they are raised and rough on the back of the ornament. The preview photo is so much larger than the actual ornament, so the words are very clear on it. Did not give an accurate presentation of the end result. Also, do not order the gift box. It is not worth the $2.50. In the future I will only order the ones that are engraved.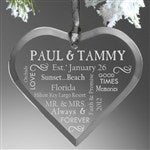 Off Centered
By
Shopper

(Henry, IL) - November 28, 2011
I was a little disappointed when I received this ornament. On this particular order I personalized 6 ornaments and 2 of them are off centered. I've placed several orders and this is the first time this has happened.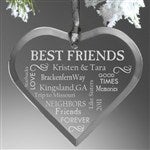 Idea is good...
By
Shopper

(Troy, NY) - November 22, 2011
It is a good idea and cute but the quality is not great

Very unhappy!
By
Sharon A.

(Bel Air, MD) - December 24, 2012 (
See all reviews by this customer
)
Still haven't gotten it yet:-(

glass way too thin
By
Shopper

(armonk, NY) - December 10, 2011
These ornaments are etched into extremely thin blanks of glass - much too thin to be used for this purpose. The first ornament came broken and while the company offered to redo it, it couldn't be made with thicker glass. I had ordered it as part of a gift to friends and I felt it was very low quality. Looks much better (and readable) on-line. The smallest lines of lettering are microscopic.

Dont bother
By
Mary C.

(Ireland) - December 5, 2011 (
See all reviews by this customer
)
Was totally disappoointed with this ornament, it is so small and totally cheap looking, it cost a fortune to have posted to me and to be honest it could have fitted in an ordinary enevelope and cost barely anything to have posted to me, i am really dissappointed with this product and will not be purchasing anything like this again from you
totally disgusted and peeved off customer

unhappy with lightweight ornament
By
Shopper

(West Haven, CT) - November 16, 2011
The quality of this ornament would be much better if it had some WEIGHT to it! Very lightweight. I'm almost embarrassed to give this as a gift to my boyfriend for our first Christmas. Looks almost chipped on the round part of one of the hearts (I ordered two identical). Thought thickness should be a bit thicker.