Love this ornament
By
Jackie D.

(Centerville,, MA) - December 10, 2012 (
See all reviews by this customer
)
Absolutely love it. It's a beautiful ceramic ornament. We were able to put all of our names on, even the dog. I love that I could see the ornament before buying it. I arranged the names based on seeing the review before my purchase We buy a family ornament every year and this year this one was perfect. Thanks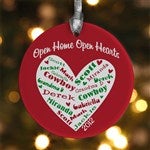 Love this ornament
By
Kim S.

(Houston, TX) - December 8, 2012 (
See all reviews by this customer
)
I know my Mother will cry with happiness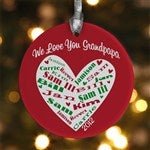 Perfect!
By
Shopper

(Plano, TX) - December 4, 2012
I did this as a "First Christmas Married" ornament for my niece & it came out perfect! She & I both cried when I gave it to her!!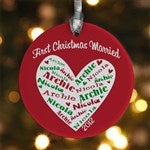 Well worth the money!
By
Shopper

(Chicago, IL) - December 2, 2012
I purchased these for my sisters and they're great! The names came out perfect and they look like I put a lot of thought into the gift. I would definitely recommend ordering them! For the amount it costs, they're a great value. I ordered one for myself, also, and love it!

Great Gift
By
Shopper

(Henderson, TX) - November 29, 2012
Excellent quality ornament. I bought one for each member of my family with specials thoughts and memories that described each. It was a nice gift that turned a family gathering into a special family memory.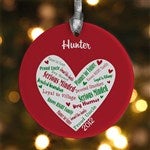 Very nice - grandparents will love !
By
Shopper

(Wilmington, DE) - November 26, 2012
This was nicer than I had thought....grandparents will love it !

Adorable
By
Kristine H.

(Angier, NC) - November 26, 2012 (
See all reviews by this customer
)
I love how these turned out. I read a ton of reviews before ordering and am so glad I did. Yes, these are small, but compared to most ornaments... similar in size. The names are very clear and I can't wait until Christmas when I give them to my parents and in laws. I know they too will love them.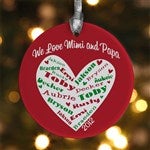 Great!
By
Shopper

(Noblesville, IN) - November 26, 2012
I was so pleased with my ornaments! I have ordered many items from this website and am always pleasantly surprised at how quickly I receive them. I love buying personalized gifts for people and this has become my "go to" spot for them!

Lovely Personal Sentiment Ornament
By
Judith B.

(Grovetown, GA) - November 21, 2012 (
See all reviews by this customer
)
My niece asked me to order this for the boy she likes. She was very excited and happy with this ornament. The quality of the piece was good and the printing was very clear and easy to read. I was pleased and impressed with this ornament.

If I could make any changes on this lovely ornament it would be to make it a little bigger so the heart would be larger and the print not so cramped together.

Appreciation ornament
By
Patricia W.

(Highland Park, IL) - November 13, 2012 (
See all reviews by this customer
)
Very clever and perfect way to appreciate someone at Christmas time. Priced perfectly for a novelty gift to give. Excellent quality.

Fun Product
By
Shopper

(Bremerton, WA) - November 12, 2012
This came as expected! It is thin, but is printed beautifully and will look great on any tree. Great way to make grandparents feel special.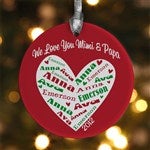 Awesome Yearly Ornament
By
Kristie P.

(Toledo, OH) - November 6, 2012 (
See all reviews by this customer
)
I do not use these ornaments for names, in fact they work much better as a yearly ornament. I made an ornament similar to this one (it was a glass gift tag shaped ornament) with all of the things that were important to each child that year, and this year I am continuing the tradition with this ornament. As an example, my daughter is in 1st grade, shes a cheerleader, runs cross country, is a daisy scout, went to kings island for a vacation, her teachers name, and she is obsessed with Monster High and Lalaloopsy dolls. My son is 2, so it was harder to come up with ideas, but both ornaments turned out adorable. I hope they continue to release new customizable designs year after year so I can keep up this tradition for my children to show their children someday.

love it
By
Shopper

(Winter Park, FL) - November 5, 2012
It was made and shipped super fast and is such a cute gift. Looks just as good in person as on the preview. Im very satisfied with this purchase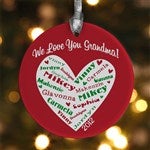 Love it
By
Mariangeles C.

(Millbrae, CA) - November 3, 2012 (
See all reviews by this customer
)
It captures all the names just right,it is exactly what I wanted

Beautiful!
By
Colleen K.

(Curtice, OH) - October 28, 2012 (
See all reviews by this customer
)
I am very pleased with this ornament (as I have been with every single item I have purchased from Personalizationmall.) Every year I try to add something special to our Christmas tree and so I opted to put the names of all of our family members on this ornament. It turned out beautifully. So nice, in fact, that I reordered one for my parnets, too.

Beautiful!
By
Shopper

(Canada) - September 20, 2012
Very well made, and personalized. It was a nice glass ornament and I was expecting a cheap plastic so I was pleasanly surprised. I am very happy with this purchase.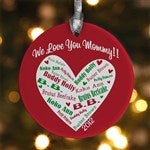 Perfect & Cute Gift
By
Shopper

(Boynton Beach, FL) - August 27, 2012
Personalized Christmas Ornaments are a HUGE family tradition! This is just adorable. It is a bit small, but the writing is very clear. Quality is very nice. I'm very happy with this item and my mom is going to love it! Thank you personalizationmall.com, I will be shopping with you again!

So many names
By
Candace B.

(Aurora, CO) - August 6, 2012 (
See all reviews by this customer
)
This is the only ornament I have found where I can include eight names without a hierarchy (mom, dad, etc.).

Great ornament!
By
Shopper

(Abington, MA) - August 4, 2012
Took a chance and ordered 8 of these ornaments for multiple families. With your personalization preview ability at order placement, I was able to try different names in different order so it was easy to find the combinations I wanted and view how each would look. Each family ornament turned out great and I am confident they will be well received this Christmas!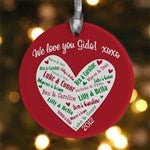 REALLY SWEET!
By
Johanna B.

(Jewett City, CT) - August 2, 2012 (
See all reviews by this customer
)
I ordered this item for my parents and put all of their grandchildren's names. I actually thought this item was plastic, but it is ceramic and made it even better! I am so happy my folks will have this ornament for their Christmas tree, as this will be our first Christmas apart from them.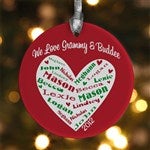 Special
By
Shopper

(Clifton, NJ) - August 2, 2012
Different kind of ornament for Grandma - loved it!!!

Love it!
By
Shopper

(Chesapeake, VA) - August 2, 2012
It turned out just as I expected. I love it!

Held all names!
By
Shopper

(Columbus, NE) - August 2, 2012
I have 2 siblings with 5 kids each and most of the "family" ornaments only had 6 total people and of course I needed something that would hold 7. I found it in this ornament and it is perfect! It was a great value and can't wait to see their faces when they open their totally personalized gift!

Is you are sentimental . . .
By
Tamara H.

(Roanoke, VA) - August 1, 2012 (
See all reviews by this customer
)
This turned out AMAZING! I always purchase a special ornament for my mother with all the grandchildren's name on it. This is by far my favorite!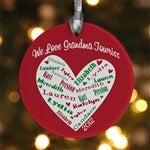 Love the ornament!
By
Shopper

(Liberty Township, OH) - August 1, 2012
Product came to my home as shown and was offered for a reasonable price.

Great
By
Shopper

(Chester, VA) - July 14, 2012
I love this beautifully made ornament! I am very pleased with how it looks.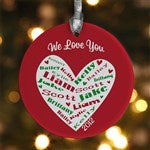 Wonderful family ornament!
By
Leah W.

(Oklahoma City, OK) - July 14, 2012 (
See all reviews by this customer
)
This looks even better in person! very Christmasy - I had five names on it and they all looked great.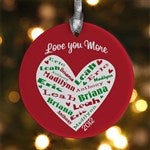 Heart Ornament
By
Shopper

(Round Lake Beach, IL) - July 14, 2012
Very cute heart ornament. Well done!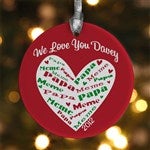 Nicer than On-line Picture
By
Shopper

(Milan, IL) - July 10, 2012
I ordered two of these to put away until Christmas for our grandchildren. The quality was even better than pictured. I'm not sure if they are, but they feel and look like glass ornaments. The price was great, and delivery time was exceptional! Once again, totally impressed by the product and Personalizationmall.com!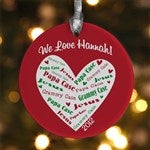 Very beautiful!
By
Barbara M.

(Mountain Home, AR) - May 13, 2012 (
See all reviews by this customer
)
I ordered this ornament for a family friend and will be giving it to them before Christmas. I think they will love it!

Christmas memory
By
Shopper

(Oxford, CT) - May 1, 2012
So cute gift for my hairdresser. She will think of me every year decorating her tree.

heart love ornament
By
Leslee M.

(Vista, CA) - March 8, 2012 (
See all reviews by this customer
)
Bought as part as my moms christmas gift for this year. I am able to put the names of all her grand children and her two great-grand children. Thank you again!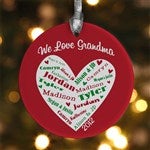 Great Family Oranament!
By
Shopper

(Island Lake, IL) - January 23, 2012
I bought this ornament for my best friend and her family. I love that it has enough room to include eight family members! I thought it would be cute to list my friend, her husband, their son (my godson) and their five pets! (3 cats, a bird and a gecko) The ornament arrived very fast, two-three days after I ordered it and was beautiful! I have ordered many items from Personalizationmall.com and I am always very,very happy with the products, the fast delivery and the packaging. The ornament came in a black velvet pouch, in perfect condition with a very pretty silver metallic ribbon that was tied in a bow to easily hang from the tree. Needless to say, the ornament was a big hit and my friends family loved that all their amimals were included!

Family Love
By
Shopper

(Temecula, CA) - January 20, 2012
Our families loved receiving these for a memory-gift. They arrived in a timely manner and were BEAUTIFUL!

Pretty
By
Shopper

(Port Huron, MI) - January 19, 2012
A little smaller than I expected, but very nice.

Great-Grandkids
By
Valerie W.

(Corry, PA) - January 18, 2012 (
See all reviews by this customer
)
Attempting to be proactive for next Christmas, I ordered this ornament for my grandmother as a gift from my two daughters on January 1. The title was "Great-Grandkids" and it featured the names of all eight great-grandkids. Grandma had a stroke on January 3, and passed away on January 10. The ornament arrived the same day as the first day of calling hours so I took it to the church, and attempted to explain to my grandfather why I had Gram's 2012 Christmas present already. Of course, I was crying like a baby:) He decided it was a good idea to give it to her so we put it in the casket, and there it stayed after all services. My grangmother was a firm believer in Jesus Christ so we all pray that we will be reuinted with her some day, in the meantime, I hope that my small act helped everyone who came to the services know how much she was truly loved by all her family, including all the littlest members.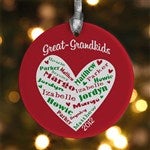 Lovely xmas ornament
By
Jennifer A.

(San Ramon, CA) - January 7, 2012 (
See all reviews by this customer
)
I had a few of these ornaments made for some of my friends-they arrived promptly and were so lovely. my friends LOVED them!!

CUTE
By
Shopper

(Eufaula, OK) - January 5, 2012
These turned out cute

Amazing!
By
Shopper

(Fort Bragg , NC) - January 2, 2012
Very cute & we love ours =]

Great Grandparent gift
By
Ashley M.

(Social Circle, GA) - December 30, 2011 (
See all reviews by this customer
)
This was given to my mother from her grandchildren and she loved it. Great quality and love how it came packaged so carefully.