Christmas Ornament for Grandson
By
Tina A.

(Onondaga , MI) - November 14, 2011 (
See all reviews by this customer
)
I like everything about the ornament except for where the hole is placed for the ribbon. I thought I worked it to where it would be inbetween the two grandmothers but it was not. Other then that I know my grandson will LOVE his ornament due to the fact this is one of his favorite pictures of the year.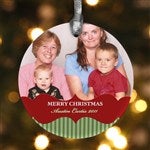 Holiday Photo Ornament
By
Shopper

(Raleigh, NC) - December 29, 2013
The ornament itself was nice, but the photo was not good quality.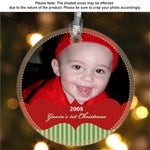 blurry even w/good camera
By Shopper (Forty Fort, PA) - November 26, 2013
I read the reviews about the pictures being blurry, but I thought it was maybe everyones camera. Wrong! Even w/a professional camera, the picture is still blurry. Its cute, but I won't order more...

Nice, but could be better
By
Shopper

(Hamilton, OH) - July 20, 2013
I love the idea of this ornament, but it didn't turn out exactly as expected. I took great care in centering my photos (I ordered 2), but for some reason the actual ornament is slightly off from the preview. The center hole cuts into someone's head farther than it should have. I would still order again, but this ornament will only work with select photos.

The glass ones are better
By
Tinesha J.

(Des Moines, IA) - July 15, 2013 (
See all reviews by this customer
)
The picture looks a little fuzzy even though I used a great quality picture. I also didn't like the way it rounded off the picture either. It doesn't look as pictured. I got it during the Xmas in July sale so I only paid $3 which makes it worth it for the price. If I had paid more I would have been upset.

Just ok
By
Melissa N.

(Chesterfield, MI) - July 13, 2013 (
See all reviews by this customer
)
I've purchased a lot of things from Personalization Mall, all of which I loved. This ornament, however, is not in my top 10. The photo was pretty blurry, as was the writing on it as well. It's still really nice, just not top quality as I have come to expect.

Quality has decreased
By
Mary Ann N.

(Madison, AL) - January 14, 2013 (
See all reviews by this customer
)
Bought very similar ornaments a few years ago and loved them but when I received these in the mail I was disappointed with the quality. These seem smaller, thinner, and more fragile. The coloring is moderate, not as bright and vibrant although the picture was. Will continue to shop from personalization all but will not buy this product again.

Picture didn't print as previewed.
By
Nicole T.

(North Reading, MA) - January 13, 2013 (
See all reviews by this customer
)
The tops of our heads were cut off despite making sure that the photo was within the recommended guidelines for printing. Make sure to put your photo a bit lower than you think it should be I guess :/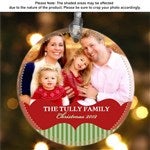 Not as pleased as I have been in the past
By
Shopper

(Arlington, TX) - January 8, 2013
I ordered mine and it was shipped in a timely manner, however, when I recieved 2 of them 1 was too dark and the other had a red tent. When I called I was told it was the quality of my pictures that I uploaded. They had me send what I uploaded to quality controll and told me someone would get back to me. I was suprised that they sent out a second copy to me without notice and they were the same rather than asking me to upload a different picture with a better quality. The others I ordered were fine (ordered a total of 6) I give up!

Poor color on picture
By
Shopper

(Rudolph, WI) - January 3, 2013
When I received my ornament I was less than impressed with the color of the picture. I used a high quality image, but it looked terrible on the ornament. I have ordered similar ornaments in the past and they have looked great, so I was surprised by the poor quality on this one.

Ok quality, but slightly blurry
By
Shopper

(Houston, TX) - January 1, 2013
When I was adding the photo to this ornament the tool didn't show it as blurry. When I got it the photo was a bit blurry. I think it would be better if it was a couple inches larger.

Image compromised
By
Shopper

(Northridge, CA) - December 27, 2012
Image looked stretched. Disappointed.

Photo Ornament Small
By
Jill G.

(Georgetown, DE) - December 18, 2012 (
See all reviews by this customer
)
This is a great gift idea but I was a little disappointed in the size of the ornament. I expected it to be larger for the price.

Cute.. but watch out with already edited photos
By
Carrie C.

(Salem, VA) - December 16, 2012 (
See all reviews by this customer
)
I ordered two of these for Christmas 2012, each having bearing a photo of one of my sons.
I'm a freelance photographer and had already edited the ornaments however, when they arrived I could tell that the color had been edited again, albeit slightly. This is a common occurance but nonetheless annoying. Both my children have red hair and the ornaments are very much glowing with an extra halo effect of orange/red around their heads. If you haven't already tweaked the color of your photo I doubt you will have this same problem.
Although well made and seeming of high quality, the ornament (picture, decorative band, writing) seemed "squished" when it arrived. It hadn't looked that way in the preview, but in hand it did.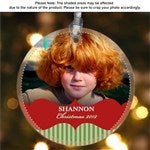 One looked great, The other one was slightly blurry!
By
Nicole C.

(Mays Landing, NJ) - December 13, 2012 (
See all reviews by this customer
)
Nice ornament. I ordered two...One was slightly blurry but I was still able to give it as a gift. I know the picture quality was good because it was professional and we used the same photo to do a large mantle photo which is crystal clear. The other one looked great.

Design flaws
By
Shopper

(Ruston, LA) - December 12, 2012
My photos printed great but the design and text were not printed well, which does not make sense. They were grainy while my photo was sharp. Also, the top line of text is far too close to the top of the design, it looks off-center.

Mediocre
By
Shopper

(centerville, OH) - December 1, 2012
This ornament is okay. I used a high resolution photo that was part of a recent photo shoot our family had. You wouldn't know it was a good photo now that its on the ornament.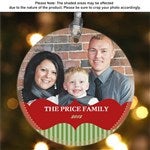 Shipping too much
By
Shopper

(brentwood, TN) - August 2, 2012
I LOVE The product. Very good quality. But when they offer you a discount of Christmas ornament in July, I thought I'd get a deal and order several but the shipping is as much as the tiny little ornament so there is no deal there.
I ended up paying $18.00 for one and that was suppose to be a discount.

I would order many more if it was worth it but I don't think it is.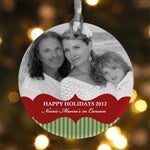 Christmas remembered
By
Sandra S.

(Canada) - January 11, 2012 (
See all reviews by this customer
)
I have purchased photo ornaments in the past and have been very pleased with them. However on my last order I found the pictures a bit askew, almost like they had been stretched and then resized. One of my ornaments was also a bit blurry . I didn't return any of them as they were Christmas presents, and being in Toronto, Canada I wouldn't have had time to return and reorder. Shipping costs also would make returns unafforadable.

Quality not as good as in proof
By
Shopper

(Mt Pleasant, MI) - December 28, 2011
I ordered this online and when I got the ornament, it was really washed out. They were great and gave us our money back and let us send another photo. The second photo (which was color vs. black and white) worked much better, but was still washed out. The proof looks better than it actually does. Im still happy with it but wish it looked a little better.

Photo Ornament
By
Shopper

(Dana Point, CA) - December 27, 2011
The quality of the ornament was great. The only issue I have is that my photo was cropped and I didn't know it would be. It was a picture taken when my fiance and I got engaged and my hand was cut off (so I can't see my ring) and part of my fiance's head is cut off. I would keep that in mind when choosing your photo to use. Overall great quality though and I would use this company again.

Ornament
By
Shopper

(Woodbridge, VA) - December 27, 2011
The ornament is pretty, but the placement of the hole punch adversely effects the appearance. I had to be sent a second ornament because the first one's hole was punched through my daughter's head. This is despite the preview showing a different location if the hole. The replacement ornament was better but still didn't match the preview.

Just OK
By
Shopper

(Marietta, GA) - December 15, 2011
I was not too impressed with it once I got it.. it was OK.. but the letters could have been bigger and less blended...

Cute!
By
Shopper

(Castle Rock, CO) - December 8, 2011
fun ornament for gifts or baby's first christmas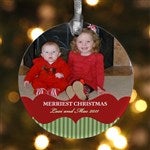 OK
By
Tressa M. C.

(Wilmington, DE) - December 17, 2013 (
See all reviews by this customer
)
Not happy with how blurry my own picture printed on this ornament.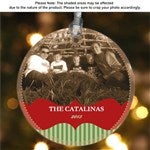 cute but be careful
By
Shopper

(Southampton, PA) - January 2, 2013
This item was adorable; however, the hole for the hanger was put right through the baby's head on the picture. I was disappointed. It was a good quality ornament except for the hole. It doesn't look bad in the preview photo, but in real time looks awful.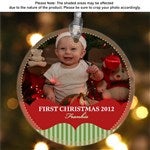 Looks better online than in person
By
marlene S.

(medina, OH) - November 23, 2011 (
See all reviews by this customer
)
Decent ornament, but not great. Looks grainy in person and the quality doesnt match picture

I messed this one up
By
Shopper

(Fairborn, OH) - December 29, 2012
I cropped but it didn't fit right, my mistake so I have two kids with half of a head! Usually awesome products!

Disappointed
By
Shannon M.

(Central Point, OR) - December 28, 2011 (
See all reviews by this customer
)
For several years in a row we have ordered picture ornaments via Personalization Mall without a problem. Unfortunately this year we had one issue after another. Specific to this ornament the color quality for the photo was extremely poor. The advertisement shows a black and white photo, however we opted to do color. The photo we used had medium to dark skin tone people within it and they turned out grayish-greenish. It was almost as if PM's toner was running low - when we complained they quickly shipped another one, however we had the same result. The photo we used was a professional portrait so it was not an issue on our end. Additionally, the cropping of the photo was off. The product preview showed everything fitting nicely, however when it arrived subjects were cutoff. I would not recommend this product.

Quality doesn't look the same as image shown
By
Shopper

(Fircrest, WA) - December 23, 2011
I thought I would buy this ornament but when I actually received at home the image was very poor quality. They show you a scanned image of the photo before you purchase it, but it looks nothing like that when you actually receive it.

Poor Photo Quality
By
Shopper

(Northford, CT) - October 12, 2011
My picture that I submitted came out poorly on the ornament. It was grainy, and not of the quality I've gotten on other items, even though it was an appropriate size,etc. I was unhappy with it.