Cutest impromptu gift
By
Shopper

(Grafton, WI) - December 15, 2013
I found this cute ornament by accident on CyberMonday--on sale, and it may be my favorite gift to give this year. So cute--and I love the personalized touch. Came sooner than expected...nice black bag. So excited to give to my sister and bro-in law for their first Christmas in their new house.

Excellent value for a customized piece
By
Shopper

(Mount Airy, MD) - December 14, 2013
I bought two of these, enticed by the special pricing and free shipping. The instructions for entering the content and the preview section allowed me to gift two unique ornaments. Excellent customer service and quick delivery.

Very Happy
By
Monique D.

(Hot Springs, AR) - December 13, 2013 (
See all reviews by this customer
)
I was very happy with the way this ornament turned out. It looked great and they were very happy with their present. Thank you for a great gift.

Memories
By
Shopper

(Nicholasville, KY) - December 11, 2013
My daughter ordered this for her brother on his first Christmas as a married man. It is lovely and will be a cherished keepsake. The print is clear, everything fit on the ornament and it is delicate looking yet sturdy.

Beautifully Done
By
Shopper

(Maxton, NC) - December 7, 2013
This ornament by far exceeded all the expectations that I had for it. I ordered it for a friend for a housewarming (ornament for Christmas) and it was a huge hit!

2014 Year of Hope
By
Regina K.

(Vallejo, CA) - November 20, 2013 (
See all reviews by this customer
)
This coming year, 2014, is my year of Hope. So many things happening in the family and with me personally. I looked at this ornament and it will be up in my room all year through giving me a smile for the day. Beautiful and so meaningful. Praying for the best is yet to come, amen.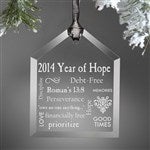 beautiful
By
Adrienne M.

(Fort Worth, TX) - November 20, 2013 (
See all reviews by this customer
)
came out perfect!

Great keepsake
By
Shopper

(St. Joseph, MO) - November 19, 2013
A beautiful keepsake to mark a momentous year - I ordered one for us and each of our adult children. Gorgeous gift for the price. Very pleased!

Great ornament
By
Emily H.

(Atlanta, GA) - November 16, 2013 (
See all reviews by this customer
)
This is a wonderful gift to give. The writing is really easy to read on the ornament and looks great on the tree. This looks very expensive without having to be! Great price for the product. I would highly recommend!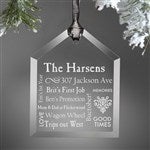 Beautiful Keepsake
By
Shopper

(Palm Coast, FL) - November 15, 2013
Love this ornament! Beautifully engraved with all the pertinent information I provided, makes a lasting keepsake for my daughter and son-in-law's new home. The quality is remarkable, shipping time really quick. Great company that stands behind it's products.

personal touch
By
Shopper

(Hamilton, OH) - November 11, 2013
This personalized ornament came out very nice.
Definitely happy with the look, size and quick delivery time.

I ordered a second one for another occasion after seeing the first one that I ordered.

Christmas 2013
By
Shopper

(Great Meadows, NJ) - November 4, 2013
Ordered these for a family Christmas trip, the first one we have ever done. Looking forward to the trip and the ornaments are a perfect remembrance for all of us. The cost was great, the service and delivery were wonderful! May have been my easiest Christmas shopping Ever!

AWESOME!
By
Christa P.

(Tulsa, OK) - November 3, 2013 (
See all reviews by this customer
)
Had this made for a special family! I love it and I know they will too!

Very Nice Ornament!
By
Angela J.

(Rogersville, TN) - October 29, 2013 (
See all reviews by this customer
)
I love my 2013 Holiday ornament. It's a very nice finish and I love that I can personalize it with so many different text lines. Thanks again for great service and quality products.

Nice!
By
Shopper

(Bowie, MD) - September 12, 2013
This was easy and turned out very nice! Arrived very quickly, too!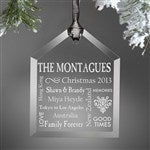 Best Personalized Ornament for Special Occasions
By
Mary M. J.

(Forney, TX) - September 3, 2013 (
See all reviews by this customer
)
I like this so much I order them for every special occasion that comes up. They have always been an item the recipient will cherish forever.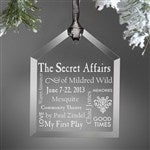 Excellent-Going Away Gift
By
Sandra K.

(Plainfield, IN) - August 31, 2013 (
See all reviews by this customer
)
The recipient of this going away gift was thrilled with the quality.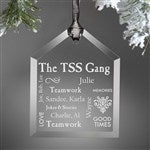 Very cute!
By
Melissa G.

(Milton, VT) - July 30, 2013 (
See all reviews by this customer
)
Nice way for a grandmother to display her love for her grandchildren year-round!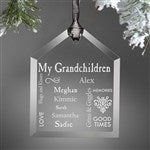 glass house engraved message ornament
By
Kerry S.

(Lexington, KY) - July 16, 2013 (
See all reviews by this customer
)
I had fun creating several of these ornaments for family members. I included special memories in that family's life from the previous year. For example: one family had done a lot of traveling, so on their ornament I listed the names of each of the cities they had visited. For another family, I listed each member's name and a significant milestone in their life that year, such as new job, wedding, or graduation. Each ornament was unique and beautiful.

wonderful gift
By
Christina C.

(Orlando, FL) - April 25, 2013 (
See all reviews by this customer
)
I purchased this for my daughter and son in law. It was a wonderful little touch of personal to topoff their Christmas gifts. They really appreciated it. As with eeverything I receive from this site, it was even better in person.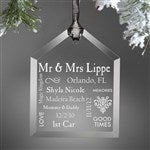 Creating my personal ornament!
By
Dawn P.

(Denton, TX) - March 23, 2013 (
See all reviews by this customer
)
This turned out exactly how I expected and anticipated! It was a hostess gift with such a personal flair. The instructions were easy and no mistakes were made. Very impressive.

Wonderful anniversary present!
By
Shopper

(Apopka, FL) - March 17, 2013
Anniversary present for our 3rd wedding anniversary (glass/crystal and leather are traditional gifts), he loved it! Great quality, very well made, super fast processing and shipping of order. Highly recommend!!

Awesome!
By
Lisa S.

(Chicago, IL) - January 14, 2013 (
See all reviews by this customer
)
I just love Personalization Mall! I bought this as a surprise gift for my Family for Christmas 2013, we will be celebrating in our new home. I had it customized to reflect our new home and all the things we dream of. Great product!

Just the right thing to commemorate my new house!
By
Shopper

(Nashville, TN) - January 14, 2013
I loved being able to customize this for my new place.

Ornament was exactly as I hoped.
By
Pam M.

(Vista, CA) - January 14, 2013 (
See all reviews by this customer
)
It looked exactly as it did online and is really great quality! Well use this website again....

Classy Gift
By
Shopper

(Mercerville, NJ) - January 14, 2013
This was better than expected. Bought this for my brother's family and they absolutely love it! Great especially when on sale! Can't beat it!

Wonderful product!
By
Shopper

(Central Point, OR) - January 11, 2013
I was genuinely pleased with the 4 glass ornaments I purchased. It was like giving the giftee a walk down memory lane. 9 Lines of memorable words/quotes can be engraved on this item. High schools, graduation dates, college names, favorite things such as "loves cats/dogs", "Mother of Suzy, Tim & Coby", favorite all time song, etc, etc.
Can be given as a Christmas ornament or with the purchase of a metal decoration hanger, it can sit on a shelf or in a curio cabinet to enjoy viewing year round as I have done. They are very pretty and look expensive. A wonderful gift idea!!

Great Gift
By
Shopper

(Frisco, TX) - January 10, 2013
I purchased this as a gift and it got rave reviews from its recipient. It was fun to create and I would purchase others for future holiday gifts.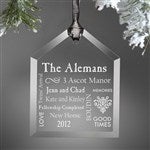 Beautiful!
By
Shopper

(Chesterfield, VA) - January 8, 2013
This ornament is even nicer than I expected. Would buy again!

Beautiful ornament!
By
Lori K.

(Beaufort, SC) - January 7, 2013 (
See all reviews by this customer
)
This was a gift, and the recipient loved it! Sent me a pic of the ornament on her tree, and it was just as I had designed it. Perfect!

Loved this idea!
By
Jennifer K.

(Billerica, MA) - January 6, 2013 (
See all reviews by this customer
)
I stumbled on this while browsing the site for a family ornament. I ended up ordering one for each of my daughters (4 and 2 yrs. old). I decided that I will do one each year or every other year so we can look back and see how the girls' "favorite things" change over time. Right now their favorite things are Disney princesses, hugs, lollipops, our dog, etc. I think they will be nice keepsakes for them later on. The ornament itself and laser engraving are very nice and comes with a nice drawstring velvet bag. I even saved the bubble wrap envelope it came in to hopefully ensure they will be safe when packaged away each year in the attic. I would definitely recommend this product and like I said will be ordering these each year for my girls.

Perfect!
By
Deneb F.

(Springfield, VA) - January 3, 2013 (
See all reviews by this customer
)
I ordered these for my team at the office. Instead of using family names, I entered the name of our division, the names of my co-workers, and used one of the spaces to note the year. It was a very professional, and well-received, way to capture who was on the team for that period. Definitely a repeat for next year.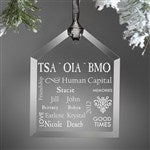 Creatively Beautiful!
By
Shopper

(Washington, DC) - January 2, 2013
I loved this ornament because it allowed me to highlight the family's personality and character. Great ornament, and will definitely use this site again!

Great detail
By
Shopper

(Murphy, TX) - January 1, 2013
This was a fun ornament to create with special details of their new lives together. Perfect!

Ornament
By
Debora P.

(Hamilton, OH) - January 1, 2013 (
See all reviews by this customer
)
Looks great on our
Christmas tree.

Christmas ornament
By
laura F.

(cinnaminson, NJ) - January 1, 2013 (
See all reviews by this customer
)
I bought 5 of these for different family members. They all LOVED it. Two told us it was their favorite gift. It was so easy to order and looks twice the price I paid. Personalization Mall shipped it fast - even for the regular shipping way-did not have to pay extra. Would highly recommend this ornament to anyone looking for a great gift. It doesn't have to be for Christmas - it is simply beautiful any time of the year.

Perfect Gift!
By
Shopper

(Cedar City, UT) - December 31, 2012
I ordered several of these for Christmas this year to give to business colleagues and friends. They were beautifully engraved and quick to ship. I'll be ordering more in the future, I'm sure.

Another one for the person who has everything
By
Nicole E.

(Lansing, MI) - December 31, 2012 (
See all reviews by this customer
)
I bought this for my son's godmother and her family. They recently adopted two boys and I thought it would be nice to give them an ornament with all of their names etched inside. Very beautiful. It comes in a velvet bag which is a very nice touch.

Very personal
By
Shopper

(Haverhill, MA) - December 30, 2012
I purchased 8 engraved message ornaments this year for immediate family members. They were a big hit I personalized each one according to their family by who they were and what they have accomplished or would accomplish. The only thing I wish there was a drop down box just for a special date or for the year your giving.

Extremely Happy with this ornament as it highlights 2012
By
Shopper

(Villa Rica, GA) - December 30, 2012
I purchased two of these ornaments and one heart-shaped ornament and love all of them. I used these ornaments to highlight all the events of this year for each of my children, i.e. accomplishments, travel, job, interests, etc. This is the second year I have purchased personalized ornaments from this company! The quality of the product and service is great!