Great gift for anyone!!!
By
Shopper

(Charlotte, NC) - August 1, 2012
Very thoughtful gift!!!

Personalized Ornaments
By
Eva L.

(San Diego, CA) - July 16, 2012 (
See all reviews by this customer
)
Love them! They are classy, yet inexpensive gifts that I purchased for family and friends. I usually start Christmas shopping early because I have a huge list. Thank you for offering these lovely gifts early. I am a Realtor and and my peers will love this if you offer it again.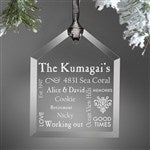 Great House Warming Gift
By
Dana M.

(Clovis, NM) - June 9, 2012 (
See all reviews by this customer
)
I ordered this for my sister as a house warming gift. She loved it and proudly displays it. People always ask where I get these gifts.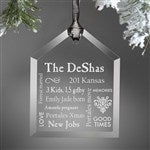 Great keepsake
By
Shopper

(Ventnor, NJ) - April 9, 2012
Like being able to see the preview so you can rearrange your wording as size of font varies. Will definitely buy these as gifts

grandparents loved it!!
By
Shopper

(Bethpage, NY) - March 23, 2012
Bought one for my parents and my in-laws. They both loved this ornament-in fact my mom said it was something she felt she could display all year round. I loved the fact that you could really customize the piece.

For Ann G
By
Linda K.

(arlington, TX) - January 29, 2012 (
See all reviews by this customer
)
Ann absolutely loved this ornament.there was space for some of her achievements. And she remarked that"... It even says MIMI".
A big hit! Thank you, PM!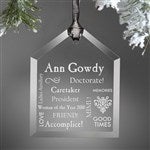 Engraved message Ornament
By
Shopper

(Freehold, NJ) - January 20, 2012
Personaliztion done as asked. Love the way my family Ornament looks. Will be back :)

To be cherished!
By
Shopper

(Pittsburgh, PA) - January 15, 2012
I decided to get one of these for each of my kids and did the engraving using their names with personal /fun information...they turned out great!! These ornaments will be cherished forever!!

Great Gift Idea
By
Shopper

(Marysville, CA) - January 14, 2012
I bought this for a close friend, (and then bought one for myself!). The possiblities are endless to personalize and it was a lot of fun. The item is smaller than expected, and seeing it in person, I wish I had purchased the stand with it. So I might go back online to purchase the stand to display. Great gift idea for the friend who has everything!

Christmas gifts
By
Jane W.

(Niles, MI) - January 14, 2012 (
See all reviews by this customer
)
The quality is great. Spelling is correct. Always looking for a unique gift that's also good purchase. Delivery time was also good.

Great Memories
By
Shopper

(North Augusta, SC) - January 13, 2012
This ornament is great for helping remember what happened in a particular year. I look forward to decorating the tree in 10 years and seeing what happened the year we purchased this particular home.

Great Ornament
By
Andrea B.

(Lake Saint Louis, MO) - January 10, 2012 (
See all reviews by this customer
)
We really like this ornament. We decided to do one each year that lists the highlights of the year on it and we have the year at the top. This is a fun tradition and the ornament is beautiful!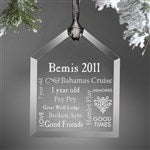 loving our mom
By
Mary A.

(Country Club Hills, IL) - January 10, 2012 (
See all reviews by this customer
)
recently we lost our mom and i made this ornament to go on her grave with her valentines day decor!!!! very nice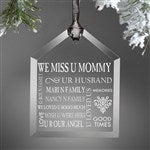 AWESOME
By
Shopper

(Lexington, SC) - January 10, 2012
THIS IS SOOOO AWESOME!!! I HOPE THESE CONTINUE TO SELL EACH YEAR SO I CAN CREATE MEMORY ORNAMENT FROM THAT YEAR!!!!

Unique personalized gift that's a crowd pleaser!
By
Alexa H.

(Arlington, VA) - January 9, 2012 (
See all reviews by this customer
)
I bought this ornament for my boyfriend's family for Christmas and they loved it. I was able to include a lot of references to activities I've done with them, which indirectly included me in the ornament too. I also included their dog's name, favorite vacation spots, and various hobbies. I saw some other options on this site and picked this one because it can go with any Christmas tree theme and looks timeless. I had some trouble fitting their address into the recommended line, but I just moved it around. Also, I noticed that the ornament looks much better if you use close to the maximum number of characters per line. Overall, it looks great, it can be used for years to come, and it provokes good memories. It was a great buy!

Hope they have this every year!
By
Shopper

(Lutz, FL) - January 9, 2012
Great momento - You can add highlights from your entire year. Wish they'd offer a variation of this ornament every year.

Great family gift
By
Ginger C.

(The Villages, FL) - January 7, 2012 (
See all reviews by this customer
)
I love that you can put in things about any family so each one is personal and meaningful to the receiver.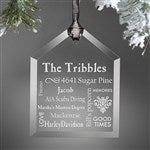 Great Gift!
By
Shopper

(Fullerton, CA) - January 4, 2012
I purchased this for my husband for Christmas and he LOVED it! We have had a very eventful year (marriage, new house, new puppy, etc) and this ornament was the perfect keepsake.

Far Exceeded My Expectations!
By
Rebecca L.

(Harrison Township, MI) - January 3, 2012 (
See all reviews by this customer
)
I wanted to make sure I took time to do this review! As always, this gift exceeded my expectations! I am the Worship Leader at a church in Mount Clemens, MI. They are a very special group and I wanted to get them something memorable for all their hard work this year. I saw this ornament that was originally designed for families, but really, we are a "family" of our own so I decided to go with it. It was also a great ornament to incorporate memorable quirks and stories about ourselves. I ordered a little later than I had planned but as always, it was shipped earlier than predicted so I got before expected. They were absolutely perfect and everyone LOVED them! They couldn't say enough about them! It was the perfect gift for our group and if you could create more ornaments/gifts of this nature, please do! And please keep up the good work! I appreciate this company more than I could write! :) Blessings!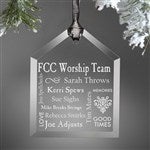 lifetime keepsake
By
Shopper

(Brown Deer, WI) - January 2, 2012
I ordered these ornaments for the children. On the first line is their grade in school and the others reflect their special interests, hobbies, sports, accomplishments and instruments. The kids love them - I'm sure we will love them more each year.


Bought for new home
By
Shopper

(Old Bridge, NJ) - January 1, 2012
Great ornament, bought as a gift for new home ornament. The only suggestion is to make sure you put the year as one of the lines, I did not and then wished I had. Also you can preview the ornament to make sure you like the order of the lines of text that will be printed.

Treasured Ornaments
By
Shopper

(Hannibal, MO) - January 1, 2012
I have been ordering ornaments for our family for over 25 years. It has become a treasured Christmas tradition. The ornaments that I ordered from your site this year are already among our favorites. They arrived promptly. They were exactly as they appeared on your website. I am so pleased that I have marked this site as one of my favorites and would not hesitate to recommend it to anyone.

Amazing
By
Shopper

(Ridgefield, WA) - December 28, 2011
First time ordering from this company and was very impressed! It got here on time and was perfect! Great Quality too!

Excellent product
By
Shannon M.

(Central Point, OR) - December 28, 2011 (
See all reviews by this customer
)
We were extremely pleased with the results. The product is as shown - it's a great way to highlight special moments throughout the year in a crisp, clean, new way. I would highly recommend.

Quality & Personal
By
Shopper

(Warrenville, SC) - December 28, 2011
It was a great personalization gift. Perfect

family ornament!
By
Shopper

(Carrollton, OH) - December 28, 2011
Bought this as a Christmas present for our daughter and son-in-law that has just purchased their first home. They absolutely loved it! It arrived quickly and boxed just right. Thanks!

Very nice
By
Sidney Z.

(Reno, NV) - December 28, 2011 (
See all reviews by this customer
)
Got this for my wife. Listed all the street addresses where we've lived together that past 20 years on active military duty. Great momento and new family heirloom the kids will fight over when we're dead.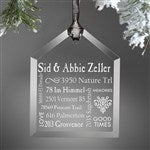 Great Gift
By
Christy K.

(Orrville, OH) - December 27, 2011 (
See all reviews by this customer
)
I bought this as a gift and they loved it. Very nice quality!

Wonderful Product
By
Shopper

(Uniontown, OH) - December 26, 2011
Looks perfect, exactly like what they show in the preview. Very Happy!

A Time Capsule in a Beautiful Ornament
By
Wendi W.

(Oswego, IL) - December 25, 2011 (
See all reviews by this customer
)
I loved creating the ornament and thinking back over the most significant events of 2011 for our family. I am going to order one each year from now on. :)

I was especially happy that once I had entered all our key words, the website showed me what it would look like. I was able to do some editing and perfect my sentiments. When I received the ornament, it was exactly as the website showed it! I am a very happy customer! The only thing that would have made it better for me would have been if I could have had the option to personalize every space on the ornament (e.g., if "memories" and "good times" could have been two more spaces that I could have used to remind us of other SPECIFIC memories or good times).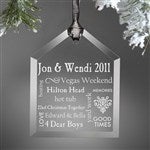 personilized first home ornament
By
Shopper

(sunman, IN) - December 21, 2011
I was more than happy with my personalized ornament. It is a gift for my granddaughter and I can't wait to give it to her!

Family Engraved Ornament
By
Shopper

(Mustang, OK) - December 20, 2011
What a wonderfully unique gift! This is a great present for families that try to keep track of significant happenings throughout the year. Its protective packaging is great! It's sure to be a hit for any Christmas tree! My friends who received this gift noted that's it is one of the most memorable ornaments they now own.

Very pleased
By
Denise M.

(Midlothian, VA) - December 19, 2011 (
See all reviews by this customer
)
Item came out beautifully. Quick ship and will order again.

Perfect for a big family!
By
Susan B.

(Florence, KY) - December 19, 2011 (
See all reviews by this customer
)
I was able to use the lines to create an ornament with ALL of the Grandchildren's names (all 13 of them) as a Christmas gift for my parents. It came in and is beautiful. I can't wait to give it them!

Likeable features
By
Shopper

(Rowlett, TX) - December 19, 2011
The person that received the ornament was well pleased

Pleased
By
Laura H.

(Pooler, GA) - December 18, 2011 (
See all reviews by this customer
)
I'm very pleased with this product. I liked how they show you a mock-up of your ornament before you place your order. Item was delivered quickly and in great condition. Highly recommended.

Great quality
By
Natalie W.

(Charlotte, NC) - December 18, 2011 (
See all reviews by this customer
)
For the price I purchased this ornament, I assumed the product may be a little flimsy. Not at all. The ornament is beautiful and the engraving was very well done. I would definitely buy again in the future. Also, I received the order in less than a week!

Beautifully Done!
By
Shopper

(Crescent, PA) - December 16, 2011
I ordered two of these for Christmas - one for a very close friend and one for my sister-in-law. I couldn't be happier with these items. They're excellent quality and I know that they'll both love them! I sent in a nice size order and it was completed very quickly! Thank you!

Perfect
By
Angela H.

(Wichita Falls, TX) - December 14, 2011 (
See all reviews by this customer
)
LOVE LOVE LOVE this beautiful ornament!!!! Just want I wanted!!! Best ever!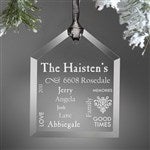 Year-round enjoyment
By
Nancy D.

(Doylestown, PA) - December 14, 2011 (
See all reviews by this customer
)
Had a personalized ornament created that reflected points I love about the area I live in. It's hanging off my chandelier now but once the holidays are over, it will be displayed year-round on its stand. I also had one made for my daughter that reflects her life also complete with stand to be displayed in her home year-round.