Happy With This Great Gift
By
Shopper

(Oneida, NY) - December 11, 2011
Love the design and craftsmanship. I was very pleased. I ordered several for my family members. They are lightweight, engraved in real wood, and made to order as you list your names. I was able to list more names than the lines allowed by putting more than one name on a line. I especially like the preview button because you can change the order of names or add names and then preview it each time before you place a final order. This assured me that the order would be perfect. ...and it was! I thought the price was very reasonable and shipping was very quick.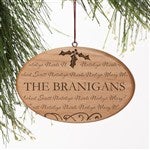 Great ornament
By
Shopper

(Moscow, ID) - December 8, 2011
This is a timeless ornament. They turned out better than I had hoped. I know my recepients will love them as much as I do.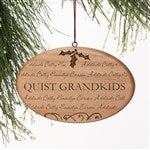 Love it!
By
Shopper

(Hebron, OH) - December 7, 2011
Love it!!! I cant wait to give to my sister..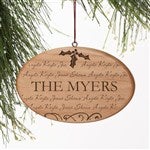 Great Family Keepsake
By
Amy M.

(Gastonia, NC) - December 6, 2011 (
See all reviews by this customer
)
I bought this ornament for my own Christmas tree and I love it! The engraving is beautiful and the style of the ornament is timeless. I will look forward to seeing this on my family Christmas tree for many years to come.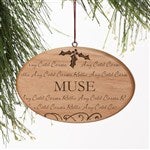 Great Family Keepsake
By
Amy M.

(Gastonia, NC) - December 6, 2011 (
See all reviews by this customer
)
I ordered this ornament for my Christmas tree and I love it! The engraving is beautiful and the style of this ornament is timeless.

Terrific gifts as always
By
Andrew K.

(United Kingdom) - December 4, 2011 (
See all reviews by this customer
)
I've ordered from your website several times now and can honesty say how delighted I am again with my recent order. The ornament is perfect and I can't wait to see my friend's face when she opens it.

Thanks again!

Perfect ornament
By
Nancy Kay D.

(Mars Hill, NC) - December 2, 2011 (
See all reviews by this customer
)
This is a wonderful ornament for the family that has all other kinds.
This makes it very personal and is quite attractive.

Just like the picture
By
Laura G.

(Wheaton, IL) - November 27, 2011 (
See all reviews by this customer
)
We ordered one of these for each of my sibling's families. They turned out beautifully and having one for each family with each person's name on it makes it so special. Each name is clear and easy to read. Just lovely.

Very Nice
By
Shopper

(Carleton, MI) - November 14, 2011
Nicely done and packaged. Thinking of getting one for each of my daughters.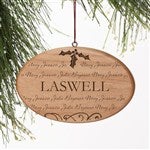 Beautiful Ornament
By
Shopper

(EVANSVILLE, IN) - October 24, 2011
just received this ornament in the mail a few days ago ( amazing how fast you receive your order ) I ordered this Family is Forever ornament for my daughter and her family, I absolutely love how they incorporated my daughter, son-in-law and my 2 grandchildrens names around their last name. It is engraved into the wood and not just printed on it. It really is a beautiful personalized gift.

Beautiful hostess gift for CHRISTmas gatherings!
By
Chelle Annette I.

(San Diego, CA) - October 10, 2013 (
See all reviews by this customer
)
We bought three of these and really liked how they turned out. We thought, though, that they should come with a small bag for handing it over, but we know that even if it did, like always, it would be an advertisement for PMall.com anyway so we wouldn't be able to use it. The engraving on the wood was very nice and crisp. Worth every penny!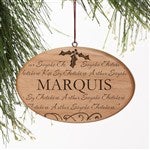 Very Nice Gift
By
Shopper

(Watertown, MA) - December 22, 2012
Purchased this as a "thank you" wedding gift for my grandfather who walked me down the isle. Great look and quality wood. Just not great for long names, they get cut off. Use shortened names if you can.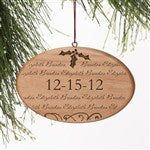 Keepsake ornament
By
Shopper

(Seaton, IL) - December 17, 2012
I love the concept of this ornament and I've ordered picture frames from Personalization Mall with the same concept. One thing I did not like is I put the names in order by father, mother and then children in order. I would think right above the last name they would list them starting with first name I listed and continue on. They didn't; they actually started with the 4th name I had listed. I would have liked them to be in family order.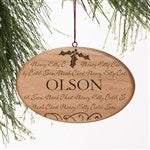 Keepsake Family Ornament
By
Laurie S.

(Tallahassee, FL) - December 12, 2012 (
See all reviews by this customer
)
The ornament was very accurately portrayed in the picture, arrived timely, and in good condition. The quality of the wood (uniform color and without knots) was good. The engraving was uniform and easy to read. I picked the ornament because it was not breakable and could stand the test of time to pass down in the family and become a "keepsake." In the future, I might suggest the engraver better "center" the names to get everyone (all four) on the same line. Also, a nicer ribbon or hanger would have been helpful, to make it more classy. Overall, very pleased after upgrading the ribbon.

Name Ornament
By
Dorene C.

(Pentwater, MI) - December 11, 2012 (
See all reviews by this customer
)
Very nice! Looks great! Wish I would have bought more for the family members.

satisfied shopper
By
Shopper

(Augusta, WV) - December 4, 2012
item arrived promptly as promised, well packaged and was exactly as pictured - inscription was well done - disappointed in that I expected it to be a bit larger than picture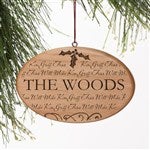 beautiful
By
Shopper

(Lake Oswego, OR) - January 25, 2012
better in person than a picture...thanks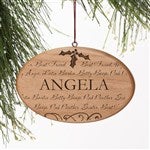 Family Always
By
Shopper

(Temple Hills, MD) - January 20, 2012
I just love this ornament. It is more beautiful than I imagined it to be. The nice wooden oval shape ornament is the bomb. It will not be hard for anyone to no what your families name is nestling among the other ornaments on your family tree. Every family members name is at least engraved twice. I would recommend this one to everyone.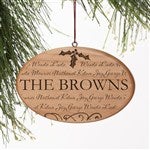 nice
By
Shopper

(Corona, CA) - January 1, 2012
Other than the odd placement of letters on the shorter lines, this was really nice and had at least one line with the full list of names in tact.

Cute but a little hard to read
By
Shopper

(West Allis, WI) - December 19, 2012
The etching of the names into the wood looked good in the preview, but was a little harder to read in the actual ornament based on the script font that was used. Would have looked nicer if it was a regular print font. But it did create a cute ornament.

Very small
By
Nicole A.

(Omaha, NE) - December 13, 2011 (
See all reviews by this customer
)
Quite a bit smaller than I expected. Cute, but small.

A bit chintzy
By
Shopper

(Sandy, UT) - December 17, 2011
That's all. Looks like what I ordered, but I was expecting something a little more subtantial.