Personalized Photo Notepad
By
Shopper

(Holland, IA) - March 30, 2012
I love these for gifts or for yourself as well. Very nice quality paper and picture just as shown in review.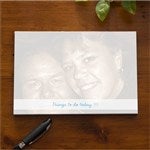 Photo Notepad
By
Rebecca A.

(Las Vegas, NV) - January 17, 2012 (
See all reviews by this customer
)
This is a fabulous Idea! It turned out very cute and I will definitly be doing this again. My mom loved it!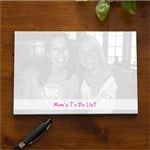 Perfect
By
Shopper

(Hazard, KY) - November 23, 2011
This item was better then I expected.

Note pad
By
Shopper

(Hollis, NY) - November 22, 2011
A very creative and different gift. I ordered two different ones and both pictures came out really well. A great holiday treat for the grandparents!

Great gift idea
By
Claudia L.

(Chino Hills, CA) - November 22, 2011 (
See all reviews by this customer
)
The notepads I ordered came out better than expected. Wonderful gift idea for grandmas.

Holiday Gift
By
Shopper

(Denver, CO) - November 28, 2011
Great idea for a holiday gift.

Notepad - Very Nice
By
Amy C.

(Grove City, OH) - January 10, 2012 (
See all reviews by this customer
)
The picture was better than anticipated. Had a little trouble fitting the pic in when ordering. Was a little hard to crop but I managed and the result was very nice. Would buy again for sure.

Picture Quality Was Not Good
By
Shopper

(St Petersburg, FL) - February 6, 2012
My Friend loves her dog and when I saw this notepad it was the perfect gift for her birthday. Online the picture looked dark, but when I got the notepad, I thought the picture was washed out. I was dissapointed. This is the first time I have been disappointed with one of your products.

Great gift idea, but larger than I expected
By
Dina C.

(Danville, CA) - November 9, 2012 (
See all reviews by this customer
)
This notepad was actually much larger than I thought it would be, so pay attention to the size before ordering. I just based it on the photo - didn't actually look at sizing and visualize what that would be. I also thought it was going to be post-its. Nonetheless, because it was personalized, the gift recipient loved it. I probably wouldn't order this size again, but I'd look for a smaller notepad size.

nice gift
By
Shopper

(Haymarket, VA) - December 4, 2011
I doubt my husband will write on this notepad but it certainly is a nice gift.

Couldn't ask for more!!!
By
Shopper

(Raleigh, NC) - May 18, 2012
Like many men, I did my Mother's Day shopping late... I thought of getting my wife a personalized pad with our 1 month baby boy's picture on it, but doubted I had thought of it in time. I checked a few other companies but their ship date was after Mother's Day unless I wanted to pay some crazy rush fee.. I ordered the 5x7 pad with his picture and a personalized saying exactly 1 week before Mother's Day and got it THAT Thursday with STANDARD SHIPPING!!! The product is fantastic! I will definitely be shopping more with this company after such a great experience! The company acknowledged my order receipt, informed me that the product had been made, and also informed me of when the product shipped!

LOVE!!
By
Shopper

(Orlando, FL) - March 30, 2012
i am absolutely in love with this item.. it came out so wonderful! my family loved it just as much as i did.. definitely will be ordering more!!

Great Gift Idea
By
Dwayne J.

(Bartow, FL) - December 1, 2012 (
See all reviews by this customer
)
I purchased this product for several of my co-workers as Christmas gifts. I have not given them out yet but I can gaurentee they are going to love them.

Great Mother's Day Gift
By
Shopper

(Cookeville, TN) - May 18, 2012
My mom just loved it...but doesn't want to write on the note pad because of the picture. :o)

A great Gift for anyone!!
By
Stephen N.

(Centerville, OH) - December 31, 2011 (
See all reviews by this customer
)
This really turned out fantastic! This was a gift for a friend that is a NFL Cheerleader. Used a photo of her in her uniform and she just loved it. A personalized stationary with her photo. Really a great gift for anyone.

Great grandparent gift
By
Shopper

(Tustin, CA) - December 16, 2011
These turned out really cute and I can't wait to see the Grandparents' face when they receive these from their grandkids at Christmas. Great quality paper and the picture turned out perfect!

So Great!
By
Julie S.

(Lake City, PA) - December 15, 2011 (
See all reviews by this customer
)
These notepads are so neat! I can't wait to give them as gifts this Christmas! Thanks for such a great product.

Note Pads
By
Shopper

(Dexter, MO) - December 22, 2011
I was very pleased with this product, the pictures looked better than I expected and was shipped in a timely manner! Thank you!!

better than the preview
By
Shopper

(ORLANDO, FL) - December 17, 2011
I ordered two of these and very pleased with the product that arrived. I believe the photos came out better than the on-line preview indicated.