Great grandparent gift
By
Shopper

(Tustin, CA) - December 16, 2011
These turned out really cute and I can't wait to see the Grandparents' face when they receive these from their grandkids at Christmas. Great quality paper and the picture turned out perfect!

So Great!
By
Julie S.

(Lake City, PA) - December 15, 2011 (
See all reviews by this customer
)
These notepads are so neat! I can't wait to give them as gifts this Christmas! Thanks for such a great product.

nice gift
By
Shopper

(Haymarket, VA) - December 4, 2011
I doubt my husband will write on this notepad but it certainly is a nice gift.

love it!
By
Shopper

(Salem, MA) - December 2, 2011
I bought these as a small remember me xmas gift for my husband while he is at work. I loved them. I know he is going to love it as well. The pic came out great and I'm excited to give it to him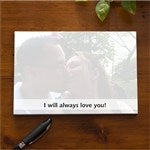 Perfect
By
Shopper

(Hazard, KY) - November 23, 2011
This item was better then I expected.

Note pad
By
Shopper

(Hollis, NY) - November 22, 2011
A very creative and different gift. I ordered two different ones and both pictures came out really well. A great holiday treat for the grandparents!

Great gift idea
By
Claudia L.

(Chino Hills, CA) - November 22, 2011 (
See all reviews by this customer
)
The notepads I ordered came out better than expected. Wonderful gift idea for grandmas.

Great gift idea, but larger than I expected
By
Dina C.

(Danville, CA) - November 9, 2012 (
See all reviews by this customer
)
This notepad was actually much larger than I thought it would be, so pay attention to the size before ordering. I just based it on the photo - didn't actually look at sizing and visualize what that would be. I also thought it was going to be post-its. Nonetheless, because it was personalized, the gift recipient loved it. I probably wouldn't order this size again, but I'd look for a smaller notepad size.

Good Gift for Grandma
By
Erica B.

(Springfield, IL) - May 24, 2012 (
See all reviews by this customer
)
I ordered two of these notepads for my daughters to give to their Grandmas on Mother's Day. They turned out beautifully. Both Grandma's said they didn't ever want to write on the paper because it was just too precious!

I gave the product 4 stars because I wish there was an option to not have a line of writing. I didn't really have anything specific I wanted to put in writing because I didn't know what the Grandmas were going to use the notepad for, and I didn't want to write "To-Do's" or "Grocery List" or anything like that in case they wanted to use it for something else. So the 4 stars is just for the desire of an added no-line option, but has nothing to do with the quality of the product.

I've never been disappointed with anything I've ordered from this site.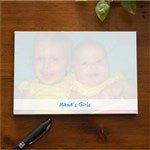 Notepad - Very Nice
By
Amy C.

(Grove City, OH) - January 10, 2012 (
See all reviews by this customer
)
The picture was better than anticipated. Had a little trouble fitting the pic in when ordering. Was a little hard to crop but I managed and the result was very nice. Would buy again for sure.

Holiday Gift
By
Shopper

(Denver, CO) - November 28, 2011
Great idea for a holiday gift.

Picture Quality Was Not Good
By
Shopper

(St Petersburg, FL) - February 6, 2012
My Friend loves her dog and when I saw this notepad it was the perfect gift for her birthday. Online the picture looked dark, but when I got the notepad, I thought the picture was washed out. I was dissapointed. This is the first time I have been disappointed with one of your products.