Great Gift, Wonderful Scent
By
Celeste R.

(Brooklyn, NY) - December 31, 2012 (
See all reviews by this customer
)
I purchased this candle as a Christmas gift to my future mother and father in law and they LOVED it and it smells absolutely wonderful too!

Nice holiday candle
By
Shopper

(San Jose, CA) - December 22, 2012
This makes a terrific festive holiday gift.

Smells great and is so much larger than I expected.
By
Melanee S.

(Irving, TX) - December 20, 2012 (
See all reviews by this customer
)
This is a gift I got when on sale for the holidays. I got it in the mail and opened it up to check the inscription. It was perfect and smelled so great! I was very impressed with the size and how it looked. Great job!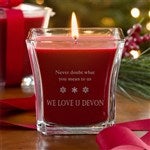 ecellent service and product quality
By
Shopper

(Lago Vista, TX) - December 12, 2012
Everything with this order was as advertised. This company does what they say the will and the item purchased was great as well. No quality issues and received in top condition.

Candle
By
Shopper

(saint petersburg, FL) - December 4, 2012
Great Gift for any Holiday or even a birthday!. Scent is excellent!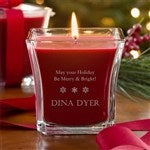 Good
By
Austin L.

(Princeton, WV) - January 16, 2012 (
See all reviews by this customer
)
It is a great gift for anyone. My grandma loves it!.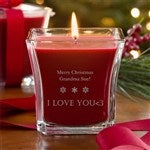 Bought for a friend
By
Linda H.

(Monroe, NC) - January 5, 2012 (
See all reviews by this customer
)
Our friends who we purchased this for enjoyed it throughout the holidays. I ordered many things from Personalizationmall.com this year and in the past and have NEVER been disappointed in anything I ordered and the people I give the gifts to are always very pleased. I will continue to order from this site, one of my favorite places.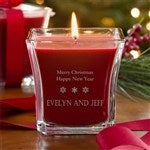 Elegant
By
Elaine A.

(Warwick, RI) - January 2, 2012 (
See all reviews by this customer
)
I purchased several of these candles as gifts. They are absolutely beautiful. The glass is heavy, and the scent is heavenly. They are long lasting and look great in any decor, especially a Christmas setting. They are a bit pricey (I missed the special sale because I was unsure of a name spelling), but they are worth every penny. They are truly a gift with a definite touch of class.

Warm glow
By
Peter R.

(Nutley, NJ) - December 26, 2011 (
See all reviews by this customer
)
Beautiful gift and nice quality.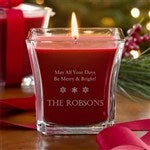 Gods Light
By
Shopper

(VENTURA, CA) - December 26, 2011
Never expected anything less than the best. Thanks!

Beautiful!
By
Shopper

(Huntingtown, MD) - December 26, 2011
The engraving and personalization on this item was great. It was in the mail within two days. What a great place to get personalized gifts!

candle with engraving
By
Lyn M.

(Naperville, IL) - December 17, 2011 (
See all reviews by this customer
)
this is a great gift for a hostess or grab bag gift.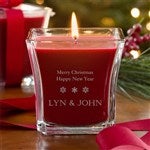 So Cute!!!
By
Shopper

(Bexley, OH) - December 14, 2011
I purchased this candle as a gift and they absolutely loved it! It is a little bigger than I thought it would be, but that's fine with me! Font was very legible which makes this company different from other personalized gift stores.

THE PERFECT GIFT
By
Nanci T.

(Omaha, NE) - December 12, 2011 (
See all reviews by this customer
)
The candle is AWESOME!!!! THANK YOU

Personalized Scented Holiday Candle
By
Shopper

(Parker, CO) - November 15, 2011
A very nice item that my wife and I think are beautiful. These will make a nice Christmas gift for some friends of ours this year. Took advantage of the 25% off offer to make these a "no brainer"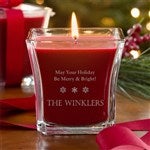 make sure it's the right address your sending it too,before ya check out
By
Shopper

(homosassa, FL) - December 24, 2011
everyone was happy with there gift's and got them before christmas

Smells wonderful, lasts a long time...terrible wick
By
Shopper

(Arlington, TX) - February 26, 2012
I will admit I would not have purchased this at the full price, but it was a good value for the price I paid. I do have to scrape the sides of the holder to get all of the wax near the flame, but I play with candles anyway to get the most out of them. I tend to not like candles with wicks too small to melt the wax all the way to the glass; to me this is a waste of money, to say nothing of hiding the flame in a "well" of wax, which is why I rated this a 3 instead of a 5. I bought several to give as gifts but was so disappointed with the burn pattern that I chose to give other things. I would have been embarrassed to give something that did not burn properly. I like messing with candles, but not everyone does. Once the existing candle is gone I will use the holder for other things, as I do like the shape of it.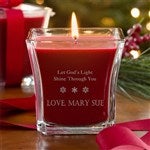 Anne
By
Shopper

(Tinton Falls, NJ) - January 16, 2012
A bit pricey, but a very nice hostess gift.


Disappointed
By
Shopper

(Murrysville, PA) - December 30, 2011
Bought two candles as special gifts. One candle was really nice with the engraving the other was a big disappointment. The engraving was not very clear, but what could I do????? It was a Christmas gift.

Nice but Expensive
By
Shopper

(Loris, SC) - December 17, 2011
This candle was a nice gift in thought, but was rather small I felt for a $30 candle. To me, that was expensive even for a little bit of engraving. By the time I paid shipping it was $40.

looks a little cheap
By
Shopper

(Waco, TX) - July 31, 2013
The lettering on this candle seemed to be off-center. It looked somewhat cheap. I am giving this to my boss and it does not seem to have the same quality look as the rest of my order.

Scented Candle-Poor Burn
By
Shopper

(Alpharetta, GA) - December 10, 2012
I am VERY disappointed in the way this candle burns. After lighting the first time, it burned for no more than 10-15 minutes before burning out. I had to dig out the wick just so it would burn properly and now it looks terrible. I have purchased many scented candles from other stores--paid FAR too much for THIS candle (even on sale) to have it burn like this. I am embarrassed that I sent these to people! I do not recommend purchasing this item!