Personalized Executive Candy Dispenser
By
Cindy G.

(Lexington, NC) - December 28, 2012 (
See all reviews by this customer
)
This gift was awesome! I had it personalized for my Dad. He is in his 80's and doesn't get around well, but he loves his almond M&M's. Now they stay handy right beside his chair.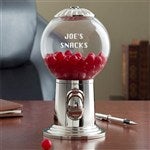 Awesome gift
By
Shopper

(Indianapolis, IN) - December 22, 2012
My 13-year old received it for her birthday this morning. She absolutely lit up and loves the gift. Thanks for the great idea!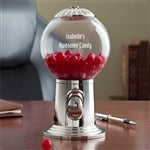 Great dad gift!
By
Robin S.

(Englewood, CO) - June 18, 2012 (
See all reviews by this customer
)
After awhile, it gets tough to find something new and creative for the dad. I ordered this and it was better than expected. The quality was good and the shipping was very speedy.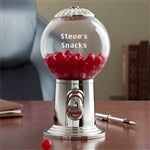 Such a great gift!
By
Laura L.

(Memphis, TN) - April 11, 2012 (
See all reviews by this customer
)
Got this for my manager at work for Christmas and had his nick name engraved on it. It was so personal and perfect for him (He usually has a jug of jelly bellys sitting on his desk)! Always happy with my purchases!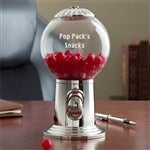 Sandi
By
SANDRA C.

(BATAVIA, NY) - March 5, 2012 (
See all reviews by this customer
)
Great item.. My grandaughter is having a candy buffett at her graduation party and loves M & M's This will be on her candy table....Thanks Sandi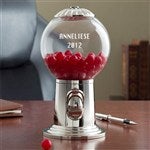 Not worth the money.
By
Shopper

(Kenai, AK) - January 15, 2012
This was cheap for the amount of money charged. Can't even see the etching on the glass. Should be done in a darker color so it can be visible. The fun saying I had planned is just not easily visualized. Disappointing.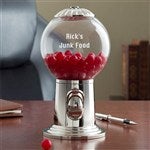 Personalized Executive Candy Dispenser
By
Shopper

(Mount Sinai, NY) - December 24, 2012
The candy dispenser is great....however the personalized name was done in white on the glass and did not show up at all. I was very disappointed in the "engraving". I think the lettering would show up better in black.

Great product
By
Shopper

(Piscataway, NJ) - February 24, 2014
Love this candy dispenser! Great size and quality! Super fast shipping! Love your services :)

Nice dispenser but doesnt fit straight when put together
By
Shopper

(Las Vegas, NV) - June 8, 2014
It was very nice but when u put the globe and the stand together it doesn't fit straight where the engraved part is its not in the middle. I know there are 4 locks on the stands but it still doesn't fit right It was the gift for my manager for his last day at work. He loves it even though his name is not in the middle of the globe. We tried to make it straight and twisting it around.( we work retail so we know what we talking about)still not work. I can't send it back because I won't be seeing him anymore. Other than that its a wonderful gift. Should check it before ship out next time.

looks cheap
By
Jeanette W.

(Mt Holly Springs, PA) - December 16, 2012 (
See all reviews by this customer
)
Disappointed...looks like plastic

Delicate Glass
By
Shopper

(St. Louis, MO) - February 21, 2013
I purchased three of these dispensers for my co-workers as a Christmas gift. They are very cute and were loved by all until two of the three globes broke when they were turned upside down to refill with candy. Personalization Mall did replace one of them after sending a picture but the other globe was not replaced. I am guessing because the woman through hers away. I offered to purchase a replacement globe but the response was "sorry, we do not sell replacement globes". These candy dispensers are not cheap to purchase but the quality of the glass is. They look nice on the desk and work nicely, the glass is just too delicate for the price.

Poor
By
Shopper

(Bristol, CT) - January 7, 2013
This looked wonderful online. However it is cheaply made and when we filled it with candy it cracked! I would not buy this item. Very disappointed

Looks a lot nicer online.
By
Phyllis P.

(Perrysburg, OH) - May 1, 2012 (
See all reviews by this customer
)
I was very excited to get this for a gift for my daughter in law's graduation. When it came I opened it right away and was sadly disappointed of the quality of it. It looks cheap like a childs toy. Not sure I'm going to give it to her at all.

Quality product
By
Shopper

(Hollywood, FL) - August 2, 2013
They loved the gift.

Fun Gift!
By
Kathryn M.

(Merrimack, NH) - December 13, 2013 (
See all reviews by this customer
)
Purchased for hubby for his candy-addiction - high quality, shipped well!

Very high Quality
By
Shopper

(York, PA) - February 18, 2013
Would definatly recommend this product. It's very high quality, much heavier than we thought it would be.

Very Pleased
By
Shopper

(Little Elm, TX) - May 14, 2013
My boss bought these to use at a bridal shower to hold wedding wishes in. They look very nice.

great item
By
K&L C.

(montague, CA) - December 29, 2013 (
See all reviews by this customer
)
My wife loved it. Very well made.

Unique Office Gift
By
Shopper

(Medford, NY) - June 11, 2014
I brought this item for someone who just graduated from grad school and will have his own office. He loved the gift and used it for candy and nuts. It comes in handy when he wants a quick snack while at work!

Perfect for home office
By
Shopper

(Mesa, AZ) - December 26, 2013
This is one of the best candy dispensers. It's size is perfect without taking up too much room. The dispenser is a good size for a variety of candies.

Desert Car King
By
Linda M.

(Phoenix, AZ) - December 12, 2011 (
See all reviews by this customer
)
My son and husband are big snacker's and the stars of Discovery channel's Desert Car King's. This was a perfect award for all their hard work.