personalized pet ID tag
By
Shopper

(Salem, NH) - January 30, 2012
I am very pleased with the product and it looks great on my cat
as she has some orange in her. I feel better now knowing she would
be returned to me if she got lost. I would recommend the product
to anybody.





Great Pet ID Tag
By
Shopper

(Saint Clairsville, OH) - January 27, 2012
I've been wanting an ID tag for my dog for some time. I saw this and had to have it. Love it now that I have it. It's cute and carries all the information I need if my dog would get lost. Very cute and added touch to her other tags.

Pet ID Tag
By
Shopper

(Wayne, NJ) - January 3, 2012
Exactly what I was looking for and even cuter in person!

Great Design
By
Sonia Lynn M.

(San Diego, CA) - December 27, 2011 (
See all reviews by this customer
)
I was extremely satisfied with this product. The design stands out, is colorful and a great value for the price.

Pet ID Tag
By
Kate B.

(Canada) - December 26, 2011 (
See all reviews by this customer
)
Cute tag. Perfect size for small dogs.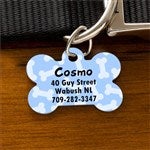 Too Cute
By
Shopper

(Prattville, AL) - December 22, 2011
I bought this dog tag for my baby girl and its the perfect size. Its so cute and just what I wanted!

Very Nice
By
Mindy B.

(Kingston, OH) - December 13, 2011 (
See all reviews by this customer
)
Very nice. Print is not too small easy to read. A must have for your pet!

Bigger than I expected
By
Randy J S.

(Manhattan, IL) - December 10, 2011 (
See all reviews by this customer
)
It was bigger than I thought it would be which is a good thing. I love this tag. It's awesome!!!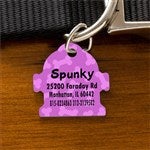 love it
By
Crystal W.

(Jeffersonville, IN) - December 6, 2011 (
See all reviews by this customer
)
I love it because you can personalize it however you want!!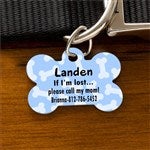 doggie christmas!
By
Shopper

(Middletown, CA) - November 30, 2011
Great quality, perfect figure and writing is not to small. Colors are nice and bright:)

Great tag, bad attachment
By
Shopper

(Boyne Falls, MI) - April 2, 2014
I loved everything about this tag, but my dog lost his because it is hard to secure it to the collar (it separates eventually and the tag slipped off somewhere unknown). A small key-ring type would work better.

A jump ring option?
By Shopper (Rochester, MN) - January 24, 2014
The tags I ordered are adorable and seem to be very sturdy; standing up to our new puppy's sharp teeth without chipping. The only reason I haven't given this product a 5 star rating is the included link didn't hold up for an active adult dog. With less than a month's wear my 8 year old Cocker spaniel lost her tag. I wish that the tags came with a small jump ring or at the very least the option to choose between the standard link or a jump ring. I am ordering a replacement tag for Lily, but will purchase a small jump ring to ensure this one isn't lost.

cute tags
By
Barbara H.

(Roanoke, VA) - November 9, 2013 (
See all reviews by this customer
)
These are cute light weight tags that come in more different colors than are usually offered. I liked the orange.

Nice
By
Tonja D.

(Dayton, OH) - September 29, 2013 (
See all reviews by this customer
)
It is very thin & light weight, put shows up well on my dogs collar.

Nice product
By
joan S.

(Suttons Bay, MI) - September 23, 2013 (
See all reviews by this customer
)
I love this id tag! The colors and designs are bright and cheerful. The name and address are easy to read. I have purchased tags from other vendors whose tags are engraved with letters so small that the information would be impossible to read if my pet was lost. This tag is extremely easy to read. My only suggestion would be to change the design of the ring which holds the tag to the collar. It is difficult to clamp completely closed. We actually lost our first personalization mall tag as a result of this. I would have given this tag 5 stars if the ring was better constructed.

Great
By
Cheryl B.

(Marthasville, MO) - December 20, 2011 (
See all reviews by this customer
)
This came just as it looks in the picture. So nice to know our precious girl has a new tag with updated phone numbers on it. Makes it easy and clear to read if she were to ever get out. Even though she is chipped this is much faster!!

Good
By
Shopper

(Waltham, ME) - December 19, 2011
very pleased with the price and quality of this product. It was also arrived in a very short amount of time.

Dog tag needs more room for information.
By
Hope H.

(Rockville, MD) - August 16, 2013 (
See all reviews by this customer
)
Nice idea but not enough room to put name of state and zip code.

Beautiful tag poorly designed clip closure
By
Shopper

(Sharpsburg , GA) - April 28, 2013
I loved the pink bone with all the info for my sweet terrier/poodle mix; unfortunately after only 3 days it fell off her collar nowhere to be found. The tag itself is great but the clip with which you have to secure it onto the dog's collar is quite difficult and very poorly designed. Unless you have superhuman strength to squeeze it with a pair of pliers (which I tried) it will slip out of the little triangular clip. Next time I will just use a key ring.

Didn't like the metal ....
By
Shopper

(St Louis, MO) - January 21, 2013
The design was adorable, but the metal was lighter than I expected and it jingled when I put it on my dog's collar. This probably was just a preference since my dog's old ID tag was heavier it didn't jingle as much, so I wasn't used to hearing her tag jingle all the time.

not what I expected
By
Shopper

(Kettering, OH) - December 19, 2013
Not too sure it will hold up for more than a year ... purchased it for a very active beagle...

Wouldn't purchase again
By
Shopper

(Manhattan, KS) - September 30, 2013
This item easily scratches> very disappointed.

Disappointed
By
Shopper

(West Sacramento, CA) - December 24, 2012
The tag arrived on time and looked great but it was missing the nickel ring. I called customer service and they told me the ring was supposed to be attached to the tag so they re-ordered the item immediately. I was very satisfied with customer service although I had to wait another week for it to get here. Got the new tag in the mail today with the nickel ring, but the ring was NOT attached to the tag. It has an open mouth and was taped onto the plastic bag that holds the tag. It seems like I can attach it myself with some pliers but I double that it would be very secure. No one else has mentioned this in their reviews so I'm not sure if that's what everyone else had to do. I'm tired of having to call customer service AGAIN over a pet tag!