Perfect
By
Shopper

(Boston, MA) - September 15, 2012
All perfect!

Pet Tags
By
Marc F.

(Arroyo Grande, CA) - August 12, 2012 (
See all reviews by this customer
)
Great Product! Clearly visable, Metal Pet Tag will last the life of your pet! Has all the information on the Tag in case your pet gets lost or injured!

Awesome!
By
Shopper

(St. Petersburg, FL) - June 23, 2012
It turned out great, very easy to read & the perfect size. I'm so happy I got this :D Fast shipment, it came faster than the estimated arrival date too!(:

Great tag!
By
Penny B.

(Colchester, VT) - February 22, 2012 (
See all reviews by this customer
)
I looked and looked for a tag that had the name in larger lettering than the rest of the tag, and that also had enough lines to add in that my dog has epilepsy and needs meds. This tag is perfect!

amazing!
By
Shopper

(Tampa, FL) - February 20, 2012
I love the color and the bone, it's perfect for any pet size.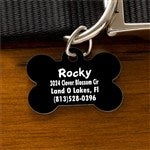 Beautiful
By
Shopper

(Stanhope, NJ) - February 11, 2012
Nice name tag. I recommend it!

Very Cute
By
Jamie B.

(Chandler, TX) - December 27, 2011 (
See all reviews by this customer
)
Excellent product and even better price.

dog tag
By
Shopper

(Hanska, MN) - December 12, 2011
Love this tag...it was hard to find a tag that I was able to get all the info on it that we needed. Thanks sooo much!

Tag
By
Shopper

(Philadelphia, PA) - December 1, 2013
Tag looked just as it did online but it fell off my dog's collar and he only had it for two days. I ordered another one and will hopefully have better luck with this one.

Perfect Dog Tag!
By
Greggelynn S.

(Los Angeles, CA) - October 14, 2013 (
See all reviews by this customer
)
Ordered the Bone tag in Black. Perfect size and very light around our little shih tzu's neck.. Thank you!

My own personal opinion
By
Beverly S.

(Lake Havasu City, AZ) - September 30, 2013 (
See all reviews by this customer
)
Very nice except I thought it would be engraved. I hope the printing doesn't come off easily.

ok
By
Marilu L.

(miami, FL) - January 22, 2013 (
See all reviews by this customer
)
This tag is cute. I only wish it was a tiny bit bigger.

Pet tag-Dog Bone
By
Shopper

(Winnsboro, LA) - January 21, 2013
I love my tag but the clamp needs to be a more secure design. Good thing I ordered 2 because it came off and I lost the first one after about 30 minutes of my dog wearing it. I put the second one on with her Rabies tag which is a "S" shaped. Thank you

Very Cute!
By
Shopper

(Katy, TX) - January 13, 2013
I liked the look, color and size of the fire hydrant dog tag. The only thing I would like to see different is the thickness of the lettering. It should be a less bold font that is used to be able to read it easier. Other than that, it's great and my dog likes it, as well.

Dog Tag just as they offered.
By
Dianne R.

(Bayonne, NJ) - October 22, 2012 (
See all reviews by this customer
)
We needed a dog tag for our new adopted dog, It came and was just as we saw online. It came quick too.

Quality
By
Elise C.

(North Port, FL) - September 15, 2013 (
See all reviews by this customer
)
I was a bit disappointed in the quality of the dog tag. It appears to be plastic... I guess I expected metal ... Maybe I missed in the description what it was made of? Otherwise, I was impressed with the speed in which it arrived.

Disappointed
By
Shopper

(Prairieville, LA) - March 8, 2013
I received this tag and was highly disappointed at the quality. I as well thought it would be engraved and that the tag itself was of much better material. I will not purchase another item from this website.

Cheaply made
By
Alisa D.

(Redford, MI) - May 29, 2012 (
See all reviews by this customer
)
I was excited to receive the dog tags that I had personalized for my dogs, I thought they would be high quality, much better than in stores. When I received them friday night, I was less than thrilled to see that they were cheap looking, and weren't ingraved, but the info just appeared to be painted on. I have to highly active dogs and these will not last long.