great present
By
Shopper

(lawrence, NY) - January 3, 2012
my parents loved these magnets i got one for each of them- great and cheap


great
By
Shopper

(CAMPBELL, TX) - December 27, 2011
excellent mag sticker, well printed

good birthday present
By
Shopper

(Tell City, IN) - December 24, 2011
i got this for my dad for his birthday and he loved it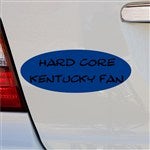 Very good vehicle message statement when less is more.
By
Shopper

(Youngsville, NC) - September 11, 2013
I purchased this with my and my husband's first initials, the word anniversary, and a very short celebratory love statement. On our anniversary day, I placed it on the hatchback of our SUV and it was a sweet yet non-overbearing element to indicate our celebratory day on our vehicle as we went about our weekend celebrating together. P.M. happened to have color choices that were the same as our wedding day theme colors, which was a nice added touch. It is very subtle and understated, but able to be seen and read by anyone driving behind you on the road.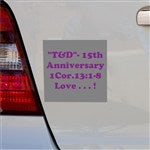 Car Magnet
By
Shopper

(Villa Hills, KY) - August 2, 2013
My friend attends a small school, so it is difficult to find a lot of items like car magnets. So, this was a great choice...can even use school colors. My only complaint was it was a bit too large. Since I hadn't used too many words, I had room to trim it. Seems to stay put, also!

Easy to place and see
By
Chrystal P.

(Virginia Beach, VA) - April 22, 2013 (
See all reviews by this customer
)
I bought this item so I could create a bummper magnet that would caution driver's that there are children in my vehicle. The color is bright and the font is big enough for driver's to see. I'm very pleased with the item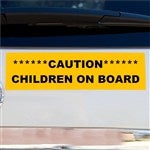 joshua's memory
By
Stacey W.

(Katy, TX) - November 27, 2012 (
See all reviews by this customer
)
I order the name it bumper magnets, overall i love them. i thought they would be bigger, but, they came out just fine. i am thankful for them and that i will be able to put them on the cars for the family.
thanks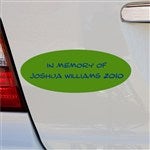 Great
By
Dawn H.

(Millville, PA) - November 26, 2012 (
See all reviews by this customer
)
Nice quality!

Font
By
Shopper

(Stafford, VA) - November 4, 2012
The only thing that I think can be improved on is to have an option so the font can stretched so it fills up the magnet. I feel like there is unused magnet on mine and the space could have been used better.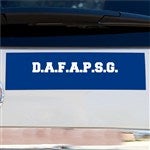 Great....
By
Shopper

(Oak Creek, WI) - September 10, 2012
Very fast shipping. Like the product. However, I do wish they had other fonts and sizes available.

Bumper Magnet
By
Shopper

(mundelein, IL) - December 27, 2011
Magnet could be a little sturdier but overall good.

ok
By
Dolores B.

(Towaco, NJ) - December 24, 2011 (
See all reviews by this customer
)
Used all capitals and it looks crowded. Plus the colors I chose ...pink on light blue ....are VERY bright. Next time I would use lower case letters to make it look better now

looks great.....
By
Shopper

(Pooler, GA) - January 28, 2013
The personalization and overall appearance is very nice. Magnet just not strong. Not good for cars.....which is where I wanted it....does better just on refridgerator :-( kind of disappointing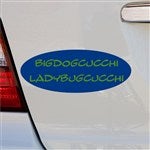 Magnet
By
Shopper

(Austin, TX) - January 20, 2012
The magnet was as thin as a piece of paper and it was not as big as I had hoped, put it this way it is made really cheap I guess you get what you pay for, I would never order this again or recommend it to anyone the only good thing I can say is that I liked the background color, that's it!