good birthday present
By
Shopper

(Tell City, IN) - December 24, 2011
i got this for my dad for his birthday and he loved it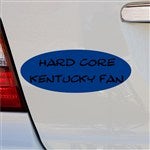 Very good vehicle message statement when less is more.
By
Shopper

(Youngsville, NC) - September 11, 2013
I purchased this with my and my husband's first initials, the word anniversary, and a very short celebratory love statement. On our anniversary day, I placed it on the hatchback of our SUV and it was a sweet yet non-overbearing element to indicate our celebratory day on our vehicle as we went about our weekend celebrating together. P.M. happened to have color choices that were the same as our wedding day theme colors, which was a nice added touch. It is very subtle and understated, but able to be seen and read by anyone driving behind you on the road.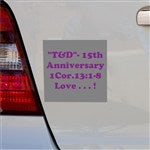 Hilarious magnet
By
Patricia T.

(Waterford, PA) - September 3, 2013 (
See all reviews by this customer
)
I wanted something creative and funny to put on the bumper of my new car-- this auto magnet fit the bill! Good quality and very durable-- Personalization Mall is extremely reasonable and very fast service. I have ordered many things and have never been disappointed. I will continue to use Personalization Mall for all my special needs.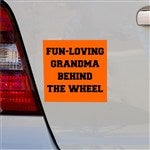 Magnet
By
Shopper

(Altamonte Springs, FL) - June 19, 2013
The magnet is nice. Color is great.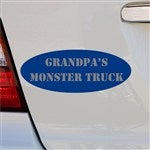 car magnet
By
Shopper

(Edwardsville, IL) - June 10, 2013
You get to make up your own words for a bumper magnet! How cool is that. I had
one sent with my son and his friends favorite 2-word saying that they say after
everything they think is cool, which is BOATS FOLKS . Only they would get it
b/c it's their inside joke so they all think the car magnet is BOATS FOLKS!
And I do too.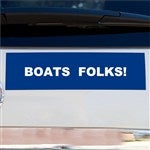 Great Car Magnet!
By
Kimberly B.

(Crestwood, KY) - April 23, 2013 (
See all reviews by this customer
)
Loved it. I put my Kennel Name and tag line on it. Nice colors and it looked just like preview.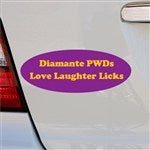 Easy to place and see
By
Chrystal P.

(Virginia Beach, VA) - April 22, 2013 (
See all reviews by this customer
)
I bought this item so I could create a bummper magnet that would caution driver's that there are children in my vehicle. The color is bright and the font is big enough for driver's to see. I'm very pleased with the item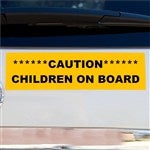 GREAT VISIBILITY!
By
Shopper

(West Hempstead, NY) - February 22, 2013
This is great for your special message! It is affordable and easily readable too! Love the quality and the price! I will definitely make more magnets! Love this site -- affordable, adorable, quality products that show up so quickly too!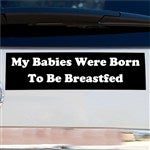 LOVE THIS MAGNET!!
By
Shopper

(West Hempstead, NY) - February 22, 2013
I scoured the web searching for a DIY car magnet to no avail. In fact, I was so frustrated by the options that I almost gave up. While shopping at this site for something totally different, these magnets somehow came up in a search. They were super easy to design and a great affordable price. They showed up and I absolutely love them! I was pregnant with my 3rd child when I created this magnet and I really began to feel like a superhero -- a tired one -- but superhero never-the-less! Great magnet and great quality.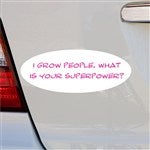 looks great.....
By
Shopper

(Pooler, GA) - January 28, 2013
The personalization and overall appearance is very nice. Magnet just not strong. Not good for cars.....which is where I wanted it....does better just on refridgerator :-( kind of disappointing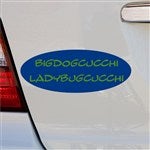 Bummer Stickers
By
Debbie R.

(Hemet, CA) - January 18, 2013 (
See all reviews by this customer
)
The ordering process was easy and I'm so satisfied with my product. You can be as creative as you want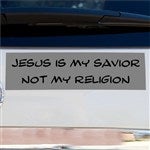 Wonderful
By
Lisa L.

(Mandan, ND) - December 7, 2012 (
See all reviews by this customer
)
The best thing about the bumper magnet is that you can put anything you want on it. This is perfect for our family full of practical jokers. The magnet containing our "inside joke" will be easily placed on my in-laws car and I cannot wait to see how long it takes for them to notice...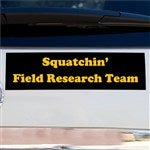 Great deal!
By
Shopper

(Cincinnati, OH) - December 4, 2012
I ordered one to bring awareness for my daughter's health condition. It is a very good size especially considering the good price. Very happy with what I received!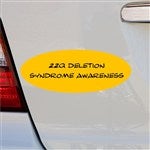 joshua's memory
By
Stacey W.

(Katy, TX) - November 27, 2012 (
See all reviews by this customer
)
I order the name it bumper magnets, overall i love them. i thought they would be bigger, but, they came out just fine. i am thankful for them and that i will be able to put them on the cars for the family.
thanks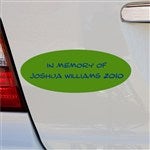 Font
By
Shopper

(Stafford, VA) - November 4, 2012
The only thing that I think can be improved on is to have an option so the font can stretched so it fills up the magnet. I feel like there is unused magnet on mine and the space could have been used better.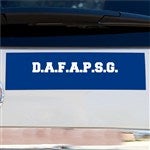 Just Stick and Drive!
By
CHRISTI M.

(JENISON, MI) - August 11, 2012 (
See all reviews by this customer
)
I BOUGHT THIS AND PERSONALIZED IT FOR MY HUSBAND, A SPORTS BUFF, AND HE WAS SO EXCITED! A GREAT PRODUCT THAT IS REMOVABLE WITHOUT RUINING YOUR CAR TOO. THIS WOULD ALSO BE A GREAT WAY OF ADVERTISING ANYTHING YOU WANT IN UR OWN WORDS....VERY PLEASED WITH THE QUALITY.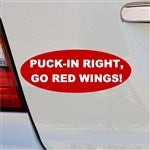 Just for Fun Item!
By
Diane D.

(Plano, TX) - July 7, 2012 (
See all reviews by this customer
)
Got this for my SUV, since it feels like I spend most of my time driving my kids around. Their friends especially think it is funny, since I am toting them places too. Good quality, strong magnet, nice printing, small enough to not be obtrusive, yet big enough to read clearly and 'warn' my passengers :)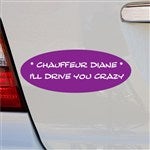 LOVED IT!
By
Brenda M.

(Kennesaw, GA) - June 21, 2012 (
See all reviews by this customer
)
This was such a unique gift to give. The person LOVED IT. I'll order these again!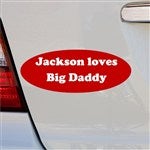 Bumper sticker
By
Heather C.

(Fairborn, OH) - May 11, 2012 (
See all reviews by this customer
)
We absolutely love the item. It was supper easy to order and arrived very quickly. Everything was correct on it with no errors.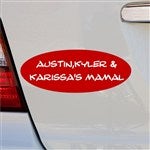 great gift for someone
By
Shopper

(Tell City, IN) - January 21, 2012
I got this gift for my mom. She loved it.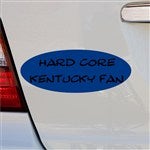 Magnet
By
Shopper

(Austin, TX) - January 20, 2012
The magnet was as thin as a piece of paper and it was not as big as I had hoped, put it this way it is made really cheap I guess you get what you pay for, I would never order this again or recommend it to anyone the only good thing I can say is that I liked the background color, that's it!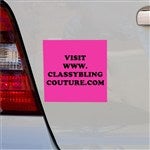 Bumper Magnet
By
Shopper

(mundelein, IL) - December 27, 2011
Magnet could be a little sturdier but overall good.

ok
By
Dolores B.

(Towaco, NJ) - December 24, 2011 (
See all reviews by this customer
)
Used all capitals and it looks crowded. Plus the colors I chose ...pink on light blue ....are VERY bright. Next time I would use lower case letters to make it look better now

Great
By
Dawn H.

(Millville, PA) - November 26, 2012 (
See all reviews by this customer
)
Nice quality!

Great....
By
Shopper

(Oak Creek, WI) - September 10, 2012
Very fast shipping. Like the product. However, I do wish they had other fonts and sizes available.

Love the magnet!
By
Wendy Y.

(Carlisle, PA) - August 4, 2012 (
See all reviews by this customer
)
Love this magnet! Had one personalized in our wedding colors with our names and wedding date! Great sized magnet & useful for more than just on our car! Bonus: Got it on sale so I got 2!

Spread the word!
By
charlene C.

(ashaway, RI) - August 3, 2012 (
See all reviews by this customer
)
Great product!

Very Fast Service, Great Product.
By
Shopper

(Crestview, FL) - August 24, 2013
Very Satisfied With My Order, Fast Service And Great Quality !!! Already Placing Another Order, Thanks Much..From Fla.

Mailbox magnet
By
Kristi D.

(High Springs, FL) - June 30, 2013 (
See all reviews by this customer
)
I purchased this magnet for my mailbox. It looks great and we love it!! Thank you so much.

Make your own bumber sticker
By
Shopper

(eagan, MN) - July 20, 2012
I really like being able to put my own message on my bumper sticker (and make it match my car color). And I love that this is magnetic--people change their minds, and sell their cars

great
By
Shopper

(CAMPBELL, TX) - December 27, 2011
excellent mag sticker, well printed

Car Magnet
By
Shopper

(Villa Hills, KY) - August 2, 2013
My friend attends a small school, so it is difficult to find a lot of items like car magnets. So, this was a great choice...can even use school colors. My only complaint was it was a bit too large. Since I hadn't used too many words, I had room to trim it. Seems to stay put, also!

Amazing
By
Ciara K.

(Colorado Springs, CO) - July 7, 2012 (
See all reviews by this customer
)
I love the products and the web site absolutely amazing!


great present
By
Shopper

(lawrence, NY) - January 3, 2012
my parents loved these magnets i got one for each of them- great and cheap