Great frame
By
Shopper

(Sandusky, OH) - May 27, 2014
The frame came and it was very sturdy/heavier wood. The only thing I didn't like is that it seemed like the beach picture could/should have been a little more focused. But overall, no one will probably notice.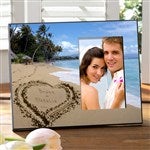 shower gift
By
Shopper

(North Versailles, PA) - March 28, 2014
everyone loved it...especially the bride since they are getting married on the beach

Nice Gift
By
Shopper

(Ishpeming, MI) - January 20, 2014
I like the frame. The picture is kind of flat and where the heart is the words are a little pixelated but I still really like it. The picture size is great and it will make a great wedding present. Great price for the product.

very cute
By
Mary C.

(Arlington Heights, IL) - January 2, 2014 (
See all reviews by this customer
)
Looks exactly like expected.

Very nice
By
Victoria M.

(New Freedom, PA) - August 30, 2013 (
See all reviews by this customer
)
I got this for a friend as a wedding gift. It was really pretty and they loved it! The only thing I didn't love was the writing of the names. They looked to perfect like airbrushed. I think they should have been a little more real like actually written in the sand. Other than that I really liked it and so did my friend!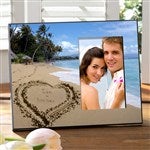 Good one
By
Shopper

(Carlsbad, CA) - July 29, 2013
I was totally satisfied,

wedding gift
By
Melanie R.

(Parker, CO) - July 19, 2013 (
See all reviews by this customer
)
I got this picture frame as a wedding present. The bride and groom are going to Hawaii for their honeymoon. I thought this frame with the beach, ocean, and palm trees would be great to put a photo in. Their names and date in the sand really made it personal. I hope they like it.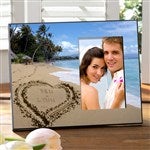 great
By
Shopper

(Pomona, NY) - May 3, 2013
Great ofor gift. Picture is a little blurry but I think it will look nice once a picture is put in it.

Perfect for beach wedding
By
Megan R.

(Mesa, AZ) - April 16, 2013 (
See all reviews by this customer
)
Bought this item for a beach wedding. Love how you can personalize it. I only wish there was a larger one for an 8x10 picture.

loved it
By
Shopper

(cocoa beach, FL) - April 16, 2013
Loved the frame. I can't say anything bad about it. I will say I'm incredibly disappointed in the gift wrap. It's just a box with the company logo and a black band wrapped around it. For $6.00? To be fair, it was what was represented on the site. I didn't look closely enough. My fault. I would have given the product 5 stars if it weren't for the gift wrap.

Overall it is very nice
By
Eric U.

(Beaumont, CA) - February 11, 2013 (
See all reviews by this customer
)
Overall I am happy with the product and I think my wife will be very happy with the surprise gift. I do wish the names in the sand looked a bit more realsitic but I am picking nits at that point.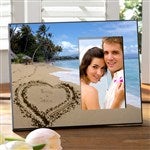 Very pretty
By
cinthia A.

(miramar, FL) - January 8, 2013 (
See all reviews by this customer
)
I ordered this frame for a wedding gift and found it very pretty and personal. If you put a picture from the beach, it actually looks like the entire theme is at the beach.

This will be a great gift for the wedding
By
Shopper

(Omaha, NE) - November 23, 2012
very please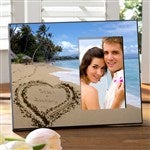 Cute
By
Shopper

(Aurora, IL) - November 18, 2012
My wife bought this as part of a wedding gift. The couple was going to Hawaii on their honeymoon. Perfect for showcasing a tropical honeymoon picture.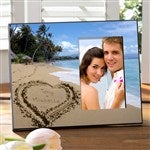 Looks just like the ad
By
Shopper

(Auburn, CA) - July 25, 2012
We received the frame 5 days after the confirmation e-mail said we had received it, however the frame looks exactly like the picture in the ad. I'm sure my son and his bride to be will be very happy with this frame. I think it will make a nice little extra wedding gift.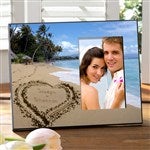 Bridal Shower Gift
By
Shopper

(Anaheim, CA) - July 3, 2012
This frame would have got 5 stars but there was a small bubble created in the laminating process that could only be seen at an angle. Several guests asked me where I ordered the frame and really really liked it! I put in a note saying that the picture I inserted of the couple should be updated with one from their honeymoon in Fiji and added some $$$. My order was shipped promptly and I have already ordered another gift for another occasion.

very nice for the money
By
Shopper

(Lindenhurst, NY) - March 27, 2012
not bad looking at all. Looks pretty sturdy. i bought it as a gift so they have not even gotton it yet. im hoping they like it as much as I do.

really great gift idea
By
Stacy M.

(Robbinsdale, MN) - March 6, 2012 (
See all reviews by this customer
)
Easy order. Shipped fast and was a great gift.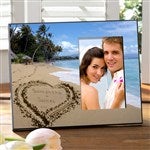 Great for a honeymoon gift!
By
Shopper

(Miami, FL) - February 22, 2012
I just recieved this and it looks great! I wish there were more options for the font because this one was not as pretty but I'm guessing it's bc it has to look like someones writing on the sand. It's perfect for any tropical wedding or honeymoon pic. I hope my friends like it !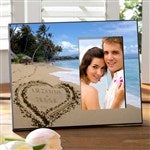 Wedding gift for friends and I loved it!
By
Lisa D.

(Clifton, NJ) - February 22, 2012 (
See all reviews by this customer
)
This was a wedding gift for friends of ours that got married on an island! I can't wait for them to get it! Perfect to show case a pic of them on there wedding! Very nicely done, frame could be a little more sturdy and back of pic. The front is perfect....,

nice frame
By
Bonnie T.

(Sanford, ME) - February 16, 2012 (
See all reviews by this customer
)
very nice frame, bought for my sister and her boyfriend, good quality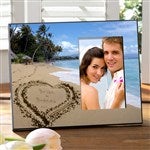 Beautiful Color Quality
By
Shopper

(Westbrookville, NY) - January 21, 2012
The color quality of the frame was excellent. It had rich colors and a shiny finish.

cute idea, picture a bit blurred
By
Shopper

(South Lebanon, OH) - January 18, 2013
The frame is a neat, unique idea and I like that about it. The names in the heart were clear. The picture of the trees, sand, sky, however was a bit blurry

Nice gift, quality was a bit less than expected
By
Shopper

(Del Mar, CA) - January 16, 2012
My boyfriend liked the gift, but I was a little unimpressed with the frame. The picture was not as crisp/focused as I was expecting & there was some smudges of black ink in the middle of the sky which was very disappointing. For the price I expected better quality, overall though it made a nice personalised gift.

Nice Frame
By
Shopper

(Canada) - December 1, 2011
This is a nice frame and quite well made. The printing with the names on it are rather well done and is a fun piece to have. For the price I am not sure if I would purchase it again, but I would recommend to buy it if the theme is important to you.

Disappointed
By
Shopper

(Herndon, VA) - October 21, 2013
In the picture, the names look more natural but in person, the frame looks very fake.

Could be better
By
Marco M.

(Boca Raton, FL) - June 30, 2013 (
See all reviews by this customer
)
This item would have been the perfect picture frame for a wedding photo but I was disappointed with the quality. From a distance the frame is beautiful, however if you are holding it or standing close to it the picture is no longer a crisp photo. The heart in the sand is crisp but the trees and ocean look a bit blurred when standing close to the frame. I would not buy this again if I had the option.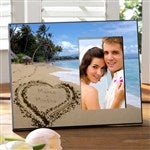 Poor Quality
By
Shopper

(Ottawa, IL) - November 3, 2013
This product appeared of a better quality on the website than it really is. The picture appears cheaply made. The personalization does not appear as if it were written in the sand at all. I do not recommend this product to anyone.