Engraved glass picture frame
By
Ilene P.

(Brooklyn, NY) - September 9, 2014 (
See all reviews by this customer
)
Love this frame, have ordered for several couples. Can be personalized for any occaision -- weddings, anniversaries, engagements, etc.


Beautiful Gift for Parents
By
Jennifer L.

(Orlando, FL) - June 2, 2014 (
See all reviews by this customer
)
My husband and I purchased two of these as gifts for my mother/step-father and father/step-mother as a momento of our recent wedding. I was looking for a personalized horizontal frame and we were happy to find this. We were able to fully personalize the item using phrases that reminded us of our destination wedding and my parents' names. We were very impressed with the quality of the frame and the engraving. We cannot wait to deliver our gift as soon as our wedding pictures arrive!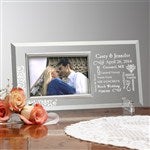 Awesome
By
Chris K.

(Albuquerque, NM) - April 14, 2014 (
See all reviews by this customer
)
It was great. We had a small wedding and put everyone at the wedding on the frame. It turned out Awesome. Thanks.

Anniversary Gift
By
Joyce W.

(Philadelphia, PA) - April 1, 2014 (
See all reviews by this customer
)
Once I found what I was looking for, your web-site had the answer. This is a gift for a couple celebrating 50 yrs. of marriage. The couple is special to my husband and myself. I was able to gather the information in conservation with the male, however, he asked many questions. When questioning his wife, she just randomly answer some of the questions asked. (name some important events in the 50 yrs. of marriage). The gift arrived and we were extremely pleased with the selection. The gift will be given in April, as they celebrate their special occasion. I have already started thinking about someone's 50th birthday gift which is in Jan. 2015. smile I think ahead. Your gifts are exquisite and something to remember always! Thank you for creating a website that offers some many selections. I look forward to shopping with Personalization.com often. Keep making other people's occasions SPECIAL. Wonderful work and craftsmanship.

50th Anniversary Gift
By
Shopper

(Missouri City,, TX) - March 25, 2014
Love the engraved reflections frame. It arrived in a very timely manner and I am very pleased with the inscription. Great quality!

Gift Review
By
Zachary H.

(Hoosick Falls, NY) - February 22, 2014 (
See all reviews by this customer
)
The gift that I bought my girlfriend for Valentine's Day is a very good quality item and suggest it for any guy looking to buy his girl a good gift at a reasonable price. She also received the gift before Valentine's Day as they promised it would. She absolutely loves it and plan on using personalizationmall.com to go shopping for her.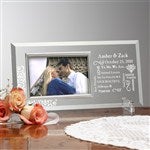 Thoughtful Wedding Gift
By
Shopper

(Flower Mound, TX) - January 14, 2014
This picture frame is very pretty and looks more expensive than the price suggests. It is easy to personalize with the couples names, dates and meaningful phrases. Makes a thoughtful gift.

Lovely!
By
Shopper

(North Wales, PA) - November 10, 2013
This frame is beautiful! I love how you can personalize the words on the frame! You and your loved ones will absolutely love this frame!! Breathtaking!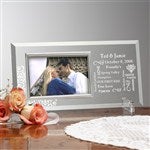 Very Pleased
By
Eleanor M.

(Anderson, SC) - October 21, 2013 (
See all reviews by this customer
)
The frame was beautiful. Arrived in tact, no chips or breaks. They put My words on engraving, not a store bought product for sure : ) Thank you Personalization Mall. My son & maybe more important was my daughter-n-laws' expression of thanks. We are very pleased.

Wedding Gift
By
Shopper

(Downey, CA) - April 30, 2013
I loved it!! The quality is beautiful! When I opened it I was surprised to see the frame so big. I was expecting a smaller frame. I will definitely order one for me. I can't wait to give this gift to my friends. I love shopping at Personalizationmall.com.

Beautiful frame!!!
By
Shopper

(san jose, CA) - March 19, 2013
This frame is gorgeous! Perfect size and the design layout for the words looks so pretty. I plan on using this site for all my gifts!

Great price for the quality!!!!
By
Shopper

(Cherry Hill, NJ) - December 6, 2012
I was shocked when I opened the box and felt the quality of this product. It is heavy and sturdy.
A great gift that you can personalize on your own.
I love it!!!!!!!!

Great 25th Anniversary Gift
By
Shopper

(Cooper City, FL) - November 13, 2012
I was so happy when I opened the box with the Our Life Together Reflections Frame! It came out Beautiful! My personalizations were done just as lovely as the sample frame! I can't wait to give it to my husband for our 25th Anniversary!

ann
By
Shopper

(Skokie, IL) - September 16, 2012
this was a touching gift for a new couple. i included the names of the reception hall, ceremony location, etc. very personal for them.

Beautiful frame
By
Shopper

(Quakertown, PA) - August 13, 2012
The engraved frame turned out so nicely and it is such a nice gift for a newly married couple!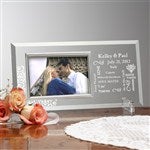 to my husband and I 25th Anniversary gift
By
Shopper

(mableton, GA) - August 2, 2012
I purchase this frame for my 25th Anniversary I was very please on it looks .I am so glad i bought it.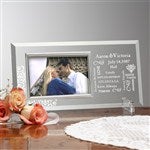 PERFECT SHOWER GIFT
By
Alice V.

(East Vandergrift, PA) - March 23, 2012 (
See all reviews by this customer
)
I purchased the frame for my nephew and neice to be's wedding shower gift. They received nothing else like it, and everyone at the shower was asking where I purchased it. The engraving was flawless, and it was larger than I had imagined which was even better than I expected! Tracy cried when she saw it. I plan on ordering their wedding gift here also. Shipping was amazing. I ordered on a Friday, and it was delivered the following Tuesday!

Beautiful frame
By
Shopper

(Clovis, NM) - February 21, 2012
This was even more beautiful than I imagined. Great gift for a spouse.

Beyond expectations
By
Ronen E.

(Bayside, NY) - February 20, 2012 (
See all reviews by this customer
)
I was very pleased with the end results. The item was better than expected!
I was worried about the size of
My frame since the site gives no specifics in dimensions. However it's a beautiful frame and it was larger than I thought. Definitely worth the purchase and the package came 2 days earlier than guarantees!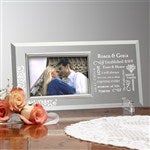 Great anniversary gift
By
Shopper

(San Diego, CA) - February 12, 2012
This is a really nice and elegant picture frame. The engravings look beautiful and I definitely recommend this frame as an anniversary gift.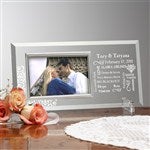 Perfect!
By
Shopper

(Decatur, IL) - January 18, 2012
I wanted a personalized wedding frame that wasn't so "average." When I found this, I was really excited! Not only could I put our names & wedding date, but other little sayings & words that mean a lot to us. It is just perfect & the quality is great!

Perfect Anniversary Gift
By
Shopper

(Weymouth, MA) - March 20, 2013
This 25th Anniversary frame was even better in person. I put a really nice picture from their anniversary party and engraved all the places my brother & sister-in-law had visited the past 25 years, beginning with their honeymoon to San Francisco, Maui & Kauai. Said it was the most thoughtful & beautiful gift they had ever received. She couldn't stop looking & commenting on it all night long. Thank you!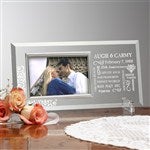 Personalized frame
By
Donald C.

(Lorton, VA) - February 14, 2012 (
See all reviews by this customer
)
Was delivered 3 days after I ordered it. It looks very nice. Good value for the money. I will order from this site again. Regular shipping was a little overpriced but not too bad considering the amount of time it took to get here.

Lovely
By
ShaVonne J.

(Pittsburgh, PA) - April 14, 2012 (
See all reviews by this customer
)
I love the frame but it is hard to see the writing on the frame. If you purchase this frame you must have a dark backdrop or you wont be able to see the words. It was nice to create a frame with meaningful words for me and my boyfriend's 1st picture together. Very cute frame....(just covered our faces in the picture to show you the frame only - difficult to read words).