fading
By
Candy S.

(Medina, OH) - December 24, 2013 (
See all reviews by this customer
)
The item was Very Nice Upon Arrival But I've Found That After Only One Wash The Print Had Faded A Lot

Cute idea, not good quality
By
Sharon S.

(Brick, NJ) - March 6, 2013 (
See all reviews by this customer
)
Really cute idea as a valentine's day gift, but material is awful, and ink ran the first time in the wash (cold water). Wish the quality was a little better and the ink didn't run.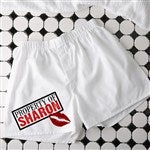 Valentine Shorts
By
Geetika G.

(Idaho Falls, ID) - February 25, 2013 (
See all reviews by this customer
)
The size i ordered(M)....is not fitting my husband.Also the cloth is torn off from few places.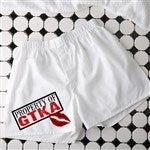 Disappointed,
By
Shopper

(White Plains, NY) - February 22, 2013
Very coarse material. Quality questionable but a fun little surprise for my husband.

Great Shorts! Sizing is very wrong :(
By
Shopper

(Belgrade, MT) - February 18, 2013
These shorts are great...such a cute idea for a gift! I ordered them for my husband when we were going on a little anniversary trip, thinking they would be perfect. He wears an extra large, always, in every brand of shorts we've ever bought. These are disappointingly NOT extra large, in fact they are about a medium in normal sizes. I paid for fast shipping too, so I wasted about $40 :( there is no way he can wear them. I'm not super happy.

The fly is sewn up??? Not a good thing at all!
By
Shopper

(cordova, TN) - February 18, 2013
This item shipped quickly but, the fly is sewn up. Makes it difficult for everyday wear!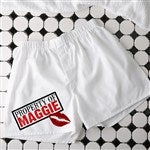 Disappointed in boxers....
By
Sarah C.

(Chula Vista, CA) - February 16, 2013 (
See all reviews by this customer
)
I ordered these for my husband for V-DAY. AFter reading the good reviews I was excited but when they came I was not happy with the material and I think the size runs a little small. It is a hard cotton and my husband didn't think they were comfortable. They are certainly made for a more slender body. They were very snug in the booty and unfortunately, he won't be able to wear them comfortably. I have ordered a lot from this website and this is the first thing that didn't meet my expectations. Bummer.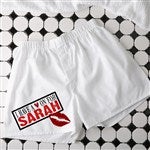 Not satisfying
By
Ileana H.

(Salisbury, MD) - February 4, 2013 (
See all reviews by this customer
)
The boxers are very rough material and not soft or fitting at all. The opening in the front of the boxers is non existing. I've never seen men's boxers not have that opening in the front of them. I do NOT recommended this product. It is especially not worth the price.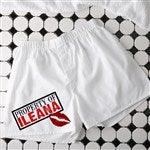 Not as cute as you think
By
Shopper

(Sparta, NJ) - February 1, 2013
The boxers themselves are a made out of a cheep stiff material; definitely not comfy. The logo looks just like in the picture but that's the only good thing about it. I was really hoping for better quality. They're also pretty much see through when you wear them.

Great logo bad material
By
Shopper

(Cedar Knolls , NJ) - January 19, 2013
The material is uncomfortable

Great Idea, Fair Quality
By
Shopper

(kent, WA) - January 30, 2012
For $20 I feel these should have the quality and comfort of Hanes boxers. But the idea was great, I think this will be a cool surprise on V-day along with the many others I have planned. But I don't imagine wearing these very often after words. Final thought: I give 5 stars for the Idea, but 1 star for the Quality an comfort of your product. The execution always carries more weight then the Idea.

Not soft
By
Shopper

(Stevens Point, WI) - December 14, 2013
I've been very satisfied with all my products from personalization mall so far, but this one was a disappointment. What I dislike the most is the fabric material. It's not soft and seems uncomfortable so I'm not going to give it away. I think I shall only put it on my stuffed animal!

Disappointing
By
Shopper

(Zionsville, IN) - February 24, 2013
These were very expensive for what I got! I thought they would be something he could actually wear but they were too small. I don't know if they were sized wrong or what. If they were cut correctly I still don't think they would be comfortable because the fabric is awful! They feel cheep. The personalization was what I wanted but I'm not going to frame them or anything so I think I paid too much for something that can't be used.

irregular
By
Connie N.

(Temple Hills, MD) - February 17, 2013 (
See all reviews by this customer
)
I was so happy with the entire purchase until I received it and notice how small the large underwear was andy partner could not wear them when he wanted too.

No hole
By
Shopper

(Dallas, TX) - February 15, 2013
I got these for my husband as "Valentines Day" boxers. They're printed great, but has no opening in the front. Not too convenient for men.

Gift
By
Shopper

(Amarillo, TX) - February 3, 2013
Not of good quality

not happy..
By
Wendy F.

(Clarksville, TN) - January 25, 2013 (
See all reviews by this customer
)
got the xl and shrunk to an unwearable size after washing and drying

Not worth the money
By
Amy S.

(Kansas City, KS) - February 5, 2012 (
See all reviews by this customer
)
I ordered these boxers and they are definetly not worth the money I paid for them. They look like the cheapest fabric you could buy and I could have made these for a quarter of what I paid for them EXTREMLY DISAPPOINTED