Anniversary memories
By
Gretchen L.

(Marysville, WA) - May 8, 2012 (
See all reviews by this customer
)
This item was a bit smaller than I expected but was pleased with it just the same. It is very well done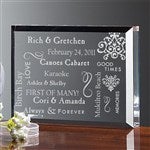 life together keepsake
By
Shopper

(Brookhaven, PA) - March 31, 2012
I love it. It is a great idea that is quite moving. I will be ordering more in the future. Many thanks.

great anniversary gift
By
Shopper

(Milan, MI) - March 9, 2012
This is such a cute item. Wish it was a little bigger,but still love it

Our Life Together
By
Marie C.

(Plant City, FL) - February 20, 2012 (
See all reviews by this customer
)
The Keepsake was beautiful just a little smaller than anticipated

Very pleased
By
Dannis G.

(Mechanicsburg, PA) - February 20, 2012 (
See all reviews by this customer
)
I gave this as a gift for our first Valentine's day together. I filled it with the wonderful memories we had enjoyed the past year. It was perfect. I only wish that you were not restricted on the number of characters. The longest line allowed for 26 characters. The rest were a lot shorter. Also, pay attention to the dimensions. I didn't and expected it to be bigger. However, overall it was a great item and well worth the money.

Love it 1234
By
Shopper

(New York, NY) - February 19, 2012
The gift was smaller than I thought it would be but my grandmother loved it and she was happy to see her name on the glass... so if u want to get something little and special for that someone then this gift is just right for you!!

Very Nice
By
Sheryl L.

(Buffalo, NY) - February 15, 2012 (
See all reviews by this customer
)
This was very nice only smaller than I thought but my husband loved it!

Our Life Together
By
Shopper

(Chadds Ford, PA) - February 11, 2012
Very happy with this product. It looks great! I know my daughter will love it. I have now purchased several items from Personalization Mall.com and all are beautiful. Thank you.

just what i needed
happy to put what i wanted to say on it..not what some writer may have put

Very Nice
By
Ericka C.

(Dunwoody , GA) - February 7, 2012 (
See all reviews by this customer
)
I purchased this for my boyfriend of 7 yrs. I thought it would be a small but cute sentiment to our relationship. My only disppointment was that it was too small. I thought it would at least be the size of a 5 x 7 picture frame but it was more like a 4 x 6. :( However it still got my point across and its a great product.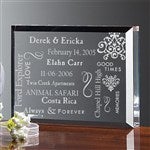 Great keepsake but small
By
Shopper

(Baltimore, MD) - February 6, 2012
This is a very nice keepsake but it is a lot smaller than I imagined. PLEASE read the dimensions of the item before purchasing. It is more like a paper weight. That being said, it was well made and easy to read.

Super small but really cute
By
Jason K.

(Cape Coral, FL) - February 6, 2012 (
See all reviews by this customer
)
This thing isn't much bigger then a deck of cards. It is really adorable and unique.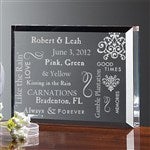 Valentine for my husband
By
Susan B.

(Fairfax, IA) - January 30, 2012 (
See all reviews by this customer
)
This was much smaller than I had pictured, but the quality is great!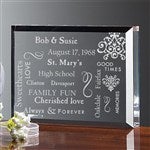 smaller then it looks but very nice
By
Shannon R.

(franklin, IN) - January 23, 2012 (
See all reviews by this customer
)
I am very happy with this. It is a lot smaller then it looked in the picture.. but the wording is very clear and easy to see. perfect for a desk or night stand/end table. all in all very worth the money :)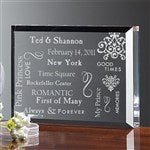 Beautiful but small
By
John B.

(Montoursville, PA) - January 16, 2012 (
See all reviews by this customer
)
The piece came quickly, and without flaw. It is very sharp looking, crystal look and has more depth than I expected. On the other hand, I would pay attention to the size. I envisioned it larger, but it is really quite small. Pictures can cause you to assume a certain size - you should look at measurements so that you are not disappointed.

It was cute.
By
Shopper

(Virginia Beach, VA) - December 6, 2013
I liked it a lot, it was cute. But I think that it would have been nicer had it been more the size of an average picture frame.

Very small but nice
By
Shopper

(Pittsburgh , PA) - May 8, 2013
I read the reviews before purchasing and everyone seemed pleased with this gift but did mention how small it was. I did not look at the size/dementions myself so I was surprised to see how small it really way. It's a great gift but it can fit in the palm of my hand. I would have liked it bigger.

Beautiful but very very small!
By
Christina R.

(Orlando, FL) - February 17, 2013 (
See all reviews by this customer
)
I loved this item very much and I was very surprised when it was delivered and it was no bigger then the palm of my hand. Don't get me wrong I am not mad that I bought the item, I just wished it would have been bigger.

Personalized Keepsake
By
Shopper

(Austin, TX) - February 11, 2013
Very nice except it was smaller than I expected. Prices are kind of high for the size you get.

Disappointed
By
Shopper

(New Palestine, IN) - November 12, 2012
Quality good, I was disappointed in the size. It was very small.
Make sure to read discriptions carefully!

Dimensions
By
Shopper

(Mt. Washington, KY) - August 14, 2012
The product was much smaller than expected. The recipient thought so too. We were hoping for a plague-size product. It looks much larger in the picture. It will make me review the details of the dimentions more closely before I make my next purchase. Otherwise, it was very pretty, and the sentiment was not lost.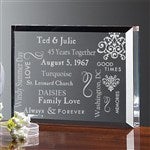 Beautiful and great idea but so small
By
Shopper

(Kirkland, WA) - March 13, 2012
I love this idea. And the engraving looks great! And the customer service was the BEST! It was engraved and arrived at my home within 2 days! But I was a little stunned because it looks about the size of a paper weight! But the bride and groom and everyone at the shower thought it was incredible and the groom plans to mount it in black granite. I guess they didn't have a size in mind so it was still really special to them.

Our Life
By
Ron Y.

(Collinsville, VA) - February 20, 2012 (
See all reviews by this customer
)
I thought it was very nice, but not as big as expected, needs to be a little larger. My wife never made a comment one way or the other. I have purchased item from you before and she allways loved them.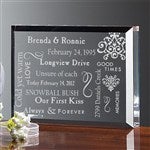 Just check the size first
By
Ramya K.

(Falls Church, VA) - February 15, 2012 (
See all reviews by this customer
)
I bought this for valentines day and when it arrived was bit disappointed with the size. 4" by 3" is small indeed much like paper weight instead of table top. Picture almost looks like 5" by 5".



This is nice, but very small...
By
John J.

(Floyds Knobs, IN) - February 13, 2012 (
See all reviews by this customer
)
The dimensions were probably written on the item listing, but I completely missed that... The listing should say that this is a paper weight, because that is about the size of it. My wife still liked it, but when I received it, the like of size took me by surprise. It was also shipped in a rather large box and the freight wasn't cheap. Once again, it is a nice item, but know that you are buying a paper weight.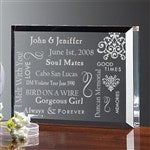 Too Small
By
Shopper

(Springville, IN) - February 18, 2014
It is beautifully crafted and the fonts are nice. But, this item is way too small. Simply put, if you want something you can put in your pocket and show off once in a while, this item is for you. If you want something to display so that others can see, skip it.

Really, really small
By
Shopper

(Schertz, TX) - February 17, 2014
I have ordered sculptures from this company for 8 years. They no longer sell the red heart plaque I usually get for valentine's. Since I was going to have to find something new I went with something entirely different. Compared to what I usually get I wouldn't recommend it. It's so small I was embarrassed to give it to my husband. I will be doing something different next year. The quality is fine it's just too little to bother with.

Disappointed
By
Shopper

(Sierra Vista , AZ) - April 1, 2013
I was really disappointed in this product. The glass is beautiful and the carving is pretty, but it is very very small. In the picture it looks much bigger. If I actually knew how big it was I would not have ordered it.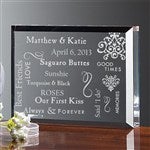 unexpected
By
Shopper

(salt springs, FL) - April 28, 2012
Nice but smaller than I thought.

Disapointed
By
Shopper

(Derby, KS) - February 29, 2012
Tis product should have included sizes with it. I was expecting a much larger product not only because of the price, but because the picture makes it look much larger. The product I recieved was very small and hard to read. I also feel that I over paid for this very s.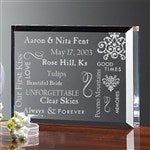 VERY UPSET!
By
Shopper

(Windermere, FL) - February 7, 2012
I typed in Alt 3 and made a heart and on the preview it showed it as a heart, and after it delivers, it had a question mark! I called the poeple and they said they couldnt do anything about it! So much for Valentines Day! The reasst of it was good, but the title. I am very upset and they dont give you a refund. I understand that becasue it is peronalized, but still! I am really upset, and I don't think I'm going to use this website again! :(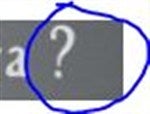 SMALL
By
Shopper

(Eureka, CA) - February 10, 2012
I purchased this item thinking it would be a lot bigger. It was really small. Please be more specific! Kinda disappointing now i have to buy more stuff to make Valentines Day more special!!