Absolutely Beautiful!
By
Deanna C.

(Elmwood, TN) - June 20, 2012 (
See all reviews by this customer
)
I bought this for my girlfriend and I's 9 Month Anniversary and it's actually better than I expected it to be...It's very beautiful and I cannot wait to give it to her,I will follow up with her response when she receives it.
I recommend this for anybody! c: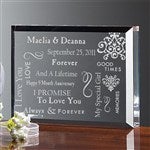 Wonderful Keepsake!!!!!!
By
Amber G.

(Beloit, WI) - June 5, 2012 (
See all reviews by this customer
)
This is a very nice keepsake!!!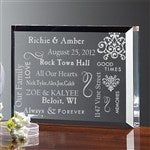 Keepsake a Hit!!!
By
James O.

(CONCORD, NC) - April 15, 2012 (
See all reviews by this customer
)
I was well pleased with this keepsake item...and pricing was good also.
Would like to see larger similar items in the future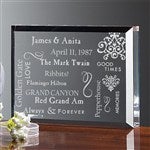 Beautiful
By
Janell C.

(Orlando, FL) - April 9, 2012 (
See all reviews by this customer
)
It was smaller than I had imagined, but I did not read the dimensions. However it is so beautiful. A very personal expression of love ! I can't wait to give the gift now!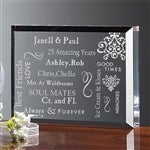 Loved it
By
Shopper

(Elmhurst, NY) - March 19, 2012
my boyfriend loved it! i just thought it was a little bigger.. maybe I did't read the dimensions correctly but I expected it to be bigger. Still, it was worth it! Everything was written exactly how it looked on the preview; there were no discrepancies, so i honestly loved it!

Makes a beautiful gift
By
Shopper

(Litchfield, NH) - March 3, 2012
I had my three children discribe their grandfather to me. I used these words and phrases to make three personalized gifts for my father's 70th birthday. (one from each child). They came out wonderful!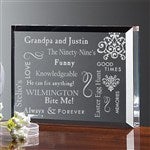 perfection
By
David W.

(Campbellsburg, KY) - February 24, 2012 (
See all reviews by this customer
)
We love it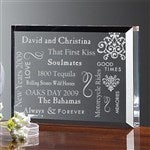 Beautiful keepsake memories
By
George G.

(Dayton, TN) - February 22, 2012 (
See all reviews by this customer
)
Gorgeous engraved memories in a glass rectangular block. Smaller than I thought, though, so watch the size carefully ( I didn't ). You can place your own fabulous memories on this personalized glass piece. It's a winner!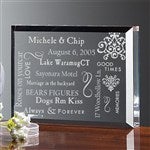 Small but great
By
John P.

(North Port, FL) - February 19, 2012 (
See all reviews by this customer
)
I used this as a Valentine's Day present to my wife. Using key dates and the kids names it was wonderful. The small size actually worked out great as it is easy to put where it can be seen but not in the way.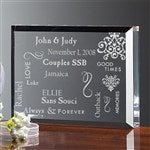 Great for the money!
By
Melanie H.

(Hanover, NH) - February 19, 2012 (
See all reviews by this customer
)
My husband and I didn't want big fancy extravagant Valentines gifts this year because the budget was tight. I found this website by accident and found this wonderful gift at such a low price! It was just the right way to bring all our favorite memories to life and he absolutely loves it. It arrived the day before Valentines which was perfect! I would definetely recommend this gift!

Perfect
By
Shopper

(Clinton Township, MI) - February 17, 2012
I gave as a valentines day gift; perfect.

special gift
By
Shopper

(Orland Hills, IL) - February 16, 2012
I purchased this and got it, my boyfriend really enjoyed this gift a lot. It has our personalization on the gift that we both share. I would recommend this to everybody. It's not just for weddings, though for anniversaries and birthdays too.

Wow!
By
Shopper

(Milwaukee, WI) - February 13, 2012
This is a great keepsake. Be sure to look at the dimensions, the picture makes it look larger than it really is.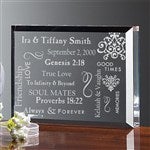 a lifetime memory
By
Shopper

(YONKERS, NY) - February 12, 2012
I bought this for my third grandson, wanted something he would have throughout his life...to remember..a gift from grandma and grandpa..the money will be long gone..but this will last forever..on his dresser as a child, as a paper wght on his desk as a student, and on his desk as a man in the working world. It is beautiful, doesn't take up a lot of space, clean and sleek, not a dust collector as so many collectables wind up. Great for special occasions, or just as a reminder of who we are and where we came from, as I included the baby's whole family on it.. LOVE IT !!!!!

She loved it
By
Shopper

(Lexington , KY) - February 6, 2012
It is a little small but I think it adds to the gesture of "good things come in small packages".
I thought it was very "cool". My wife cried and said it was one of the most thoughtful things
she had ever gotten.

Beautifully done!
By
Robert K.

(Buford, GA) - January 31, 2012 (
See all reviews by this customer
)
Thank you very much for such a wonderful piece!

Delightful!
By
Shopper

(Indianapolis, IN) - January 31, 2012
Loved the look and the sentiment! Delightful memento to celebrate birthdays in addition to the obvious anniversaries.

Our Life Together Personalized Keepsake
By
Matt T.

(Smithsburg, MD) - January 30, 2012 (
See all reviews by this customer
)
I am very pleased with the service and prices of Personalization Mall.com and I will certainly return to purchase other things from them! The, "Our Life Together Personalized Keepsake" that I purchased from them is of great quality.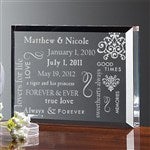 Anniversary Gifts
By
Barbara D.

(Wapakoneta, OH) - January 29, 2012 (
See all reviews by this customer
)
I ordered these for our sons and their wives for their anniversaries. I also ordered one for my husband for Valentine's Day. I found the site easy to use and the products turned out beautifully. They are one of a kind items which make them even more special. I would definitely order from this company again.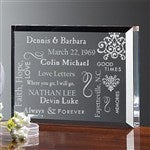 Great Anniversary Gift
By
Holly C.

(White Marsh, MD) - January 25, 2012 (
See all reviews by this customer
)
I was really pleased with my purchase....the writing is very clear and easy to read. The only thing I'd keep in mind is the size..it's a lot smaller than I expected (but that was my fault for not looking carefully at the measurements provided). Also, I hadn't signed up for the wrapping but it comes in a decorative box automatically for free, so just skip the extra cost since you'll be getting it wrapped for free anyway. I'd highly recommend buying this for an anniversary, or any cute occasion!!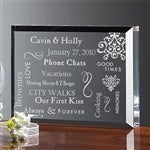 Great product, great price
By
Shopper

(Chula Vista , CA) - January 20, 2012
I was very satisfied with my purchase! Wonderful service and fast delivery! :)

Couldn't wait until Valentines Day
By
Shopper

(Saint Louis, MO) - January 17, 2012
When the paperweight arrived I was so excited that I gave the gift early. About six weeks early. LOL! It was a great price and looked so awesome. She took it work the next day and her coworkers oooohed and aaaaaaahed! I guess its a good thing I bought two gifts from the site since I just couldn't hold out until VDay!