Awesome Gift!!
By
chandanika L.

(san jose , CA) - August 26, 2013 (
See all reviews by this customer
)
What a perfect gift, he loves it so do everyone.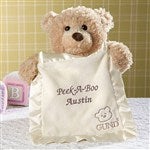 Peek-a-pleased
By
Shopper

(Lexington, KY) - August 26, 2013
My 10mth old loves his Gund bear. When I seen this personalized I knew I had to order my unborn nephew one. I was able to get it here and shipped (with coupons) for $49. At Dillard's they carry them for $50 with out personalization. So the way I see it is I got a great deal!!!! Product made it quickly with the reg standard shipping and was packaged so good all I need to do is wrap the box it came in. The personalization was done very nicely. I am so excited to give my gift at the shower next month!!!!

absolutely adorable
By
Shopper

(newton, NJ) - July 8, 2013
purchased as a new baby gift it was a nice size and totally cute

Peek-A-Boo Gund Bear
By
Shopper

(Montgomery Village, MD) - July 2, 2013
Very pleased with this purchase - quality and appearance exactly as advertised..
arrived timely - product provides many hours of safe fun ---


Amazing
By
Shontrean M.

(Longview, TX) - April 2, 2013 (
See all reviews by this customer
)
My God-daughter and her family loved it. The bear is the right size and I loved that the blanket was personalized. Would highly recommend to those interested.

adorable!!!!
By
Shopper

(Florence, KY) - January 28, 2013
This is the 2nd time I've ordered this item. It makes such a great gift for showers and the babies love it!!!!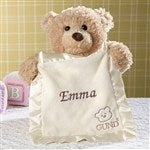 Excellent product
By Shopper (Somerset, MA) - January 21, 2013
I recently purchased this bear as a baby shower gift. It was a huge hit. The momograming was perfect and the audio is very clear. Really adorable!!

Happy happy grandma to be!!!!!
By
Shopper

(Hallandale Beach, FL) - January 14, 2013
Love love love the Peek A Boo bear...can't wait for te arrival of my granddaughter in May!!!!!

Gotta get a Gund bear!
By
Shopper

(Arverne, NY) - December 30, 2012
I bought this bear for my niece for Christmas 2012 & I personalized it. I looooooove this bear. I saw it on other websites a few bucks cheaper however, you couldn't personalize it. So for a few extra bucks its sooooo worth it! It's a toy for her now & It's a nice keepsake for when she's older.

Christmas Gift
By
Carol M.

(Saint Louis, MO) - December 26, 2012 (
See all reviews by this customer
)
I purchased this Peek-A-Boo Gund Bear for my grandson as a Christmas gift. He is 8 months old but we play Peek-A-Boo all the time and this was a number "1" gift. His parents took this gift with them everywhere Christmas. This gift was a great blessing. The quality of this product is excellent and very well crafted. You can not go wrong ordering this item.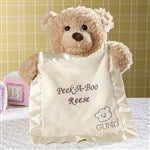 Very cute!!!
By
Shopper

(Oro Valley, AZ) - December 5, 2012
We bought for our 2 year old son. We think its absolutely adorable and will keep this in the back of our minds for future gifts for the little ones in our life.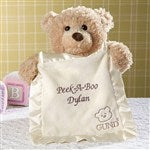 Cutie Cutie Cutie
By
Shopper

(Houston, TX) - October 19, 2012
Every mom and baby needs this adorable bear. The bear is the right height and it's so soft. The bear's voice is great and it just gives you a warm fuzzy feeling inside. The baby is going to love their new friend. Its a must purchase!

so cute!!!
By
Shopper

(Wichita, KS) - September 16, 2012
It is so cute, my baby really love it.

Fantastic Gift Idea!
By
Shopper

(Bowling Green, KY) - August 6, 2012
I purchased this bear for a friend's new granddaughter and had it sent directly to my friend's home. My friend and her daughter were thrilled with the gift. I personalized the bear with the granddaughter's name and date of birth. They loved that--but especially loved the bear and the cute sayings. As the granddaughter is only a month old, they are excited to see her response each time they play it for her as she grows. I would especially like to compliment customer service at Personalization Mall. When I ordered the bear,I made a mistake on the date of birth. The next morning after I ordered on-line, I realized the mistake and called customer service. The young lady was so helpful. She first made sure she had the correct order, then checked to see if it had been started. Since it had not, she was able to change the date on the order and confirmed to me by phone. THANKS!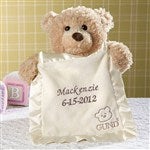 Most Unique Gift
By
Shopper

(Canada) - August 2, 2012
The only thing that would make this gift better would be having a choice of pink or blue blanket. The gift is very unique and can stay with the child a lifetime. I love it. Will order again!!

Unique baby gift
By
Pat H.

(Bethel, CT) - July 31, 2012 (
See all reviews by this customer
)


This gund bear with loving and playful messages playing peek a boo is sure to delight baby and the parents. I love it!!! Gund has been making stuffed toys for years and they are a nice quality. If you want to purchase a great gift for baby and parents, this is it!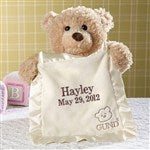 Best Gift I've Ever Purchased
By
Rachel C.

(Elk Grove, CA) - July 18, 2012 (
See all reviews by this customer
)
This teddy bear is so adorable. He's soft and the speaker is so loud and the speech is clear. I will never wonder what to get as a baby gift again, this bear is it!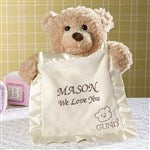 My Go-To Baby Gift From Now On!
By
Denise W.

(Bedford, TX) - May 21, 2012 (
See all reviews by this customer
)
This is the cutest little bear I have ever seen! It makes the perfect keepsake baby gift . I have ordered two in the past month for friends and I just logged on to order my third. It is very well made and and the embroidery is of the highest quality. The bear arrived well packed in about 4 days from the time ordered. I love this little bear!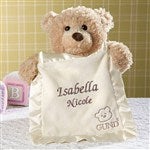 Service excellence
By
M S.

(Edwardsville, IL) - May 17, 2012 (
See all reviews by this customer
)
Our bear arrived damaged from the delivery. The box was all dented and the bear was defective. I called customner service and they took great care of me and I had new bear delivered 1 or 2 days later. That is what I call great customer service :) Thank you

A Wonderful Gift
By
Shopper

(windsor mill , MD) - March 18, 2012
The Parents love it so much. A wonderful gift.