Quality was amazing!
By
Shopper

(ST. PETERS, MO) - December 26, 2011
I was so surprised to get this ornamnet and see that it was made of heavy porcelin. Just darling and very unique. Perfect for my son's senoir year!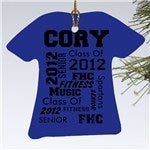 T-shirt ornament
By
Vicky M.

(Farmington Hills, MI) - December 22, 2011 (
See all reviews by this customer
)
I've ordered many items from here and have never been disappointed! This last purchase of this ornament exceeded my expectation as well! The quality, the finish, the lettering of the product was beautiful and the perfect school colors and idea. Even though this was for my son, it was more for the Christmas tree of memories. Thank you again for a quality product and memory idea I could count on and have for years to come!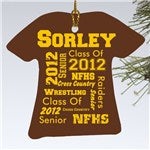 Great gift for graduating students!
By
Shopper

(Red Bank, NJ) - December 10, 2011
These ornaments are perfect for my graduating children. I was able to customize using their school colors and team names. They are very well made and look beautiful. I am saving them to give as part of their graduation gift. I can't wait until they see them!!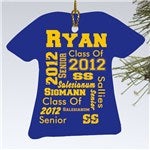 Very Unique!
By
Shopper

(Colby, WI) - December 10, 2011
Awesome gift and turned out perfectly with the personalization! I love it!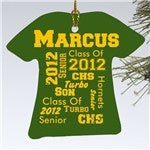 Great for Grandkids
By
william W.

(gold canyon, AZ) - December 1, 2011 (
See all reviews by this customer
)
The extent to which the ornament can be personalized allows great flexibility --- this is a "one size fits all" without requiring lock-step presentation. The ornament shows that thought went into the selection and the personal touch shows that you care.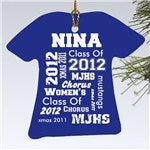 Grad Gift for niece
By
Patricia B.

(Palos Heights, IL) - May 31, 2014 (
See all reviews by this customer
)
She LOVED her ornament totally personalized for her w/her sports & School Name, etc.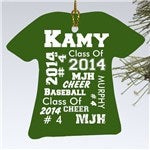 AWESOME!
By
Shopper

(Chicago, IL) - May 11, 2014
I made this as a graduation gift for my mom's PhD! She ABSOLUTELY LOVEEEED IT! :) It was the perfect size for an ornament to treasure her incredible accomplishment. Thank you!!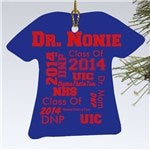 FUN!!!
By
Shopper

(Hunt Valley, MD) - March 3, 2014
I personalized with the activities that my child took part in (football, jazz band, name of school newspaper) as well as his graduation year, school's name, and mascot. Looks great and is a wonderful keepsake--will make us smile each Christmas as we hang it on the tree.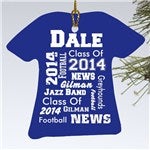 Grandaughters Senior gift for sport awards banquet
By
Janice L.

(Malone, NY) - February 17, 2014 (
See all reviews by this customer
)
I gave this to my grandaughter in her Senior Year at the end of her Hockey Season. She absolutley loved it.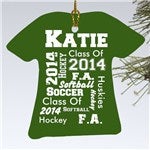 BEAUTIFUL FOR A "SPORTS" TREE
By
Patricia B.

(Palos Heights, IL) - January 25, 2014 (
See all reviews by this customer
)
THE ORNAMENT CAME OUT EXACTLY AS I ORDERED & I KNOW MY NIECE WILL LOVE IT.... SHE IS GRADUATING FROM THAT COLLEGE THIS SPRING SO I KNOW THIS WILL BE A LIFELONG REMINDER OF SOME OF THE BEST YEARS OF HER LIFE.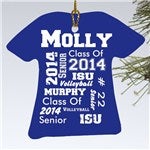 School Spirit Jersey
By
Keith V.

(Kansas City, MO) - October 11, 2013 (
See all reviews by this customer
)
Perfect for 8th grade grad memory. Had a slight problem with first ornament but was quickly and nicely resolved! Really appreciated that.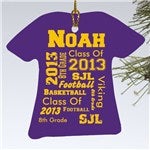 Christmas gift!
By
Karen C.

(Katy, TX) - September 2, 2013 (
See all reviews by this customer
)
I plan to give this to my daughter with some other fun stuff at Christmas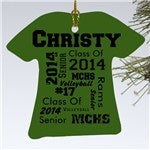 Great gift!
By
Sarah H.

(Scotia, NY) - June 24, 2013 (
See all reviews by this customer
)
If you want to give a little something, this is the gift! Looked great and was good quality . . .only downside is that it is quite breakable.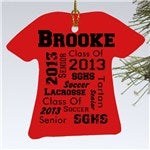 great keepsake
By
Shopper

(GERMANTOWN, MD) - May 31, 2013
The colors were oerfect. They should be able to keep these for a lifetime!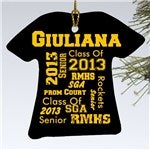 GIFT FOR THE GRAD
By
MELODY H.

(LAKEWOOD, CA) - December 30, 2012 (
See all reviews by this customer
)
MY DAUGHTER WAS VERY HAPPY WITH HER ORNAMENT AND IT IS SOMETHING SHE WILL CHERISH FOR THE REST OF HER LIFE.I WAS VERY PLEASE WITH THE QUALITY AND WORKMANSHIP OF THIS PRODUCT. PLEASE KEEP THIS ITEM FOR FUTURE GRADS.DEFINATELY A KEEPSAKE!

Christmas Gift
By
Kristi S.

(Ponchatoula, LA) - December 27, 2012 (
See all reviews by this customer
)
This was a Christmas gift for my niece, and she loved it! It came out really nice, and I was pleased with the price and quality.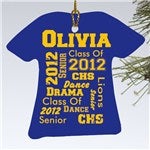 Super cute
By
Cynthia B.

(Fountain Valley, CA) - December 18, 2012 (
See all reviews by this customer
)
The ornaments came out exactly like they appeared in the picture. Loved them!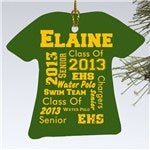 Love it!
By
Shopper

(Benton, AR) - December 16, 2012
I ordered these for the graduating seniors on my daughter's dance team for a Christmas gift. Instead of some of the things suggested I put State Champs and Captain along with the high school initials and Varsity Dance. It helped personalize them even more! They arrived promptly and each one was personalized exactly as instructed. The actual ornaments aren't quite as sharp as the picture but still wonderful. They don't look cheap at all - the colors just aren't quite as crisp as in picture. I'm really excited about giving them at the Christmas party. I would recommend this ornament without reservation - love it!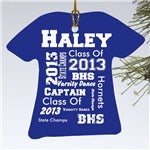 Treasures that last forever
By
Susan W.

(Vancouver, WA) - December 11, 2012 (
See all reviews by this customer
)
Ordering was so easy, shipping was so fast, and the smile on my Grandsons face when he recieved this was priceless! Truely a treasure he will have forever!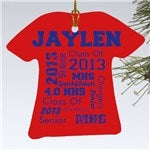 END OF AN ERA
By
Kay S.

(Paducah, KY) - December 4, 2012 (
See all reviews by this customer
)
I love to give ornaments at Christmas because it is something that people tend to always keep and cherish (plus they think of me as they hang them each year). I was so excited when I found this school spirit one on your site. Just LOVE that you can TOTALLY personalize it! Our three county schools are merging into one consolidated school at the end of the current school year, so it was exactly what I needed for my niece's triplets -- the perfect momento of their final year at the school that will close. Guess they'll all three need another one next Christmas to celebrate the transition into the new facility. Give us more items like this -- please. It brings individuality into to such a mass-produced item market.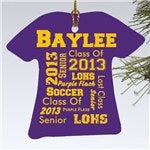 great ornament!
By
Shopper

(greenville, SC) - December 2, 2012
this is a very well made ornament. The personalization was perfect. It is better is person that the pictures even show. You will not be disappointed. The colors are well respresented. Daughter loves it!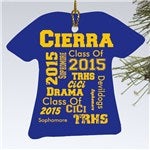 very pleased
By
Shopper

(Front Royal, VA) - December 1, 2012
This is very cute and well done. Used JMU colors and am very happy with it. Would recommend this item.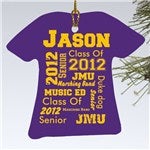 High School Memories
By
Lisa M.

(Albuquerque, NM) - November 25, 2012 (
See all reviews by this customer
)
I was trying to find an ornament to mark my daughter starting High School. I wasn't able to find anything until I found this one. I love being able to customize it for her school and activities. It turned out beautiful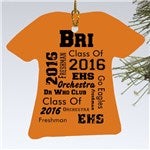 Great for Yearly Activities
By
Kristie P.

(Toledo, OH) - November 6, 2012 (
See all reviews by this customer
)
My daughter is in 1st grade, and is in cross country and cheerleading. This ornament is for her to keep in her room , over the years I hope to add many more of these with the sports she did that year.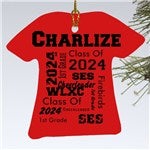 great gift for seniors
By
Shopper

(Chicago, IL) - October 17, 2012
our class gave this as a group gift for "senior" night - quick delivery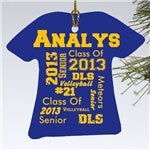 Fabulous personalized ornament ~ real quality
By
Judith N.

(Broken Arrow, OK) - October 16, 2012 (
See all reviews by this customer
)
My children and grandchildren receive an ornament from me each and every Christmas so I am always on the lookout for a quality product. I was very impressed with the ornaments I received. #1) There were no mistakes on any of the 10 items I ordered. #2) The quality is superb on everything #3) They were packaged to look like the quality they are and that will make me proud to present them to my family. I thought these were so cute especially for teen boys. I will definitely be ordering again.,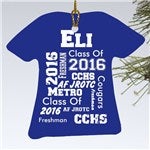 Very Memorable
By
Nancy D.

(Jackson, NJ) - September 21, 2012 (
See all reviews by this customer
)
I purchased this item for my son for Christmas. My husband & I are very pleased with the quality of this item. He will have it forever! I'm seriously considering buying another one for my cousin who is graduating from college next year as a momento.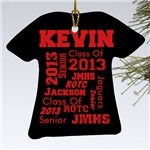 VERY NICE QUALITY OF ORNAMENT
By
Heather W.

(Smithville, MO) - February 4, 2012 (
See all reviews by this customer
)
I had my doubts about this one but was pleasantly surprised. My son was so surprised to see it hanging on the tree - with all of his favorite activities displayed. :)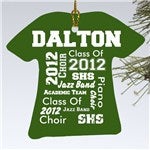 WONDERFUL
By
Shopper

(Orlando, FL) - January 24, 2012
It looked just like it did in the picture. I believe she will love it.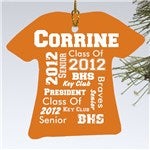 T-shirt ornament
By
Vicky M.

(Farmington Hills, MI) - January 10, 2012 (
See all reviews by this customer
)
I was so pleased with the first t-shirt ornament for one of my son's that I wanted to order another one for another son. I received it and the color was off, knowing how the first one was. I called Person. Mall and they immediately reordered it for me and sent it out immediately without me having to ship the 'off' one back. I have always been pleased with everything I buy from this site and now know that if anything is 'off', which this is the first time, they will immediately correct it and expedite the mailing. Only here can you get such great service! Thank you.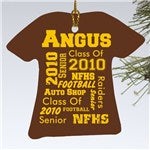 wonderful ornament
By
Shopper

(GERMANTOWN, MD) - December 24, 2011
This ornament is perfect. You include the school activities and mascot and they do the rest! It wil be a wonderful keepsake for my daughter.

Different gift
By
Vicki G.

(Norwood, OH) - December 28, 2011 (
See all reviews by this customer
)
I gave this ornament to my 4 children - girls got red and boys got blue and they loved the school personalization. It is always a challenge to find something different for them each Christmas but this year was a lot of fun!!

Everyone loved them!
By
Shopper

(Saint Charles, IL) - December 29, 2011
The ornaments were so fun! I put each persons graduating year on them and things about their school & activities they did in high school. I sent them
to classmates of mine. Some I had made for my daughter's friends in cheerleading. I had them made in their school colors! Very pretty & they shined. ;)

Blurry printing
By
Shopper

(San Antonio, TX) - December 28, 2011
Ornament was cute and had all the wording I ordered but the print was not sharp as shown on website and part of one sleeve was not completely colored - an area was white like it had missed the painting process.

Was so pleased with the quality of this ornament
By
Machelle D.

(Winnebago, IL) - December 26, 2011 (
See all reviews by this customer
)
I have been a loyal customer since 2009. The quality is remarkable! I am amazed by the turn around on ordering to receiving my items. I ordered items Dec. 17 and received them by the 21th! Thank you Personalization Mall!! You make giving personalized memories so special!

good value
By
Debora B.

(Redlands, CA) - December 15, 2013 (
See all reviews by this customer
)
Easy to personalize, arrived quickly, was as described. 4 stars because it wasn't painted on the back and the line of paint was not even so it made it look a little cheaper. Overall, I'm satisfied.

Wrong Item replaced quickly
By
Shopper

(Richmond, VA) - December 28, 2011
Had a slight problem with this part of my order. All the other ornaments were fine, this one was completely wrong. I wrote to customer service and had a replacement within 2 days.

I think they are very cute and all recipients were pleased by the personalization. Only other problem was the time it took to receive the order, which customer service is also aware of, but plan ahead! I'm not sure if it was the time of year, but it took 10 days for the original order to arrive.

Product and quality are fine to focus on, but if the site states they will send within 3-5 days...?

Good but could be better
By
Laura B.

(Middleburg Hts, OH) - October 29, 2012 (
See all reviews by this customer
)

Great idea and a wonderful keepsake. I do question repeating the same info:
Activities listed twice i.e. baseball and football. Why not print other activities or just not clutter up the shirt with same things. National Honor Society, which is important, does not fit.

Attractive and well made
By
Shopper

(Danville, CA) - December 30, 2013
My kids were delighted with this personalized ornament. The only downside we found was that the school abbreviation can be only 4 characters and our daughters high school has five so we had to leave off the last letter. If that isn't an issue for you, then it would be a 5-star rating.

I ordered late and it arrived in time. Thank you!

Awesome gift!
By
Shopper

(Waterford, CT) - November 30, 2011
Great gift for high school students!!!! Love it!