Cute office decoration
By
Shopper

(Monument, CO) - December 13, 2011
I purchased this ornament for my husband's office. Just the right size, great clarity in lettering and wonderful selection of colors. I also bought the stand and was glad to see it was stable and not "tippy'. This will be fun

Teachers ornaments
By
Estella F.

(Tucson, AZ) - December 10, 2011 (
See all reviews by this customer
)
This is my second purchase from you and once again awesome. The ornaments are beautiful.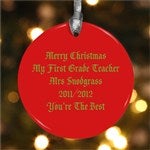 Depends on colors
By
Shopper

(voorhees, NJ) - January 7, 2014
I purchased (5) of these ornaments for my office. For the most part, they turned out good. I was dissatisfied with one (and it happened to be my favorite), it was Pink w/ White writing. It didn't show up well at all and was hard to read unlike the others.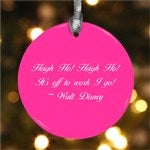 PERSONALIZED ORNAMENT
By
Kathleen C.

(Gilberts, IL) - January 1, 2014 (
See all reviews by this customer
)
I HAVE ORDERED A NUMBER OF PERSONALIZED ORNAMENTS, AND THEY ARE ALL OF HIGH QUALITY AND JUST BEAUTIFUL! MY FAVORITE PART, IS THAT I CAN WRITE WHATEVER I WANT, AND THE PRICE IS SO AFFORDABLE!!!!! I love this place!!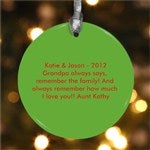 every year's firsts
By
Kimberly T.

(Hoover, AL) - December 18, 2013 (
See all reviews by this customer
)
I love PMC because every year I buy an ornament for a "first" in my daughter's marriage for their tree. Being able to customize anything you want is so great!! I look forward to buying more and more from PMC.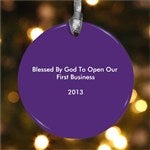 2013 memories
By
Barbara K.

(High Springs, FL) - December 5, 2013 (
See all reviews by this customer
)
My daughter and her husband took on quite an endeavor of starting a big wedding photography business. She had set a goal to be reached by the end of the year and surpassed it. I always buy a special ornament for her each year. This one was so fitting... to be able to order it in purple to match her logo and announce personal accomplishments for her to see on her tree every year hereafter. It made a very special, awesome memento rather than "just" an ornament. Great quality...will last forever.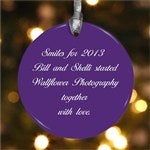 Just to cute
By
Sheila M.

(Olive Branch, MS) - December 24, 2012 (
See all reviews by this customer
)
This ornament is just to cute. I can't wait for my daughter to open it. She is gonna love it. We have a tradition to give an ornament every year to remember something BIG that happened. Could not really find one for her for this year until I discovered this one. Thank Y'all a family tradition was saved.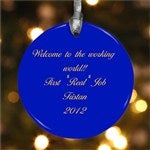 Great
By
Carrie D.

(Glen Burnie, MD) - January 21, 2012 (
See all reviews by this customer
)
Love it!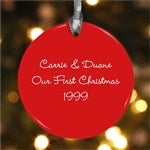 Scratch on the front
By
Ann B.

(Louisville, KY) - November 12, 2011 (
See all reviews by this customer
)
The white letters on the red ornament were just right. It was delivered right on time. The problem:
there is a noticeable white scratch on the front. I am hesitant to give the ornament as a gift.

great keepsake
By
Shopper

(SLC, UT) - December 26, 2013
my sons loved these ornaments created especially for them

Christmas ornament
By
Shopper

(Camarillo, CA) - December 29, 2013
This was a great product. It came in time for Christmas- although I had hoped it would arrive a bit earlier to give to a co-worker before she was off for the holidays. I love ornaments and think there should be meaning behind them- and personalizing them gives them that extra touch. Thanks for making this an easy decision and a pleasant experience.

GIFT FOR SPECIAL FELLOW EMPLOYEES
By
Shopper

(Forsyth, MT) - August 19, 2012
THE PERSON WHO WAITED ON ME WAS SO KIND AND HELPFUL AND PATIENT, I GOT WHAT I WANTED AS SOON AS I WANTED AND 25% OFF WHAT WAY TO HAVE A BETTER SHOPPING DAY. THANK-YOU

Great ornament!
By
Meghan Q.

(New Brighton, MN) - December 13, 2012 (
See all reviews by this customer
)
Really exact to my order, definitely appreciated. The red is JUST slightly more on the orange tinted side, but truly not an issue. I am giving this gift to someone who really appreciates memorable ornaments, so I'm sure she will love it!