Beautiful map, great quality
By
Shelley L.

(Mackinaw, IL) - August 23, 2014 (
See all reviews by this customer
)
What a pleasant surprise for my daughter's birthday. The look is great,quality is everything I expected and the price was right. Very pleased!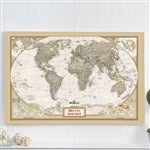 great gift for the traveller
By
Shopper

(Hingham, MA) - August 5, 2014
This is a high quality map to show off your travels. We love the earth tones of this map. You might want to get different pin colors, and screw in some eye hooks to hang a wire across the back for hanging, but otherwise you have all you need.

Great gift!!
By
Shopper

(Highland Park, IL) - July 18, 2014
I read all of the reviews and I was a little worried but boy was I surprised. The product came so quickly and it was absolutely perfect. I loved the customization and the quality. I simply can't wait to give this map as a birthday gift. I will defiantly order from this company again.

Great "Man" Gift
By
Shopper

(Pittsburgh, PA) - June 13, 2014
Purchased for my husband's anniversary gift. Large sized, quality canvas, surprisingly lightweight (ordered gallery wrapped version). Expedited shipment arrived on time. 100 red map pins come with map. Will order some different colors so we can create a variety of legends about our travels (his versus hers e.g.). Saw the advertisement for it online when I was searching for a perfect gift - he loved it!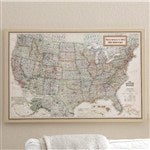 It's beautiful.....
By
Belverly H.

(Clinton, NC) - June 8, 2014 (
See all reviews by this customer
)
It's absolutely beautiful and it will give us the opportunity to show all the places we traveled while in the military. Very good value for the price we paid. Arrived so quickly.

Perfect for the Guest Bedroom
By
Tracy R.

(Auburn, WA) - May 21, 2014 (
See all reviews by this customer
)
We wanted a way for our guests to feel special and have this hanging in our guest bedroom. When people come to stay with us we have them put a red pin marking where they live. It's so nice for them and us to see where people have visited us from.

We loved being able to personalize the top with our own message and the quality is excellent. It was really easy to hang up and everyone that has visited has asked us where we got it. I would highly recommend this product to everyone.


Hubby Loved it!
By
Shopper

(Clarkston, MI) - February 19, 2014
Purchased as Valentine gift for hubby who travels a lot for work.
He absolutely loved it and couldn't wait to pinpoint his travel destinations.
Only regret is that I had not bought it sooner! Great conversation piece!

Valentines gift
By
Jordan S.

(Los Angeles, CA) - February 19, 2014 (
See all reviews by this customer
)
I got this map for my boyfriend for valentines day. When he saw the box he was so worried I had blown up a cheezy picture of us or something that he would have to pretend to like. When he opened the box he was so surprised! He absolutely loved it and said it was the best, most creative gift he's ever gotten.

I really researched a lot of these maps from all of the different websites, and this one is by far the best! The fact that it's printed on canvas makes it much more elegant.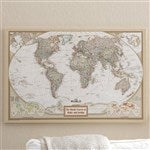 Love It
By
Shopper

(Boulder, CO) - February 4, 2014
Bought this for my husband for our anniversary. We absolutely love it! It's a little pricey but worth it!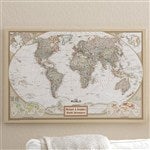 Very good quality
By
Shopper

(Westerville, OH) - December 17, 2013
The personalized map we ordered came very quick and the quality was excellent. The personalization looked great. I felt the product was more expensive than what it should have been so I'll wait for a coupon next time. Overall though my dad (someone who has everything) will think its a great gift!!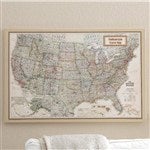 Perfect
By
Shopper

(Albuquerque, NM) - October 27, 2013
Ordered this map for my travel-loving husband for his birthday. The order was processed quickly and arrived in less than a week from the time I placed it. The quality of the map is excellent. The personal inscription is perfectly done. I ordered the gallery wrap, rather than going with a frame. It is lightweight and easy to hang. He was thrilled and has had lots of fun "pinning" his destinations. Very pleased!!

World Traveler Map
By
Shopper

(Natick, MA) - September 16, 2013
It is just what I wanted to get for my daughter. I got the wrap around frame so it wasn't too heavy, it's really nice. The picture does show pins w/"flags" there were only pins in the package so if you want pins w/"flag" (which I do) you'll have to additionally purchase them.

world map
By
deborah C.

(malverne, NY) - August 17, 2013 (
See all reviews by this customer
)
GREAT GIFT ITEM..... WAS PURCHASED FOR SOMEONE THAT HAD JUST DONE EXTENSIVE TRAVELING AND THEY WERE SO EXCITED TO BE ABLE TO ACCURATELY DISPLAY ALL THEIR WONDERFUL STOPS ACROSS THE GLOBE....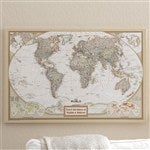 Love it!
By
Shopper

(Fort Lauderdale, FL) - June 14, 2013
I ordered the world map without the frame. The quality was better than I expected. I liked the canvas and it was so much nicer than the other paper or laminated maps I had been looking at. It was so much nicer than I had anticipated that I actually ordered another as a gift a few days after receiving the map.
My only suggestion would be to add another set of pins in a different color in addition to the red ones.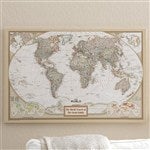 great gift
By
Carole B.

(Chalfont, PA) - June 11, 2013 (
See all reviews by this customer
)
I bought this for my husband for Fathers Day. He hasn't received it yet, but I know he will just love it. The quality is nice and the name plate really gives it a nice personal touch.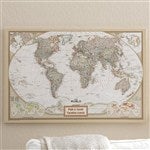 Canvas Adventure Map
By
Nanette L.

(Poughkeepsie, NY) - March 19, 2013 (
See all reviews by this customer
)
I purchased the map for a family member who travels frequently, for business and pleasure. He was very happy with it and was anxious to pin everywhere he has been. Now, I have to buy additional pins!
Great value and quality.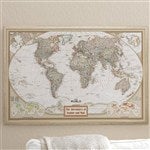 Sophisticated and beautiful
By
Shopper

(Hauppauge, NY) - January 26, 2013
I am so glad I chose this map, the quality and texture of the printed canvas is beyond what I expected. The frame (I got black) is sturdy and beautiful. My husband will love it!

Beautiful Map
By
Linda B.

(Tampa, FL) - December 11, 2012 (
See all reviews by this customer
)
I expected a lot and that's what I got. High quality, arrived in perfect condition and my husband was thrilled with this gift.
We travel all over the world and enjoy marking the places we have been. Many times it reminds us of events and we laugh about things that have occurred or something we did. In other words, we enjoy it very much.
I know that it will give us a lot of pleasure. Thank You.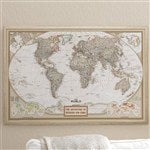 Beautiful! A piece of artwork.
By
OLIVIA C.

(LOWER LAKE, CA) - November 26, 2012 (
See all reviews by this customer
)
This is gorgeous! The personalization makes this a step above the rest. I ordered the framed world map and am very pleased with the result. Even shipped faster than I expected. Great product!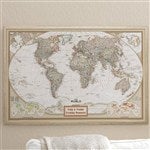 Perfect for our library office
By
Shopper

(Union, KY) - August 1, 2012
I looked around in several places for maps and thought this map looked the best with a nice old world feel to it. I was not disappointed when the map arrived. I think it looks great! The personalizing and shipping was really quick too.

Canvas Map
By
Ronda L.

(West Windsor, NJ) - July 29, 2012 (
See all reviews by this customer
)
This item came personalized and within 2 days of order! Very happy with this company. Would order from them again.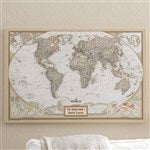 Great!
By
Juan N.

(Deer Park, TX) - June 21, 2014 (
See all reviews by this customer
)
Great picture but frame is flimsy.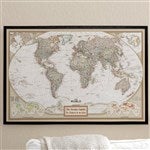 Well made
By
Shopper

(simsbury, CT) - January 5, 2014
The map was well made and my husband enjoyed putting the pins in all the places he's visited. Being able to personalize the map with his name was an added bonus. The colors are tasteful for an office or den setting. I would have liked it better if they had designed it so the actual map and the countries were larger.

Great idea but quality lacking
By
Shopper

(Elgin, IL) - February 7, 2014
This is a great idea and the quality of the print is actually pretty good. Only thing is that it is just a canvas wrapped around a frame. There is no surface behind the picture (cork or otherwise) to stick the pins in. So the pins just hang there, only held by the canvas itself.

Looks better in the picture
By
Marlene M.

(Wyoming, MI) - March 27, 2013 (
See all reviews by this customer
)
I had made up my mind to buy this "birthday gift" for a "hard-to-buy-for-friend", before I read the reviews. He said he saw something similar, and was considering buying it for himself. After reading the reviews, I purchased it, with concern, but I thought, "Personalizationmall.com has never disappointed me before". But this time I feel the quality is not as good as it appears to be in the picture. I ordered it with a black "frame" which is just 4 plain pieces of painted strips of wood surrounding the map. The coiling that decorates the picture just inside the frame, is just an imprint on the canvas, rather than an ornamental part of the actual frame. I wonder if just the canvas could be sold at a cheaper price, to be framed by a professional framer. I didn't mind that the United States were not outlined, because significant cities are on the map. But I would prefer if the personalization would be much smaller, and possibly be on a name plate rather, than be imprinted onto the canvas.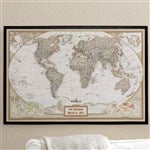 Bare minimum included
By
Shopper

(Sunbury, PA) - January 2, 2013
This map is pretty flimsy, does not include hanging instructions, has only limited hardware included, included only two pins to mark your journeys. I love the idea of it, but for the price, it was somewhat disappointing.