Very Nice!
By
Meredith K.

(Rock Rapids, IA) - June 25, 2012 (
See all reviews by this customer
)
Ended up getting the black K for our cabin at lake. So many compliments!! Super nice!!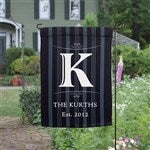 Great Product
By
Shopper

(Jacksonville, FL) - June 22, 2012
Purchased to hang outside, but my husband liked it so much I framed it and hung on wall inside home. Highly recommend!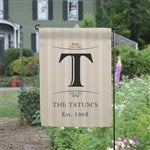 Excellent quality!
By
Margaret K.

(Arlington Heights, IL) - June 22, 2012 (
See all reviews by this customer
)
I ordered this garden flag to mark my daughter's wedding date and it came out beautifully! I am very particular, and this flag exceeded my expectations. The flag was monogramed with their last initial, first names, and their wedding date. Navy blue is one of her colors, so the navy flag worked out great! The flag looks wonderful in our front yard for all to see and admire! I would order another in a heart beat! Fast service and delivery, too!

Great flags!!!!
By
Debbie H.

(Scottsville, KY) - June 21, 2012 (
See all reviews by this customer
)
I was really impressed with the quality of the flags. Couldn't have been more pleased. Will make great gifts.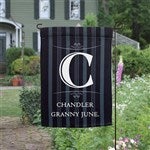 great service
By
Shirley N.

(Hawkinsville, GA) - June 9, 2012 (
See all reviews by this customer
)
Love the flag! Made very well! Very thick.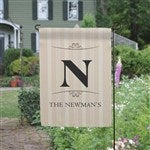 Elegant Monogram Personalized Garden Flag
By
Shopper

(new cumberland, WV) - June 5, 2012
it was a beautiful flag.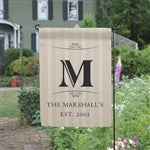 Surpassed my expectations.
By
Shopper

(Huntington, IN) - June 4, 2012
I was so pleased to have found a site that provided personalized garden flags! Placing the order was simple and allowed me to double check my order several times for accuracy. I received a confirmation quickly and was able to track my order with ease. The quality of the item surpassed my expectations. The item is very reasonably priced as well. Thank you! I will be ordering again!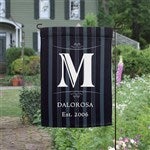 They replaced it
By
Melissa Y.

(Minden, LA) - May 23, 2012 (
See all reviews by this customer
)
When I received my flag my last name was in lower case letters and it looked odd so I emailed the company and they told me to take a pic and send it to them so I did and around 2 weeks I got in the mail another flag with capital letters! Customer satisfaction is great and the flag is pretty cute! I love this website!!!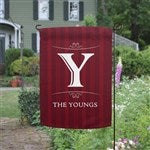 Loved it!
By
Christy M.

(Elizabethton, TN) - May 18, 2012 (
See all reviews by this customer
)
This flag was ver nice. Colors were bright and the quality is wonderful. I love this site!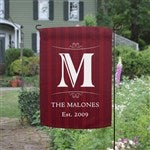 Great service
By
Eriin H.

(eagle grove, IA) - May 12, 2012 (
See all reviews by this customer
)
I heard about your site at work, I took a look and was surprised at your reasonable prices then SHOCKED at your quick service and shipping. The recipients loved their gifts!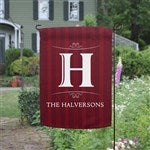 Fit for a bride
By
DANIEL P.

(Baton Rouge, LA) - May 12, 2012 (
See all reviews by this customer
)
She loved it!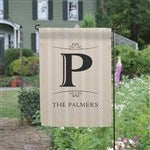 Very elegant yard flag
By
Brooke A.

(Dundas, MN) - May 10, 2012 (
See all reviews by this customer
)
I ordered this as a gift so I can't speak to how it will hold up but it appears to be high quality and fits a standard flag stand. It was shipped & deliveredly quickly!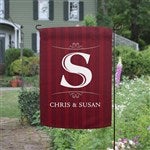 Very nice looking
By
Tiffany S.

(Metairie, LA) - May 5, 2012 (
See all reviews by this customer
)
We love our garden flag! It is nice quality and looks great in our yard. I also got one for a wedding gift and it came out great, too.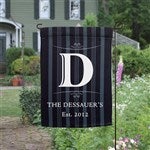 It got to me so fast!
By
Marilyn A.

(Maysville, NC) - May 5, 2012 (
See all reviews by this customer
)
I received the flag extremely fast. It's beautiful and I love it!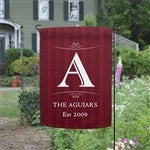 Love this flag!
By
Shopper

(Princeton, NC) - March 18, 2012
I love this flag. The material is heavy and looks nice. The personalzation turned out great. Thanks for the speedy turnaround from order time to receiving my order.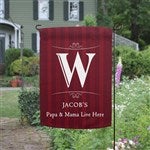 WOW!!!!
By
Carolyn C.

(Headland, AL) - March 10, 2012 (
See all reviews by this customer
)
I saw the flag and thought it was awesome and could not wait to purchase it. I messed up on my last name so I have to re order a new flag. I love my flag other than that can't wait to hang it.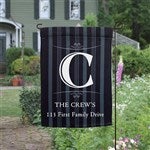 Classy Upscale Flag
By
Martha L.

(Marietta, GA) - February 26, 2012 (
See all reviews by this customer
)
I got it in the green color, very pretty, very classy, looks fabulous, lettering is on both sides, love it, get one, always pleased with whatever I buy from Personalized Mall.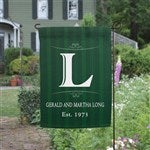 monogramed garden flag
By
Shopper

(Wilson, NC) - May 15, 2012
The beauty of this web site is the ability to design the flag and see the results on line. The flag arrived promptly and exactly as ordered.

Wonderful items
By
Shopper

(Pineville, KY) - May 11, 2012
I have ordered several personalized flags for myself and also for gifts...Love them all!!

Beautiful, not sure if it will last
By
Shopper

(Belford, NJ) - May 10, 2014
received item. much nicer than photo online. 1 week later stitching started unraveling. customer promptly sent another, so hopefully the flag will last. based on looks, i would give 5 stars, but if it falls apart, what's the point?

Not too good in windy aread
By
Shopper

(Seabeck, WA) - March 3, 2014
Did not realize that this is not too good in a windy area. I get a breeze off the ocean and the flag is always tangled up. I would have liked to see the side of the flag have a pocket that would have run down the side of the pole and the top pocket of the flag slides over the rubber stopper of the flag. So in simple words, the flag is usually not hanging so you can see it. Not too happy but I guess I should have given it more thought.

Fade easily
By
Shopper

(Cooper City, FL) - September 26, 2012
I absolutely love the look of this flag... so classy! However, I have purchased two now, (a black one and a green one) and they have faded so badly. My other garden flags do not fade like these do... not so classy looking after just a few months.

You exceed my expectations again!
By
Shopper

(Morris, IL) - June 12, 2012
Beautiful product, looks even nicer in person than online. Great quality, so excited to give as a gift. I want my own now!

Very Impressed!
By
Christina H.

(Atlanta, GA) - June 15, 2012 (
See all reviews by this customer
)
After discovering I was too late to order a monogrammed item from a local shop, I was desperate to find a hostess/thank you gift for an upcoming wedding shower. I scoured the internet and found Personalization Mall. I went with this item in good faith based on the reviews others had written and boy was I pleasantly surprised. The quality of the two flags I ordered was great-the material was really nice and very soft. A friend commented that she was going to order herself one because they were so nice. Definitely a great gift or a nice treat for yourself. Both hostesses that received the flags loved them. Thanks Personalization Mall!

Very flimsy and low quality
By
Dayna B.

(Chino Hills, CA) - March 28, 2014 (
See all reviews by this customer
)
This flag is way over priced for what you get. The flag is so flimsy that it flies off the rack. Ive lost the flag 2 times in one week. Yes, it was a little windy, but shouldn't have blown the flag away. If flag was higher quality, perhaps thicker fabric the flag would be great.

Faded
By
Shopper

(Chesapeake, VA) - October 8, 2013
I was a little disappointed in this product. I loved the flag when I received it, but after being outside just a couple months, the burgundy color faded to pink. It's very faded. The fabric did not hold up well.

Mother's Day Gift WINNER!!
By
Steven V.

(Chesterfield, VA) - May 20, 2012 (
See all reviews by this customer
)
This is a great gift for special holidays. I bought this for my mom for Mother's Day; someone who has everything and is hard to shop for. She was thrilled!!!!

Great gift!
By
Shopper

(Lapel, IN) - May 16, 2012
I bought the flags for my three children and they loved them. They were perfect for their yards and look great. They all loved the personalized names and were so impressed with the material that was used - beautiful.

Nice Looking
By
Cheryl P.

(Hackettstown, NJ) - November 28, 2013 (
See all reviews by this customer
)
This garden flag is well done but I got it in the black and it faded quickly outside. I am sure that it's because of the dark color but I thought there would be some kind of fade resistant on it. I still love it and I love that I have something original, rather than what everyone else on the block purchased from the local big box stores. I will order again and try a lighter color and see what happens.

beautiful
By
Shopper

(Dunellen, NJ) - June 5, 2012
I bought this as a present and it's great! I'm going to order one for myself. It's thick and well made. not cheapy looking at all.
love it.

Disappointed
By
Karen W.

(Arlington Heights, IL) - March 12, 2013 (
See all reviews by this customer
)
The quality of the flag is fine but I was looking for a large garden flag. The picture makes it look like a big flag and it's actually tiny. My fault for not reading the description closer.

Great Flag!
By
Shopper

(Montgomery, NY) - June 3, 2014
This is my second time ordering this flag. I love it, it holds up very well in bad weather. The problem I had with the first one was that it faded badly in the sun, with this one, I changed locations. Overall I am pleased with the products and customer service I have received.

Nice Flag
By
Shopper

(Montgomery, NY) - April 3, 2013
I purchased the flag (with the burgundy background) last summer. I had it in a spot that receives sunlight until around 2 p.m. It faded very badly. Overall for the price it was a great (seasonal) item. I will order another one for this summer.

Nice flag
By
Brigitte P.

(Chesterfield, VA) - April 7, 2014 (
See all reviews by this customer
)
Pretty customized flag, just wished the flag material was a little thicker.

Perfect Personalized Garden Flag
By
Jennifer G.

(Venetia, PA) - March 5, 2012 (
See all reviews by this customer
)
Top notch quality! Looks like it will hold up to Mother Nature weather for years to come.

personalized garden flag
By
Toni G.

(Whippany, NJ) - April 1, 2013 (
See all reviews by this customer
)
flag looks great, ordered it with matching door mat.

cute but hard to read
By
Shopper

(North Olmsted, OH) - June 14, 2014
I really like this flag and think it adds a nice touch to my yard. however my family has mentioned that the font is small and hard to read

Extremely happy!!!
By
Shopper

(CHESAPEAKE, VA) - August 5, 2013
We are very happy with this item.

Two purpose flag
By
Shopper

(Alburtis, PA) - July 21, 2013
The order was shipped promptly, but the USPS took longer from IL to PA than I expected. The green color I chose is perfect for my home as the sage green in one of the colors on the wood trim of my home. I wish the house numbers were a little larger as I do not have a house # on my home at this time, so this flag is serving two purposes: decorative, but also practical as I need to display a house# for deliveries and of course anyone visiting not familiar with my residence. This was my first order and hopefully will order items in the future.

Great housewarming present!
By
Shopper

(Chadds Ford, PA) - July 17, 2013
I purchased this for my daughter and son-in-law for their new home in Monterey, CA. They will be leaving the East Coast and living in California soon. Your products are wonderful. I have purchased wedding, Christmas, and new birth items and have always been satisfied. Well done, Personalization Mall! I am and will be a returning customer.