Great Flag!
By
Shopper

(Montgomery, NY) - June 3, 2014
This is my second time ordering this flag. I love it, it holds up very well in bad weather. The problem I had with the first one was that it faded badly in the sun, with this one, I changed locations. Overall I am pleased with the products and customer service I have received.

Nice flag
By
Brigitte P.

(Chesterfield, VA) - April 7, 2014 (
See all reviews by this customer
)
Pretty customized flag, just wished the flag material was a little thicker.

Love the Look
By
Shopper

(Lewisville, TX) - January 6, 2014
In five months it has faded some in the Texas sun but we like it so much my husband had me order two more.

Nice quality
By
Barbara G.

(Franklin, LA) - October 1, 2013 (
See all reviews by this customer
)
Very satisfied with personalized garden flag. Can't wait to display it. Thanks for great and fast service .

good for price
By
Shopper

(Huntsville, AL) - August 26, 2013
I wish it was a little thicker/stiffer, it wraps around the pole very easily but overall I really like it.

Extremely happy!!!
By
Shopper

(CHESAPEAKE, VA) - August 5, 2013
We are very happy with this item.

Two purpose flag
By
Shopper

(Alburtis, PA) - July 21, 2013
The order was shipped promptly, but the USPS took longer from IL to PA than I expected. The green color I chose is perfect for my home as the sage green in one of the colors on the wood trim of my home. I wish the house numbers were a little larger as I do not have a house # on my home at this time, so this flag is serving two purposes: decorative, but also practical as I need to display a house# for deliveries and of course anyone visiting not familiar with my residence. This was my first order and hopefully will order items in the future.

Great housewarming present!
By
Shopper

(Chadds Ford, PA) - July 17, 2013
I purchased this for my daughter and son-in-law for their new home in Monterey, CA. They will be leaving the East Coast and living in California soon. Your products are wonderful. I have purchased wedding, Christmas, and new birth items and have always been satisfied. Well done, Personalization Mall! I am and will be a returning customer.

Nice Flag
By
Shopper

(Montgomery, NY) - April 3, 2013
I purchased the flag (with the burgundy background) last summer. I had it in a spot that receives sunlight until around 2 p.m. It faded very badly. Overall for the price it was a great (seasonal) item. I will order another one for this summer.

personalized garden flag
By
Toni G.

(Whippany, NJ) - April 1, 2013 (
See all reviews by this customer
)
flag looks great, ordered it with matching door mat.

The Kull's what?
By
Shopper

(Rock Hill, SC) - January 10, 2013
It should have read "Kull" or "The Kulls" not "The Kull's"
Add a grammer checker

We just have to verbally add in the last word: Home, Mansion, Abode, etc.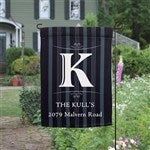 Very pretty!
By
Shopper

(Knoxville, TN) - November 13, 2012
I bought this as a gift and I think they will love it! It's different and personalized. Super quick shipping too!

Great flags!!!!
By
Debbie H.

(Scottsville, KY) - June 21, 2012 (
See all reviews by this customer
)
I was really impressed with the quality of the flags. Couldn't have been more pleased. Will make great gifts.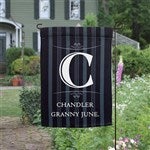 Great gift
By
Shopper

(Austin, TX) - June 11, 2012
I purchased the flag as a gift. Very classy looking,very well made. I was pleased,as was the recipient .

Great anniversary gift!!!!
By
Shopper

(warner robins, GA) - June 8, 2012
I purchased this as a anniversary gift for my sister-n-law and it was perfect. I could not figure out one gift for the both of them and this was perfect. The quality of this flag is great. They were both very happy with it. Personalization Mall did it again!!!!

Beautiful, not sure if it will last
By
Shopper

(Belford, NJ) - May 10, 2014
received item. much nicer than photo online. 1 week later stitching started unraveling. customer promptly sent another, so hopefully the flag will last. based on looks, i would give 5 stars, but if it falls apart, what's the point?

Not too good in windy aread
By
Shopper

(Seabeck, WA) - March 3, 2014
Did not realize that this is not too good in a windy area. I get a breeze off the ocean and the flag is always tangled up. I would have liked to see the side of the flag have a pocket that would have run down the side of the pole and the top pocket of the flag slides over the rubber stopper of the flag. So in simple words, the flag is usually not hanging so you can see it. Not too happy but I guess I should have given it more thought.

Nice Looking
By
Cheryl P.

(Hackettstown, NJ) - November 28, 2013 (
See all reviews by this customer
)
This garden flag is well done but I got it in the black and it faded quickly outside. I am sure that it's because of the dark color but I thought there would be some kind of fade resistant on it. I still love it and I love that I have something original, rather than what everyone else on the block purchased from the local big box stores. I will order again and try a lighter color and see what happens.

Disappointed
By
Karen W.

(Arlington Heights, IL) - March 12, 2013 (
See all reviews by this customer
)
The quality of the flag is fine but I was looking for a large garden flag. The picture makes it look like a big flag and it's actually tiny. My fault for not reading the description closer.

thin material, for that price I thought it would be sewed around the edges
By
jeana P.

(granite quarry, NC) - October 13, 2012 (
See all reviews by this customer
)
thin material, for that price I thought it would be sewed around the edges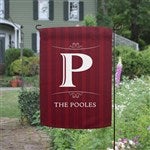 Fade easily
By
Shopper

(Cooper City, FL) - September 26, 2012
I absolutely love the look of this flag... so classy! However, I have purchased two now, (a black one and a green one) and they have faded so badly. My other garden flags do not fade like these do... not so classy looking after just a few months.

Faded
By
Shopper

(Chesapeake, VA) - October 8, 2013
I was a little disappointed in this product. I loved the flag when I received it, but after being outside just a couple months, the burgundy color faded to pink. It's very faded. The fabric did not hold up well.

Very flimsy and low quality
By
Dayna B.

(Chino Hills, CA) - March 28, 2014 (
See all reviews by this customer
)
This flag is way over priced for what you get. The flag is so flimsy that it flies off the rack. Ive lost the flag 2 times in one week. Yes, it was a little windy, but shouldn't have blown the flag away. If flag was higher quality, perhaps thicker fabric the flag would be great.