Keepsake Box
By
Shopper

(Bismarck, ND) - April 13, 2014
I ordered the Keepsake Box for my grandson's first Communion. It was everything I expected it to be and more. Every item I have ordered from Personalization I have been very happy with.

Great gift for First Communion
By
Shopper

(Stonington, CT) - April 13, 2014
I purchased this item as a First Communion gift for my grandson. I have not given it to him yet, but it has arrived, and looks very well made. I am looking forward to his reaction.

Nice quality
By
Shopper

(Chalfont, PA) - June 11, 2013
I was pleasantly surprised at how nice the quality of this keepsake box is. It makes a great gift to hold just the special items for someone.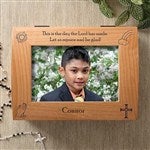 BETTER THAN EXPECTED
By
Shopper

(Shelby Twp., MI) - May 16, 2013
This is a great 1st Holy Communion gift for a boy, especially one who loves boxes and saving things. He can keep his rosary and other religious items in this box. The Bible verse is perfect and the quality of the box is very good.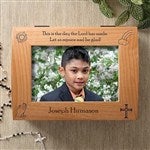 keepsake box
By
Shopper

(Willowick, OH) - April 30, 2013
i was very happy when i received this keepsake box. it was for my son for his first communion. nice quality. nice size. i like that i can add a picture to personalize it further. i was looking for something larger than a 4 x 4 box. this will be able to hold several of his most special religious items. i have never been disappointed when making a purchase at personalzation mall.

Perfect Gift!
By
Shopper

(Rutland , MA) - April 29, 2013
Needed a gift idea for my Godson's First Communion. Came across this keepsake box and thought it would be perfect. When I received it, it looked EXACTLY like on the website! I'm extremely satisfied with this purchase. Shipping was quick, and communication was excellent!

Thrilled!!!!
By
MARGARET B.

(SLATINGTON, PA) - March 26, 2013 (
See all reviews by this customer
)
I am so glad I went to your website before I got my grandson's first communion gift. It far exceded my expectations. Well made, first class lettering for the personalization of my grandson's name and the inspiriational message engraved in the wood. I. also, really like the place for the photo for a remembrance of this very special day. I will definitely buy from you again for other occasions.
I know my grandson is going to love it and I can't wait to see his face when he sees it. I am sure he will put many of his treasures in there and it is roomy enough to hold quite a bit. Great purchase!!!

Keepsake box
By
Pamela M.

(Milford, MI) - November 19, 2012 (
See all reviews by this customer
)
Once again, I'm very happy with the personalized keepsake box I purchased for our grandson's First Communion. Now he'll have one, just like his big brother's! Thanks for the speedy service and very nice quality.

wonderful gift
By
Shopper

(Dracut, MA) - May 21, 2012
We were very pleased with the keepsake box. Even more importantly, our grandson loved it! As soon as he opened his gift he ran to show his mom and dad. It is a great size to put treasures in, the wood is a beautiful color,and the engraving looked perfect. I put his First Communion Invitation in the spot for the picture to give it to him, later we will print a picture of his First Communion Day to put in its place. Thank you for a great product.

"Special Box"
By
ELIZABETH G.

(FLORAL PARK, NY) - May 14, 2012 (
See all reviews by this customer
)
When this keepsake box arrived I was in for a big surprise. The craftsmanship was far better than I ever could have imagined. I thought the finishing of the wood was excellent like one would expect from a much more expensive gift. It truly is a good size for a child to store all his special keepsakes.

looked very nice
By
Shopper

(Clearwater, MN) - May 12, 2012
Made well, will be a nice keepsake for our grandson of his confirmation, with the date on it. Came very fast, had it sent directly to him.

Great Gift
By
Alison M.

(Indian Trail, NC) - May 12, 2012 (
See all reviews by this customer
)
I ordered this for my nephew's 1st Communion and was very pleased. It arrived very quickly, and I was happy with the quality, size and price of the box. My nephew loved it as well!

great quality
By
Shopper

(patton, PA) - May 11, 2012
The personalization and photo was a great touch. The box is a nice heavy wood. Large enough to hold prayer book,rosary and scapular plus much more. My nephew was so happy with this gift made especially for him.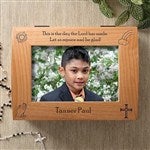 great quality
By
paula N.

(patton, PA) - May 11, 2012 (
See all reviews by this customer
)
This box is a nice size for keepsakes. Rosary,scapular and prayer book fits nicely. Great quality wood. Personalization added the final touch! Loved the area for the photo too.

Quality Treasure Box
By
Shopper

(Pennsville, NJ) - May 9, 2012
One of a kind gift for a special boy. Beautiful wood grain and excellent engraving. Nice size for storing many great treasures.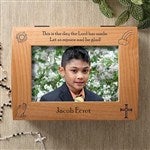 first communion gift
By
Shopper

(scranton, PA) - May 6, 2012
I was very pleased with the keepsake box very nice quality, and engraving. I would shop at personalizationmall.com again. And shipping was super fast.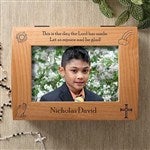 Better than expected!
By
Ricci M.

(Raleigh, NC) - May 4, 2012 (
See all reviews by this customer
)
This made a wonderful gift for my son's First Communion. The price was great but I wasn't sure how the quality would be. I was pleasantly surprised!! It is beautifully made. Also, I paid for rush shipping and had it in my hands in 2 days. It shipped the same day I purchased it. Would highly recommend this product!

Very pleased!
By
Lisa B.

(Carol Stream, IL) - April 29, 2012 (
See all reviews by this customer
)
This product was a wonderful keepsake for my son's first Communion and he was thrilled to have his own special box to put his personal items in. The quality was good and beyond what I expcected. I plan to buy the same gift for my other son next year for his first Communion. The shipping was very quick!

great gift
By
Shopper

(Fort Worth, TX) - April 27, 2012
I had bought a wooden rosary that was blessed by the Pope while I was in Rome a few months ago, I will put it in this lovely wooden box for my grandson's 1st Communion next month.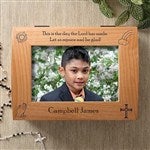 Great gift for a boy!
By
Shopper

(Spring Green , WI) - April 20, 2012
Great quality and love that it is something he can have from a young boy to an adult.

Beautiful Gift
By
Shopper

(Rutland, MA) - April 14, 2012
Great quality..Good size too ...very happy with the gift!! I would highly recommended it for both a girl and a boy!

First Holy Communion Remembrance
By
Shopper

(Zelienople, PA) - May 8, 2013
The 'Rejoice And Be Glad' Keepsake Box is gorgeous, and very well-made. Even my husband loved it, and assured me our grandson will love it, as well! The only negative comment I can make, is that there is no satin, velvet - or even felt - in the bottom of the box.. which makes it rather crude inside. We are going to shop for a piece of velvet or satin to glue inside ourselves, before wrapping it and presenting it to him. I must add, the wrapping set that you can purchase right along with your product here, is very classy and easy to assemble! I choose Personalization Mall for ALL my special occasion needs!

Keepsake box
By
Shopper

(Allenton, WI) - April 23, 2013
I am very impressed with your company. Ordering was easy and my order was delivered very timely. I placed my order on a Thursday evening and it was on my doorstep the following Tuesday. The quality and engraving are nice too! Thank you!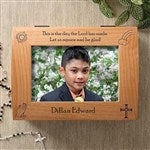 Nice Keepsake
By
Christina M.

(Laveen, AZ) - January 22, 2013 (
See all reviews by this customer
)
This is a great keepsake box for baptism, communion or confirmation items. It can fit prayer cards, rosaries, photos. Just a terrific gift. Only downside is that it can only handle so many letters for personalization. I wanted to have the date engraved as well, so I had to make some changes to what would have been my "ideal" - but it turned out nice and I know it will be a treasured gift.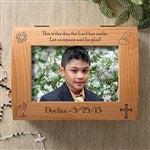 First Communion Gift
By
Bonnie O.

(Mansfield, MA) - April 30, 2012 (
See all reviews by this customer
)
I purchased this item for my Nephew/Godson, the quality of the product is good and the service was very quick. I would purcahse from this company again.

matches description
By
Julie C.

(Melville, NY) - April 24, 2012 (
See all reviews by this customer
)
I liked this gift. I got it for 2 different boys and they both arrived looking great. It's sturdy and exactly as advertised.

Think Inside The Box
By
Shopper

(wallingford, PA) - April 7, 2013
Would give it more stars if the box were lined. Meant to hold keepsakes, it is lacking a velvet liner to protect jewelry and other valuable keepsake items. Otherwise, a good Confirmation gift.