keepsake box
By
Shopper

(Willowick, OH) - April 30, 2013
i was very happy when i received this keepsake box. it was for my son for his first communion. nice quality. nice size. i like that i can add a picture to personalize it further. i was looking for something larger than a 4 x 4 box. this will be able to hold several of his most special religious items. i have never been disappointed when making a purchase at personalzation mall.

Perfect Gift!
By
Shopper

(Rutland , MA) - April 29, 2013
Needed a gift idea for my Godson's First Communion. Came across this keepsake box and thought it would be perfect. When I received it, it looked EXACTLY like on the website! I'm extremely satisfied with this purchase. Shipping was quick, and communication was excellent!

Thrilled!!!!
By
MARGARET B.

(SLATINGTON, PA) - March 26, 2013 (
See all reviews by this customer
)
I am so glad I went to your website before I got my grandson's first communion gift. It far exceded my expectations. Well made, first class lettering for the personalization of my grandson's name and the inspiriational message engraved in the wood. I. also, really like the place for the photo for a remembrance of this very special day. I will definitely buy from you again for other occasions.
I know my grandson is going to love it and I can't wait to see his face when he sees it. I am sure he will put many of his treasures in there and it is roomy enough to hold quite a bit. Great purchase!!!

Keepsake box
By
Pamela M.

(Milford, MI) - November 19, 2012 (
See all reviews by this customer
)
Once again, I'm very happy with the personalized keepsake box I purchased for our grandson's First Communion. Now he'll have one, just like his big brother's! Thanks for the speedy service and very nice quality.

wonderful gift
By
Shopper

(Dracut, MA) - May 21, 2012
We were very pleased with the keepsake box. Even more importantly, our grandson loved it! As soon as he opened his gift he ran to show his mom and dad. It is a great size to put treasures in, the wood is a beautiful color,and the engraving looked perfect. I put his First Communion Invitation in the spot for the picture to give it to him, later we will print a picture of his First Communion Day to put in its place. Thank you for a great product.

"Special Box"
By
ELIZABETH G.

(FLORAL PARK, NY) - May 14, 2012 (
See all reviews by this customer
)
When this keepsake box arrived I was in for a big surprise. The craftsmanship was far better than I ever could have imagined. I thought the finishing of the wood was excellent like one would expect from a much more expensive gift. It truly is a good size for a child to store all his special keepsakes.

looked very nice
By
Shopper

(Clearwater, MN) - May 12, 2012
Made well, will be a nice keepsake for our grandson of his confirmation, with the date on it. Came very fast, had it sent directly to him.

Great Gift
By
Alison M.

(Indian Trail, NC) - May 12, 2012 (
See all reviews by this customer
)
I ordered this for my nephew's 1st Communion and was very pleased. It arrived very quickly, and I was happy with the quality, size and price of the box. My nephew loved it as well!

great quality
By
Shopper

(patton, PA) - May 11, 2012
The personalization and photo was a great touch. The box is a nice heavy wood. Large enough to hold prayer book,rosary and scapular plus much more. My nephew was so happy with this gift made especially for him.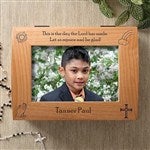 great quality
By
paula N.

(patton, PA) - May 11, 2012 (
See all reviews by this customer
)
This box is a nice size for keepsakes. Rosary,scapular and prayer book fits nicely. Great quality wood. Personalization added the final touch! Loved the area for the photo too.