Great Rolling Luggage
By
Kayla C.

(Millbrook, AL) - September 2, 2014 (
See all reviews by this customer
)
I gave this to my nephew for his 7th birthday. He loved it! Easy to roll and nice size for him to handle. His mom was really glad for that part!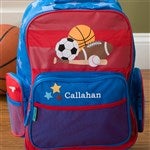 Julius's luggage
By
Adrienne B.

(McKinney, TX) - August 8, 2014 (
See all reviews by this customer
)
We have not used the luggage yet, however that is soon to happen. The appearance, style and material is very nice. Most importantly, Julius's loves it.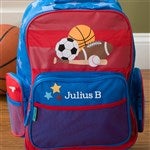 Awesome!
By
Deborah M.

(Saint Louis, MO) - May 20, 2014 (
See all reviews by this customer
)
I bought one for both my grand kids for when they visit. These are so cute and spacious . The gift they can continue to use for years to come...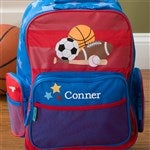 best purchase ever
By
Shopper

(Carteret, NJ) - March 18, 2014
This wheeled carrier is just so cute. It's the perfect size and weight for a little guy to carry around. So glad I made the purchase.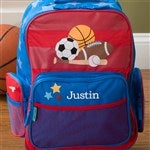 Weekender
By
Deborah B.

(Williford, AR) - December 27, 2013 (
See all reviews by this customer
)
I purchased this for my grandson for Christmas. My granddaughter received one last year and it is great for when she comes to spend the weekend with "Nannie & Papaw". Just the right size and she can pull it! She is 2 1/2. Loves coming to see us. The suitcase is just the right size for her and for Mom! She knows it is hers and loves her name being on it. She got hers last year and it is holding up very well. I also bought another one last year for an older grandson. He loved his also. Both look just like new and she comes for many visits! So, this year I got one for my grandson who was born on June 28! I'm sure he'll get just as much use out of it. Don't let the size fool you when you first see it. It holds way more than what it looks like it will!

Rolling luggage
By
Latisha S.

(Walden, NY) - December 19, 2013 (
See all reviews by this customer
)
I love the quality and the look of the all star sport rolling luggage . I bought it for my two sons 5 and 6 years old they just love it . Now they just don't run out of car and leave their bag behind . They feel like big people and ask to roll their luggage to where ever we are going .

Happy. Grandma!
By
Shopper

(HERRIN, IL) - June 17, 2012
I bought for my grandson's 1st birthday, and we loved it! The extra pockets it has will come in handy for him to store his little toys. It was a lot stronger that I thought it would be. Over all I give it an A+ rating. :)))

Christmas
By
Shopper

(Pembroke Pines, FL) - April 15, 2012
I was very pleased with the childrens luggage - so much so that I purchased two more, one for my neice and the other for my nephew for Christmas presents. Very nice quality.

luggage for grandson
By
karen B.

(Greensboro, GA) - December 8, 2011 (
See all reviews by this customer
)
This is a Christmas gift so it hasn't been used yet. However, I like the way it looks and it appears to roll with ease. This will be fun for our grandson to pack when he comes to visit. I'm looking forward to seeing this suitcase many times as he visits during the year.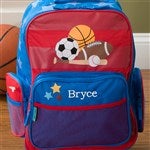 Great for All ages
By
Geneva S.

(Sherwood, AR) - March 5, 2013 (
See all reviews by this customer
)
Bought for my 5 year old nephew for his birthday and he LOVED it!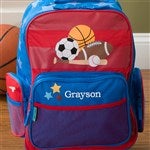 My son and I are pleased with this rolling luggage
By
Alicia S.

(Barboursville, WV) - March 26, 2012 (
See all reviews by this customer
)
My 18 month old son loves to roll around his own luggage and I like the bags easily accessible zippered pockets.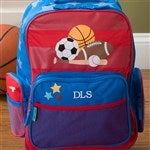 rolling luggage
By
Cheryl F.

(Gastonia, NC) - January 23, 2012 (
See all reviews by this customer
)
My 3 yr old grandsons love their rolling luggage. The zippers tend to get stuck easily but I used soap on them to help them zip more smoothly. They are the perfect size for spending the weekend at grandmas. Well made. delivery was very
fast. I'm pleased with the purchase. Easy to clean as well. Extended handle is perfect size for little ones.