Less than Impressed - First Time for Everything
By
Michael G.

(Syracuse, NY) - June 4, 2014 (
See all reviews by this customer
)
I have purchased numerous personalized items from pmall.com, and this was the first one I was not thoroughly impressed with. The lettering wasn't as solid or pronounced as it appears in the picture (it has to have the beer behind it to make the letters pop). Additionally, the glass seemed very thin and easily breakable. For the high price of the one glass, I was surprised at this. I guess it's durability will be determined after repeated use. The recipient of the gift was happy, nonetheless.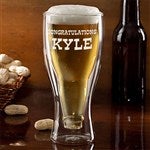 BOTTOMS UP
By
Mardean B.

(Cleveland Heights, OH) - May 27, 2014 (
See all reviews by this customer
)
I purchased this glass for my sister's birthday and she loved it. She used it all week-end. She also received a lot of compliments.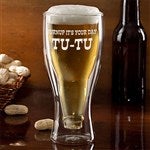 great gift
By
Shopper

(melbourne, FL) - March 24, 2014
Got this for my daughter for her birthday and she loved it such a great gift and something different will continue to order many more things from you always mails everything quick love shopping with you

House Warming Gift
By
Jan H.

(Upland, CA) - February 10, 2014 (
See all reviews by this customer
)
Very pleased with the size was afraid it might be very fragile but the glass is solid and the engraving is perfect!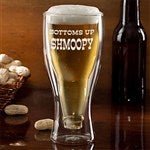 Neat
By
Shopper

(Westville, NJ) - April 23, 2013
I wish it was a tiny bit bigger, but it is very different...if you look closely it is shaped like a beer bottle at the bottom of the glass you can see it looks like the top of a beer bottle!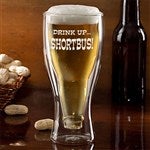 wedding gifts
By
Jim M.

(Granger, IN) - March 25, 2013 (
See all reviews by this customer
)
Great gifts for the parents in our wedding. Light weight but still sturdy. Looks great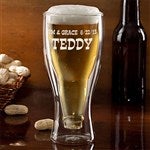 Great gift
By
Shopper

(Cumberland, RI) - September 23, 2012
The glass is really nice, would use more for decoration though, I thought it would be thicker but other than that a cool gift for my brothers 21rst birthday :)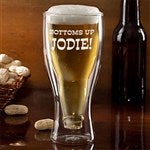 Great man gift!
By
Gina J.

(Dothan, AL) - September 21, 2012 (
See all reviews by this customer
)
Just got this for a friend of mine that is leaving the office... he's SO HARD to buy for, but this is right up his alley! Cleverly done.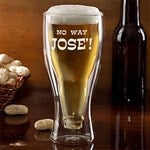 awesome glass but light weight
By
Donna R.

(darien center, NY) - February 26, 2012 (
See all reviews by this customer
)
this is awesome , different , only reason i gave it i 4 star and not a five is i feel its a bit light , maybe should have been heavier like some of the other beer glasses i purchased are but it is very cool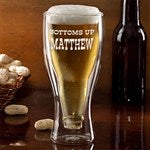 cheap
By
Margarett B.

(Nashville, GA) - October 1, 2012 (
See all reviews by this customer
)
I thought this was going to be a very nice gift I was ashamed to even give it it was so flimsy not worth the money

I expected a bigger glass
By
Shopper

(Chicago, IL) - February 19, 2012
It was nice, but the writing was voery hard to read and it was smaller then I expected. Would not buy it again.You

Too small!
By
Shopper

(Arnold, MO) - January 24, 2014
Cute Idea but not the worth the price!

Rebecca
By
Rebecca G.

(Grand Island, NY) - December 30, 2012 (
See all reviews by this customer
)
This was a Christmas gift for a friend of mine and like some,very disappointed. I have purchased from PM before and was pleased with the products, just not this one. It looks and feels like plastic and the glass would fog up with moisture between the two layers after washing. The moisture left a water spot look between the two layers. Cool idea, I just don't recommend this cup.

Good but Not Great
By
Kim D.

(Bloomington, MN) - May 1, 2012 (
See all reviews by this customer
)
I've ordered so many things from Personalization Mall and overall have been 100% satisified even exceeding my expectations. This one was a little disappointing for me. It's very small and looks a little cheap. The birthday boy really liked it a lot but as the gift giver I was not sure I wanted to give this as a 40th birthday gift. I probably didn't read the size because I thought it looked so cool. I will absolutely order again from PM but not this item.

AWESOME GLASS!
By
Shenna L.

(Brooklyn, NY) - December 20, 2013 (
See all reviews by this customer
)
Got this glass as a secret santa gift for a co worker. you can never go wrong with a decent glass to put beer in for a guy. He absolutely loved it and appreciated what santa gave him (wink). The glass is not cheap. The engraving was not big and goofy, nor was it small. It looked decent to me like the picture. I have no complaints and I am happy he loves it!

Bottoms Up! Beer Bottle Glass
By
Shopper

(Silverdale, WA) - July 25, 2014
What a great gift for a beer drinker. Can't wait to give him this. I know he'll enjoy it very much!

Glass Bottom
By
Celeste L.

(Newberry, FL) - April 16, 2012 (
See all reviews by this customer
)
This has to be one of the most unique presents I have ever given. If you have that special someone in your life that has everything and they like beer, then this is the gift to get.

Looks great!
By
Danielle S.

(Nottingham, PA) - May 8, 2012 (
See all reviews by this customer
)
This item looks amazing, the personalization is perfect and looks phenomenal! All around the item is perfect and just what I wanted. The only thing I wish was different was the weight of the glass. It's very light, making it seem cheaper and not as significant as it should be.

Great Gift
By
Shopper

(Carmel, IN) - August 28, 2012
I bought this for my boyfriend and it is something I think he will love! The design is very cool and unique. My only complaint is it is a very light glass. If it was heavier I would have given it 5 stars.