Great the second time
By
Maricela M.

(Dallas, TX) - October 1, 2013 (
See all reviews by this customer
)
The first one they sent was craked but then I called and they sent me another one and this was better.

Personal cross
By
Dawn P.

(Rancho Palos Verdes, CA) - August 27, 2013 (
See all reviews by this customer
)
This size of this cross, if you are not expecting it, may be smaller than you would think. It is about the size of your hand from palm to finger tip. However, the detail of this makes a great gift. I have purchased this cross many times as gifts for friends. It may be small but it has a giant impact.

Personalized name cross
By
Shopper

(Watkinsville, GA) - July 28, 2013
Perfect gift for my family members. I plan to buy more before Christmas!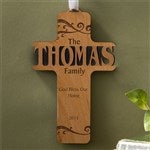 Love This Cross!
By
Shopper

(Staten Island, NY) - July 25, 2013
Bought this as a gift for my friend and loved it so much I got one for myself and my in-laws. It's nicely made and great to hang up in your new home!

Beautiful Quality Keepsake
By
Shopper

(Wilmington, DE) - July 22, 2013
I thought the cross and carving were beautiful. It would be nice to have a larger one but I knew that it would be small from other reviews. I can't wait to give it to our granddaughter.

Nice...
By
Shopper

(Jacksonville, FL) - June 4, 2013
Please pay attention to the size(not as large as it appears), but the product itself is very nice and the laser engraving and cutout is very nice...

love it!!
By
Cindy B.

(Springfield, KY) - May 31, 2013 (
See all reviews by this customer
)
I have purchased multiple of these and everyone seems to love it!!

Perfect Wedding Gift
By
Adrienne D.

(Houston, TX) - March 3, 2013 (
See all reviews by this customer
)
It was such a surprise to see how handcrafted it appeared, it was even neat to smell the smokey woodburning on the side. Though I forwarn the edges smudged off some, I'm sure some some sealant will do the trick. While I wish it were available in a larger version, it will be a great personal touch no doubt they will cherish. Thanks Personalization!

Cross
By
Shopper

(Louisville, KY) - February 11, 2013
A nice gift for the newlyweds home, they loved it!

Beautiful
By
Shopper

(Fountain Valley, CA) - December 30, 2012
This product is well made and looks amazing! I ordered one for my family and three as gifts. Everyone loved them! You will not be disappointed.

Love it!
By
Shopper

(Hacienda Heights, CA) - December 28, 2012
My son was so happy when he saw this.

Personalized Wood Cross
By
Shopper

(Columbia, SC) - October 28, 2012
A beautiful work of art that can be used for various gifts and occassions. My family members all want one their homes. So each time I get a coupon I order a few more. I would highly suggest this items for purchase for yourself or for gift giving.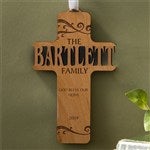 2012 Christmas Gifts
By
Sharon N.

(San Diego, CA) - October 15, 2012 (
See all reviews by this customer
)
I purchased eleven of these for various family members and friends for Christmas gifts. I wish they were about half again as big, but these are very nice. I'm sure they will be liked by those who receive them. I always shop at Personalization Mall first when looking for special gifts.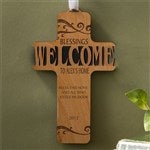 I love this item
By
Monique C.

(Southfield, MI) - October 12, 2012 (
See all reviews by this customer
)
I ordered three of these as thank you gifts and I love them just as much as I love the personalization site. This is my first stop when shopping for gifts. i love the personal touch at an affordable price.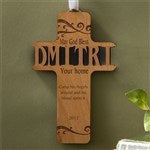 Great housewarming gift
By
GARMANNE M.

(NEW ORLEANS, LA) - September 24, 2012 (
See all reviews by this customer
)
This is an excellent housewarming gift for families who are purchasing a home. I purchased this a family member who took in 11 family members during our evacuation from Hurricane Katrina. They have always opened their home to students attending college in the Atlanta area and family is never turned away. They recently purchased a new home and we are looking forward to visiting them soon. When they received the gift, they called to say how lovely and thoughtful it was of me to send it.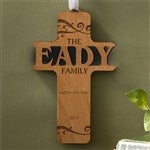 Beautiful Crosses to share and have for your own!!
By
Shopper

(Columbia, SC) - September 18, 2012
I am so happy with my purchase. The items are beautiful, great quality and the workmanship is superior. My husband's hobby is woodworking and he inspected it closely and was pleased also. I would suggest this items to anyone and the price was right too. I also want to comment that the customer service is OUTSTANDING!!!!!





Cute Cute
By
Shopper

(Alvin, TX) - September 9, 2012
It is a little big for an ornament...and kinda small for the wall, but I bought 13 of them for family members for Christmas...they are gonna love them..

Love this product
By
Shopper

(Fennimore, WI) - August 16, 2012
absolutely beautiful!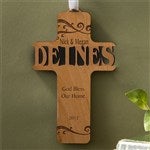 Beautiful Laser engraved Cross
By
Velia A.

(Burr Ridge, IL) - August 2, 2012 (
See all reviews by this customer
)
This was a birthday gift for my godson along with other gifts. I used it as a gift topper and placed on top of the gift box. My sister LOVED IT! she loved his full name on it and is now requesting one for my new neice. It was a hit at his Birthday party. everyone LOVED IT!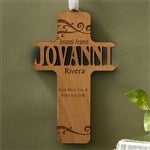 Well made
By
Christina H.

(Commerce City, CO) - January 18, 2014 (
See all reviews by this customer
)
These crosses are very beautiful the only thing I would've liked is just a little bit thicker. But they're very very nice and they are actually about the same size as other crosses I have

Nice but small
By
Shopper

(Zionsville, IN) - May 31, 2013
Bought this as a gift for a friend's wedding, and I admittedly must not have looked close enough at the size description, but I was expecting something larger. It's really about the size of my hand. It also must have been carved out with a burning method as the edges were black and smelled smokey, and the black would come off on my hands. I made sure to wipe the edges off as I'd hate for her to open the gift and get black on her hands and her other gifts.

It really is still a very nice gift. I just wish I'd paid attention to the size a bit more.

Simple yet Classic
By
mia L.

(miami, FL) - January 2, 2013 (
See all reviews by this customer
)
I ordered this for my brother-in-law and his family and he was so happy to receive it... Its a small, simple token that packs a big Classic look that will go with any decor... Who doesn't love a little blessing for their household?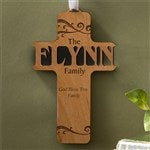 cute, wood smells good
By
Shopper

(Sparks, NV) - December 4, 2012
Real wood, smells great! A bit smaller and thinner than expected but overall very happy with it. It can even work as a larger ornament if one wanted to use it that way.


My Husband Loved It
By
Paula H.

(Brooklyn, NY) - October 5, 2012 (
See all reviews by this customer
)
I gave this to my husband as a fifth anniversary gift (the traditional gift being wood). He absolutely loved it. I would've liked the cross to be a little bigger and made out of a thicker piece of wood, but my husband was thrilled with the gift. Overall, a big hit. :-)


Cute
By
Maria S.

(Harleysville, PA) - September 18, 2012 (
See all reviews by this customer
)
This came perfectly and it is exactly what it looks like except it is smaller than i expected. It can probably use as an ornament because it is small and light.

Nice
By
Shopper

(Modesto, CA) - August 2, 2012
It was a bit small, and a bit thin...but the dimensions are advertised correctly. It's a nice little gift-especially for the price. I would recommend.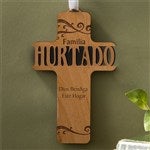 Made beautifully..
By
Shopper

(Downey, CA) - February 5, 2013
This is super cute and made very very nice. I juts didn't read the exact measurements, this looks more like an ornament then a wall cross...I wish it was bigger.

Nice
By
Yvonne R.

(Fontana, CA) - January 4, 2013 (
See all reviews by this customer
)
I thought this was going to be a lot bigger, but none the less it was very nice. I bought it for a friend who recently got married and she really liked it! In the end, that is all that matters most to me!

Its pretty but little
By
RaeJean T.

(prairieville, LA) - December 19, 2012 (
See all reviews by this customer
)
I guess I didn't pay attention to the dimensions of this product. It is very pretty, but I thought it was larger.

Pretty but very small
By
Amy G.

(Fishers, IN) - December 5, 2012 (
See all reviews by this customer
)
Was very excited when I ordered this and knew just where I would hang it in our home, then I opened the package....It is sooooo small. I guess I should have noticed dimensions it is much smaller than I thought it would be.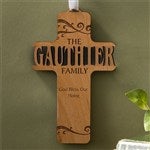 really small
By
Shopper

(miami, FL) - November 28, 2012
This item is smaller then what I thought it was. But it is a cute gift so someone.

print is light and hard to read
By
Cindy B.

(Springfield, KY) - October 3, 2012 (
See all reviews by this customer
)
Item was nice. The print was very light making it hard to read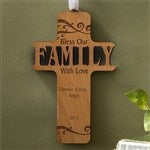 Nice but small
By
Francisco S.

(houston, TX) - September 15, 2012 (
See all reviews by this customer
)
I was expecting for it to be a little bit bigger than it is. It's nice but I wouldn't order another one

Wood Cross
By
Shopper

(Mitchellville, MD) - August 13, 2012
This is a lovely family gift. I wish it were larger and heavier but it was befitting the gifting circumstance.

Size
By
Marissa K.

(watford city, ND) - August 6, 2012 (
See all reviews by this customer
)
The size was a little disappointing, I was hoping for something a little bigger and a hair thicker. It is beautiful though. Maybe if I would have read the info a little better though I would have realized how small it was. Still really cool, just a little small.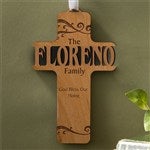 small
By
JUSTIN B.

(IVA, SC) - March 8, 2013 (
See all reviews by this customer
)
I love this piece. The engraving is amazing, however I was very disappointed in the size. I was under the impression that it was much bigger, and for the price you pay it needs to be much bigger! While I love it, it was still not worth the 19.00 it costed especially being so small. I got it to hang on the wall and basically ended up with something the size of a bookmark!

frequent buyer
By
Shopper

(Swanton, MD) - October 19, 2012
Have bought several items from Personalization Mall; this is the only item I have been very disappointed with. Item is very small, wood is cheap and thin. NO WAY WOULD I GIVE THIS AS AS A GIFT!!