cute, wood smells good
By
Shopper

(Sparks, NV) - December 4, 2012
Real wood, smells great! A bit smaller and thinner than expected but overall very happy with it. It can even work as a larger ornament if one wanted to use it that way.


My Husband Loved It
By
Paula H.

(Brooklyn, NY) - October 5, 2012 (
See all reviews by this customer
)
I gave this to my husband as a fifth anniversary gift (the traditional gift being wood). He absolutely loved it. I would've liked the cross to be a little bigger and made out of a thicker piece of wood, but my husband was thrilled with the gift. Overall, a big hit. :-)


Cute
By
Maria S.

(Harleysville, PA) - September 18, 2012 (
See all reviews by this customer
)
This came perfectly and it is exactly what it looks like except it is smaller than i expected. It can probably use as an ornament because it is small and light.

Nice
By
Shopper

(Modesto, CA) - August 2, 2012
It was a bit small, and a bit thin...but the dimensions are advertised correctly. It's a nice little gift-especially for the price. I would recommend.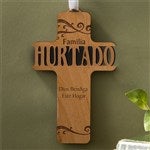 Made beautifully..
By
Shopper

(Downey, CA) - February 5, 2013
This is super cute and made very very nice. I juts didn't read the exact measurements, this looks more like an ornament then a wall cross...I wish it was bigger.

Nice
By
Yvonne R.

(Fontana, CA) - January 4, 2013 (
See all reviews by this customer
)
I thought this was going to be a lot bigger, but none the less it was very nice. I bought it for a friend who recently got married and she really liked it! In the end, that is all that matters most to me!

Its pretty but little
By
RaeJean T.

(prairieville, LA) - December 19, 2012 (
See all reviews by this customer
)
I guess I didn't pay attention to the dimensions of this product. It is very pretty, but I thought it was larger.

Pretty but very small
By
Amy G.

(Fishers, IN) - December 5, 2012 (
See all reviews by this customer
)
Was very excited when I ordered this and knew just where I would hang it in our home, then I opened the package....It is sooooo small. I guess I should have noticed dimensions it is much smaller than I thought it would be.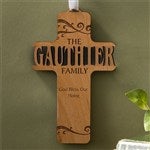 really small
By
Shopper

(miami, FL) - November 28, 2012
This item is smaller then what I thought it was. But it is a cute gift so someone.

print is light and hard to read
By
Cindy B.

(Springfield, KY) - October 3, 2012 (
See all reviews by this customer
)
Item was nice. The print was very light making it hard to read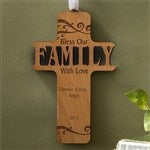 Nice but small
By
Francisco S.

(houston, TX) - September 15, 2012 (
See all reviews by this customer
)
I was expecting for it to be a little bit bigger than it is. It's nice but I wouldn't order another one

Wood Cross
By
Shopper

(Mitchellville, MD) - August 13, 2012
This is a lovely family gift. I wish it were larger and heavier but it was befitting the gifting circumstance.

Size
By
Marissa K.

(watford city, ND) - August 6, 2012 (
See all reviews by this customer
)
The size was a little disappointing, I was hoping for something a little bigger and a hair thicker. It is beautiful though. Maybe if I would have read the info a little better though I would have realized how small it was. Still really cool, just a little small.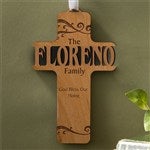 small
By
JUSTIN B.

(IVA, SC) - March 8, 2013 (
See all reviews by this customer
)
I love this piece. The engraving is amazing, however I was very disappointed in the size. I was under the impression that it was much bigger, and for the price you pay it needs to be much bigger! While I love it, it was still not worth the 19.00 it costed especially being so small. I got it to hang on the wall and basically ended up with something the size of a bookmark!

frequent buyer
By
Shopper

(Swanton, MD) - October 19, 2012
Have bought several items from Personalization Mall; this is the only item I have been very disappointed with. Item is very small, wood is cheap and thin. NO WAY WOULD I GIVE THIS AS AS A GIFT!!