Butterfly Backpack
By
Patricia M.

(Morgantown, WV) - October 21, 2013 (
See all reviews by this customer
)
Beautiful backpack. I know my little granddaughter is going to truly love it. PersonalizationMall.com is the best!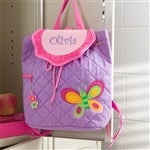 Butterfly Embroidered Backpack
By
Shopper

(Breaux Bridge, LA) - July 22, 2013
I am very impressed with the quality of the item I purchased, as well as the quick shipment. I would order from your company again! The smile on the child's face was worth it to me! Thanks for everything!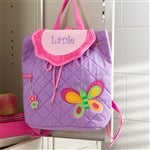 BackPack... Backpack... Backpack
By
Tracy M.

(Ballwin, MO) - July 22, 2013 (
See all reviews by this customer
)
GREAT Backpack! My daughter loves Dorah the Explorer so when I gave her the backpack she began to sing the "Backpack" song. The entire weekend she loaded and unloaded her backpack. It is cute and well made. We are going on our first airplane ride so this is the perfect backpack for the journey. I would highly recommend.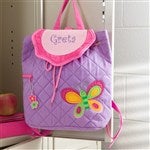 customer service rocks!
By
Shopper

(APO, AE) - April 26, 2013
When we received our backpack for my daughter, the clasp was not keeping the bag closed, so I contacted customer service asking for a replacement clasp. They responded quickly and sent a whole new backpack! I did not expect that, but we received the bag yesterday and love it! Thanks for the great, quick customer service!

Perfect size for 4 year old
By
Shopper

(Little river, SC) - April 20, 2013
This will be perfect size for child going to grandmas or day care and needs to carry their own stuff. The personalization makes sure they always know where their stuff is. Very unique and just the right size for young shoulders.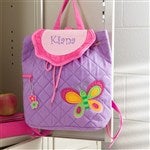 Butterfly Backpack
By
Shopper

(severn, MD) - March 31, 2013
This is just too cute. Perfect size for my granddaughter, who is three. Quality material, and beautiful embroidering. Super fast shipping - arrived 4 days after I placed the order. Will order matching pieces for her because they are so adorable.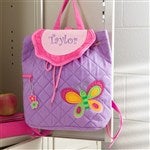 Special Back Pack
By
Shopper

(Massapequa Park, NY) - February 22, 2013
This item was purchased for my granddaughter for her third birthday. She loves pocketbooks and anything you can carry. She is very smart but does not go on the potty. I plan to fill it with some cute little panties and shirts. She will love the packpack, but not the items in it. I cannot wait to see her face.

childrens back pack
By
Barbara Jean M.

(Panama City, FL) - February 5, 2013 (
See all reviews by this customer
)
quality made.... Chloe loved it... good for small children to tote their belongings... excited that I purchased this for my granddaughter.. She just loves it..!!!

Perfect backback
By
Shopper

(Brunswick, GA) - February 2, 2013
Perfect backpack for any little girl who has "Stuff" to tote around. My little nice loves it!

Beautiful Backpack for a toddler
By
Tina T.

(Hamburg, NY) - February 2, 2013 (
See all reviews by this customer
)
This backpack is very well made. The fabric and details are beautiful. My 2 year old loves carrying this around. It is big enough for a small blanket, clothes and diapers. It will also be good to fit lunch and a few small toys!
I would definitely recommend this and it is worth the money. The quality is great!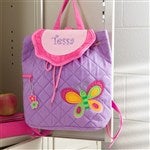 ADORABLE!
By
Stacey G.

(New Orleans , LA) - December 27, 2012 (
See all reviews by this customer
)
THIS ITEM WAS JUST AS SHOWN AND VERY NICE QUALITY. WOULD RECOMMEND AND WOULD PURCHASE AGAIN

Great Value for a Lovely Item
By
Shopper

(STONE MOUNTAIN, GA) - December 14, 2012
This is not only an attractive backpack, which is as cute as the online catalog photo, upon inspecting, it appears to be very well made and sturdy. The colors are a rich, but not loud. It is well sized for a young child. This is a cute item, and I am sure the recipient will be thrilled. Once again, Personalization Mall service was prompt. The quality of products is always excellent and combined with fast and efficient service, it is always a good experience to do business with Personalization Mall. They always offer many choices which can be thoughtful gifts.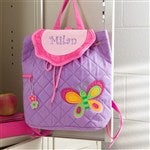 LOVE THIS BAG!
By
Shopper

(Forest Park, IL) - December 13, 2012
THIS BAG IS SO ADORABLE!
NOT TOO BIG, PERFECT FOR LITTLE KIDS.

Kids Love It
By
Shopper

(Katy, TX) - November 3, 2012
I have purchased for 2 separate kids and they both loved it! Even as a teacher I love it also because it helps with name recognition for the little ones. They pattern and colors are beautiful together. The quality is also pretty good.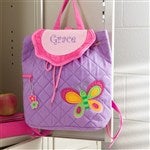 Butterfly backpack for my grandaughter
By
Shopper

(Abilene, TX) - October 6, 2012
She absolutely loves it!!!! She is 3 1/2 and is going to school two days a week. ALL the kids had a backpack but her, so I got her this one and she loves it. She came over and spent the nite with us and brought it with her clothes in it. I love PERSONALIZATION MALL!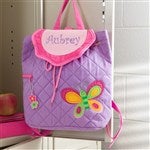 Dance Gear!!!
By
Pam T.

(ROCK HILL, SC) - September 11, 2012 (
See all reviews by this customer
)
I sent the backpack to my 6 year old niece, she loved it so much that she's gonna use it for dance!!! I also order her the matching pencil case...so she will use the pencil case to put her dancing shoes in...and the back pack for her dance outfit!!! And the fact that her name is on it, she thinks it's the coolest!!!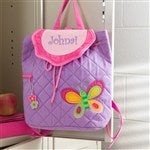 Grand daughter Loved it!!!
By
Shopper

(Waco, KY) - August 13, 2012
I purchased ALL the butterfly pieces for my 6 year old grand daughter. She is so excited to start 1st grade,and that makes it easier for us, to let her go. I loved the fact, that her name is written on each piece as well, no mistaking who they belong to, that way!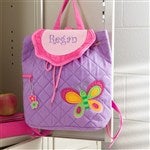 newButterfly Embroidered Backpack
By
Cheryl W.

(Brooklyn, NY) - August 11, 2012 (
See all reviews by this customer
)
I bought this item as a gift for my granddaughter who is starting the 1st grade. I am very pleased with it. It is really cute, the perfect size for her, and because it has her name on it, I am more confident that it won't be stolen! More importantly, she loved it! :-)