VERY CUTTTE!!! My 4 yr.old love IT!!!
By
malissa H.

(benton, AR) - August 19, 2014 (
See all reviews by this customer
)
Item met expectations... Very cute bag, perfect size for my new preschooler. Fits quite more than I expected. He loves it , I love it. We are both very pleased. The monogram was GREAT!! Timely shipping I give this bag an A++ will definitely order again when my 2nd child goes off to school.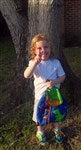 Just as awesome in person!
By
Timothy C.

(Vancouver, WA) - August 4, 2014 (
See all reviews by this customer
)
The bag turned out great looking, vibrant colors, super cute. Only downside is that the straps aren't really adjustable. There are two button-hole slots on each shoulder strap but for my petite little guy it's still way too loose. Design and quality of fabric is great though, would highly recommend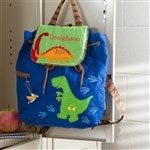 Perfect Size for my 4 yr old
By
Leana S.

(Papillion , NE) - July 26, 2014 (
See all reviews by this customer
)
My son will be in Pre-K in August and the school requires that the kids' names are on their backpacks. Since I've been so happy with all my other purchases from this site, they were the first to come to mind. Not only did they have the best price around (on sale when I purchased) but the cutest as well. The backpack is so cute and looks like it'll be pretty durable. The Lettering is nice and my son liked it so much, he immediately filled it up with his toys and wants to wear it around the house.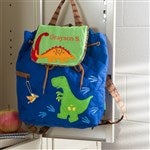 Dino Backpack
By
Shopper

(Holt, MO) - August 23, 2013
My little kindergartner LOVES this backpack!!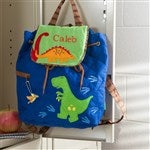 LOVE IT!!!
By
ALANA S.

(DICKSON, TN) - June 4, 2013 (
See all reviews by this customer
)
I think it's perfect!!!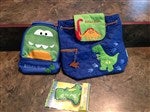 So cute and well made!
By
Cheryl S.

(Norco, CA) - December 16, 2012 (
See all reviews by this customer
)
I purchased three of the back packs and they all are so cute and well made! Everything I've ordered is of good quality. I'm a very happy customer.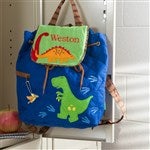 My nephew will love it
By
Shopper

(Bay Shore, NY) - December 6, 2012
I'm happy with the quality of this product but wish it had one or two more storage pockets.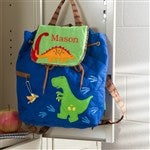 Adorable daycare bag
By
Tracey C.

(Largo, FL) - December 5, 2012 (
See all reviews by this customer
)
I ordered this bag to carry my one year olds daycare items and I love it. I've had several compliments on it already from other moms at our school. My only concern is that the snap seems a bit loose but there is also a drawstring inside to close it if the snap does come off.

cute backpack
By
Candi B.

(Locust Fork, AL) - November 29, 2012 (
See all reviews by this customer
)
I ordered the personalized dino backpack for my 18 month old. It is very well made, the colors are vibrant & the size is perfect for him. I received my order very quickly.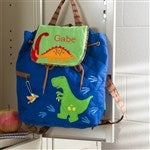 bag
By
Shopper

(Covington, GA) - November 13, 2012
bag was very cute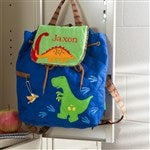 Great for Preschool!
By
Shopper

(San Ysidro, CA) - November 11, 2012
My boys love it!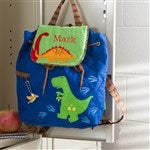 Dino Embroidered Backpack - Awesome!!!
By
Shopper

(East Palatka, FL) - August 13, 2012
The Dino backpack was just perfect for my little grandson starting preschool. It is just the right size for him and with his name on it; he's very proud of it! The handicraft is excellent!!! Thanks for providing such wonderful products to personalize for our family and friends!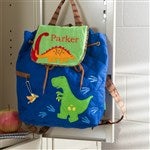 Cute baby gift
By
Shopper

(Ballwin, MO) - August 2, 2012
This backpack is perfect size for quick day trips or for daycare/school. Inside is lined with a waterproof/resistant fabric- so it's perfect for throwing bottles in.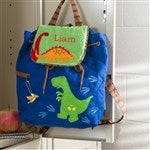 Embroided book bag
By
Mandy V.

(Del Haven, NJ) - March 23, 2014 (
See all reviews by this customer
)
Got exactly what ordered. Not cheaply done. Perfect in size. Excellent jobbon details.

Small for a Kindergartner
By
Shopper

(danbury, CT) - March 4, 2013
The bag is a little small than I expected it to be. But my kid likes it for the dinosaurs on it so works for me.

Small but Cute backpack
By
Shopper

(Ipswich, MA) - August 19, 2012
This backpack is adorable, but it won't hold much more than a change of clothes. My son likes the bright colors. It seems like nice quality as well.

Colorful and Awesome
By
Shopper

(Apollo Beach, FL) - August 12, 2013
I ordered this for my grandson for his preschool. He fell in love with it.
We had to pack it full of his treasures and he carried it on his back all day. Highly recommended. Great size!!!


LOVE THIS BAG!
By
Shopper

(Forest Park, IL) - December 13, 2012
THIS BAG IS SO ADORABLE!
NOT TOO BIG, PERFECT FOR LITTLE KIDS.

Children's Backpack's!!
By
Shopper

(Surprise, AZ) - November 30, 2013
I love the children's backpack's, I have 4 grandchildren & each of them have one, also a nephew & nieces,
all different styles for all of them.

backpack
By
Shopper

(cary, IL) - August 5, 2012
was as cute in person as when i reviewed the backpack after ordering!