Absolutely perfect!
By
Shopper

(Toms River, NJ) - March 15, 2014
The colors are vibrant, the material is soft and resilient, and having our grandbaby's name done so beautifully are points that have us sold on this product. We have been so happy with other onesies at this site, we have apparently begun a grandma and grandpa tradition of ordering them every holiday. They are received with delighted smiles, so we get to share some long-distance love and joy at a very modest price!

So proud of my gift
By
Marlene M.

(Wyoming, MI) - March 27, 2013 (
See all reviews by this customer
)
I was very pleased and proud to present these shirts as gifts. My niece and her baby brother are 7 years apart in age, and I was happy to be able to find these matching shirts in two VERY different sizes, 12 mos. and size 10. Their mother was thrilled with the idea of dressing the two children alike this Easter. The thickness of the material of the shirts was felt and commented on as good quality. The colors are rich.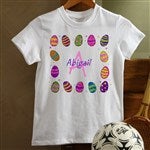 very satisfied customer!!
By
Shopper

(Monroe, OH) - March 26, 2013
As always, this company delivers a GREAT product and always speedy!

love it...
By
Shopper

(Columbus, OH) - March 25, 2013
Love having my grand-babys name on it. Makes it special

Great Product
By
Shannon S.

(New Middletown, OH) - March 23, 2013 (
See all reviews by this customer
)
I bought this shirt for my son to wear to Easter Egg Hunts and Family Easter Gatherings. It is a great quality product for the amount of money you pay. The design is festive and bright and sizing is pretty accurate. My son is almost 3 so I bought the youth xs (size 2-4) and it should fit him next year as well. He loves wearing it and I like that you can personalize it with your child's name to have as a keepsake item in the future.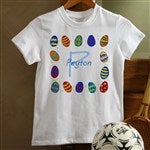 I learned something, another great asset to Personalization Mall
By
Shopper

(Windsor, CA) - March 19, 2013
I was very disappointed when I couldn't order this shirt for my grandson late one Sunday before my coupon ran out. The item I wanted was backordered and so they wouldn't let me order, even if I didn't care that it was backordered. The telephone number was no longer open and so I emailed. Monday I called customer sservice, and got a great lady who explained why you can't order backordered items and also said she would track it for me and let me know when it was available and at the time she would make sure I had a coupon. An email also arrived saying about the same thing. Sure enough, an email arrived along with a coupon when the item was in stock. As usually the item is great, the grandson loves it, arrived in plenty of time, and all is well this Easter. Thanks Personalization Mall - your staff is really great.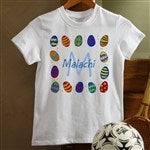 "A FIVE STAR EASTER T-SHIRT"
By
Gloria W.

(Sylmar, CA) - March 11, 2013 (
See all reviews by this customer
)
THESE T-SHIRTS WILL BE A DELIGHTFUL SURPRISE FOR THREE LITTLE GIRLS ON EASTER! THEY ARE SO WELL MADE AND I COULDN'T BE MORE PLEASED! THEY ARRIVED QUICKLY AND I WILL CONTINUE TO DO MY PERSONALIZED SHOPPING AT "PERSONALZATION MALL.COM!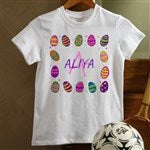 Fun Easter Shirts!
By
Shopper

(Taunton, MA) - April 30, 2012
My girls loved their Easter shirts. I have purchased them for 5 years now from PersonalizationMall.com and have been very happy with the quality of the shirts every time!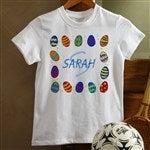 Easter Shirts
By
Cecilia R.

(Massapequa Park, NY) - April 13, 2012 (
See all reviews by this customer
)
I purchased three of these shirts for my grandchildren. One was for a two year old, a six and seven year old. They live in another state and I was not going to see them for Easter. I did not want to send candy so I sent personalized T shirts. They loved them. My son sent me a picture of the three of them in the shirts. It was terrific.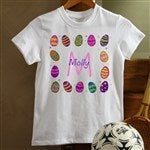 Great quality!
By
Shopper

(Bridgewater, MA) - April 13, 2012
As everything that I have ordered from Personalizationmall.com, the quality of the tee shirt was amazing. The size I ordered, 2-4, ran very large, definitely towards the 4. But, my grandchildren will be able to use this shirt for several Easters to come.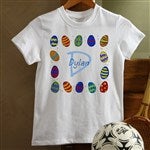 Great T-Shirt!
By
Shopper

(Cordova, TN) - April 9, 2012
This was a great shirt for my 5-year old son. It was nice to find a shirt w/o such girly Easter colors. He enjoyed wearing it, and we got lots of compliments.

awesome..................
By
kathy B.

(cape coral, FL) - April 9, 2012 (
See all reviews by this customer
)
These shirts were the best gift I could give my Grandkids. they wanted to wear them everyday....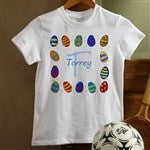 Cute Easter T-Romper
By
Shopper

(Omaha, NE) - April 1, 2012
I ordered two of these for my grandchildren. They arrived promptly and were exactly as pictured. They look absolutely adorable on my little ones.

Kids Easter Shirts
By
Shopper

(Bath, MI) - April 1, 2012
The t-shirt is a nice quality, true to size, and the monograming and picture of the eggs....are well done.

Just right!
By
Kathleen R.

(Kenner, LA) - March 24, 2012 (
See all reviews by this customer
)
I'm very pleased with the quality of the t shirts & the design. My 4 yr old grandson loved it!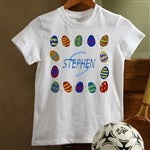 Precious Tee
By
Lynn J.

(Sterling City, TX) - March 23, 2012 (
See all reviews by this customer
)
I love this tee!!! It's sooo cute!! Can't wait to see it on my granddaughter!!

Sizing issue
By
Shopper

(Jonesborough, TN) - April 5, 2014
This is so cute and well made but my Grandson is 2 and the only size choice was 2-4. So it's too big for him. Wish they had 2T, 3T, etc.

Very cute, but pay attention to sizing!
By
Shopper

(Conroe, TX) - April 11, 2012
These shirts were very cute. I ordered them for all of my grandchildren for our Easter egg hunt. However, I do have to caution you that the 24-month t-shirt looked like a 12-month instead. I had to reorder and replace with a size 2-4 (next available size). The kids loved that the shirts had their names on them!

Easter Eggs Youth T-shirt
By
Diane A.

(Avenel, NJ) - April 5, 2014 (
See all reviews by this customer
)
I was a little disappointed in this shirt. The large I in the middle of the shirt should have been an upper case I with the tabs on the top and bottom as the I on the shirt looks like it was a mistake.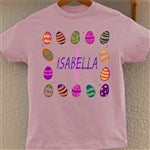 Cute graphic
By
Shopper

(Manakin Sabot, VA) - March 8, 2014
Colors were not as vivid as pictured and the fabric was not as white as pictured.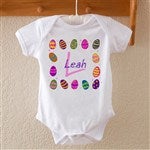 Baby body suit
By
Shopper

(McLean, VA) - March 24, 2013
Colors were not as bright as the picture.