decorating
By
Shopper

(New Castle, PA) - August 10, 2013
Good quality. Sturdy and large enough to place several small gifts. Can't wait to use them.

this stocking is a standout!
By
Barbara T.

(Manalapan, NJ) - July 28, 2013 (
See all reviews by this customer
)
When you look at all the different Christmas stockings, this one stands right out. The colors are absolutely beautiful. Workmanship is supurb; a real WINNER!!!

Wonderful stockings at affordable price
By
Shopper

(Buena Park, CA) - December 31, 2012
These stockings are beautiful and perfect to complete the holiday decor. Got them on time and received many many compliments.

Very Satisfied
By
Marisol S.

(Bronx, NY) - December 30, 2012 (
See all reviews by this customer
)
I stumbled into this website while I was looking for stockings for my grandchildren. I ordered two and when they arrived I was impressed with the quality and the embroidered names was a big hit especially with my grandson. As soon as he walked in the door and saw the stocking with his name on it he was amazed, he asked me if I made it. The stockings were so strong that I managed to stuff in a lot of things inside of it. Thank you for making my grandchildren's Christmas a very special one. Keep up the great job. I recommended your site to family members.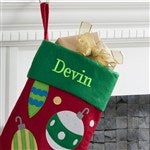 christmas stocking
By
Janet Z.

(Masury, OH) - December 29, 2012 (
See all reviews by this customer
)
I ordered one for each of my sons. The quality is great and the embroidered personalization is professionally done. I am very pleased with these stockings.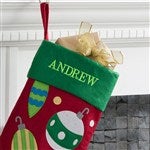 They're grrrrrrrreat
By
Tyler H.

(Columbiana , AL) - December 29, 2012 (
See all reviews by this customer
)
They were a big hit at our house as I got them for my girlfriend an myself and she was overjoyed. The monogramming turned out great and it was not too big or small of a stocking!! Great buy!! Also got the one with the Christmas lights on it and it was just as good!

Very good quality.
By
Brenda H.

(Columbus, OH) - December 25, 2012 (
See all reviews by this customer
)
I was very pleased with all (3) stockings, They are made very well. The highest quality.

Grandson's Christmas stocking
By
Shopper

(Vancouver, WA) - December 25, 2012
My grandson is only 1 yr this December.....so I don't know how much he'll appreciate the stocking at this moment. His father certainly liked it.
I am completely satisfied w/my purchase.....the stocking is pretty heavy duty felt & I'm sure it will last. The name, the stocking....are both thumbs up!
Thank you for providing such a great Christmas gift for me little buddy!
LMH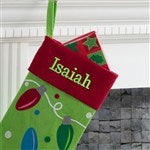 Surpassed my expectations!
By
Shopper

(New Orleans, LA) - December 20, 2012
These stockings exceeded my expectations! I ordered 6 with rush delivery and received them promptly. They will be a special addition to our Christmas traditions.

Cute Stocking!!
By
Shopper

(Clarksdale, MS) - November 19, 2012
I ordered all new stockings this year from personalizationmall.com and each one was awesome!! The are well made, colorful and the personalization is perfect!!

Great
By
April G.

(Deer Park , TX) - November 18, 2012 (
See all reviews by this customer
)
I love it! It's actually larger than I expected!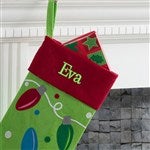 Super Cute - Good for what I needed
By
Darlene G.

(Malverne, NY) - April 1, 2013 (
See all reviews by this customer
)
If you are looking for a super quality stocking for your own immediate family I probably wouldnt suggest this one but it is really CUTE and since I bought it to have at my house for my father-in-law its perfect as an extra stocking. But its more like a felt type stocling so not quality material but totally fine.

Waiting for Santa
By
Marilyn R.

(Clyde Hill, WA) - December 8, 2012 (
See all reviews by this customer
)
I purchased this personalized stocking as a gift. It is larger than I expected & looks just like the photo. The personalization is done in green on the red trim so it really stands out. Very nice; highly recommended.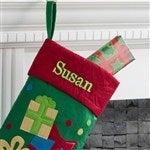 Larger Than Expected
By
Angela S.

(Saint George, UT) - December 7, 2012 (
See all reviews by this customer
)
Got this for my 4 year old son, who picked it out himself after looking at all the pictures of stockings on this site. This is a pretty good stocking. It's not amazing quality, but it's what you would expect for the price. The name came out looking exactly like in the preview. It is MUCH larger than I thought. I knew that it said it would be 18", but since stockings hang at kind of an angle I figured it was about 18" when hanging, but it's more like 20" hanging up. Hanging next to my daughter's little pink stocking (that I also got from Personalization Mall) makes it look even bigger.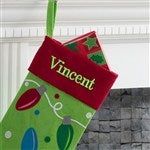 Embroidered Stocking
By
Shopper

(Archer, FL) - November 29, 2012
The embroidery is lovely, but I was disappointed in the quality of the stocking in relationship to the price. I was surprised that the stocking was made out of felt instead of a stronger more lasting material. For the price tag the stocking was disappointing, but otherwise it is lovely and true to what is shown in the picture. The appliqués are all sewn on, and not glued, which is a plus. If I could have posted 3 1/2 stars, that is what I would have posted, only because it is made of felt vs/price.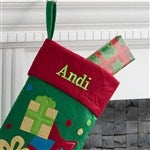 Kind of Disappointed
By
Gregg E.

(West Fargo, ND) - December 31, 2012 (
See all reviews by this customer
)
the description of the stocking as being made of "plush felt" is misleading. It is rough and stiff and by no stretch of the imagination "plush". For what they cost I expected much more.

Cute but a little worried
By
Shopper

(Orange Beach, AL) - December 15, 2012
This stocking seems to be well made however I am not sure about the fabric. It is a cute stocking I ordered for my grandson and was reasonably priced. I just hope after I fill it a couple of times it does not get a hole in it as it appears to be a thick felt like fabric.