Great Item
By
Claritta S.

(Little Rock, AR) - March 17, 2014 (
See all reviews by this customer
)
We purchased this as a gift for our moderator for our book club 12th anniversary. Loved that mutli-personalized lines available I used to showcase things we have done over the years. Great item the outside cover is thick and the etchings are beautiful.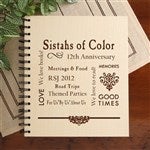 Beautiful Quality but spiral needs to be larger
By
Carolyn G.

(Chandler, AZ) - October 7, 2013 (
See all reviews by this customer
)
We ordered this book for my dad's 75th birthday and put all our favorite family memories on the front and photos of them inside. The ease of ordering and etching quality was great. My only complaint is that once the photos are all in place (72) the book does not close properly (flat). If the spiral was a larger size it would. I'd love to see this changed since I think this would be an ideal gift for many occasions.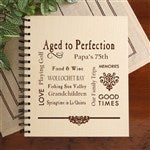 Exceeded my expectations
By
Shopper

(Lehigh Acres, FL) - September 18, 2012
This album is lovely. it's a higher quality than what I thought it would be. I can't wait to give my friend this birthday gift.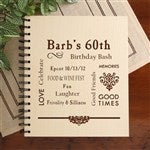 This is a beautiful album
By
Shopper

(Montgomery Village, MD) - August 15, 2012
It is wonderful to have so many personal things listed right on the front - the perfect way to remember your most cherished times. The wood is very nice - such a great buy for something so nice! I especially like the variation in the fonts; this album has so much character. I ordered my album on Sunday night and by Wednesday evening it was on my doorstep. Thanks you so much; I will keep all of my Christmas memories with my mother in here, and I know I will treasure it always.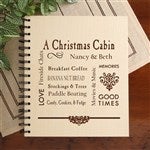 I love giving personal gifts
By
Connie M.

(Oklahoma City, OK) - April 8, 2012 (
See all reviews by this customer
)
I am known for always giving personal gifts. This site has made it a lot easier for me. I ordered this photo album and love it. My family is so proud of it. It really makes a statement. Everyone I have bought gifts for from this site has been so pleased.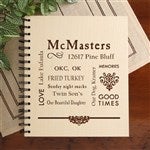 Photo Album
By
Margie I.

(Matthews, NC) - November 14, 2012 (
See all reviews by this customer
)
The personalized photo album I ordered was perfect. It was so beautiful, the cover was made of wood and the personalization was spelled correct and everything was beyond what I would have dreamed.

Guys can love this too!
By
Wendi C.

(Katy, TX) - April 12, 2012 (
See all reviews by this customer
)
Believe it or not, this photo album is for a very masculine guy. We had gotten one for his mother for Christmas and he mentioned that he would love one to put his hunting and fishing photos in. I found the "Our Family" photo album and changed all of the sayings to make them more masculine and fitting for what he wanted to put in it...including some of his own quotes, which are funny...This will probably turn out to be the best gift he's ever gotten. I can't wait to give it to him for his birthday next month! Thank you for doing such a great job!!! It really turned out great!

The family loved this gift!
By
Shopper

(Scotts Mills, OR) - April 16, 2012
you have come through again! I am so glad I found your website - your product is quality and your service stellar! Thanks!!

Awesome
By
Shopper

(Oak Park, MI) - December 12, 2012
I gathered my pictures first so I could annotate the major topics on the front of the album. The name and address are a bonus. You really should purchase this album AFTER you organize your pictures. Delivery is so quick that it's not an inconvenience to work this way.

Amazing. Gift
By
Shopper

(EL Paso, TX) - September 1, 2013
From the start the website was easy to maneuver. The products were beautifully displayed.... the pictures did compare to how the merchandise look in person. The colo, the texture, the size were on point. Will be recommend this to others startling first with my family and closest friends.

Personalized Photo Album
By
Sherry G.

(Salinas, CA) - November 26, 2013 (
See all reviews by this customer
)
The quality of this photo album is superb! The engraving is very high quality as is the thickness of the wood. This is the fourth wood album I have purchased and the flexibility of this particular album is awesome. It can be used for any event. I purchased it for a combo birthday/girls getaway weekend and I was able to add the information needed to memorialize our event. Everyone who looked at it thought it was great. I highly recommend it to anyone!! Thank you very much for creating a high quality product at a reasonable price.

Amazing Quality
By
Shopper

(Arlington, TX) - July 26, 2014
I only ordered one book at first just to make sure the quality was worthy of future gift purchases. When the book/ album arrived, I was definitely pleased with it and cannot wait to start ordering for Christmas, Birthdays, Anniversaries, Graduations....etc So many possibilities!!!
.

Recipients Happy = Gift Giver Very Happy!
By
Shopper

(Kansas City, MO) - June 3, 2013
I was thrilled to find a personal gift that allowed me enough space for numerous words to complete a message of THANK YOU for gracious hospitality extended to me and my family. My wonderful friends called me immediately after receiving the personalized photo album to thank me for the unique gift.
I would highly recommend this item because of the quality and the space that allows for a creative cover.

Best office gift EVER!!
By
Teresa C.

(Greenfield, OH) - January 2, 2013 (
See all reviews by this customer
)
Faced with the difficult task of finding a Christmas gift for the ladies I supervise, yet told by my supervisor that we could not get them the gift cards they prefer, I was momentarily stumped. Then I seized on the thought that it should be something "personal", leading to "something personalized"; after hours of online searching I decided that Personalization Mall was the best site. This photo album was the PERFECT choice for two of them! They were impressed with the look, thrilled to see the names of their family members (esp the one with 10 names, some with unusual spelling!), and happy with these photo albums displaying the love and pride they feel for their families.

Beautiful item!
By
Meghan Q.

(New Brighton, MN) - March 11, 2013 (
See all reviews by this customer
)
This item was created for an exchange student from Germany. I wanted to give her something she could put some photos in with the memories of her year in the states and in the show choir group, Divaz. All of our song titles fit on the cover and the work is just beautiful. I cannot WAIT to give this to her!

Wonderful!
By
Aaron S.

(Middletown, DE) - April 26, 2013 (
See all reviews by this customer
)
Product came exactly as ordered, and the wife was thrilled! This was an excellent anniversary gift. I will continue to use Personalization mall in the future. Thanks!!!!!