beautiful
By
Michelle A.

(East Northport, NY) - February 12, 2013 (
See all reviews by this customer
)
I ordered the photo album kinda skeptical on how it was going to come out... I thought maybe the letters would come out a little uneven... but they didnt... it came out absoultely BEAUTIFUL!!!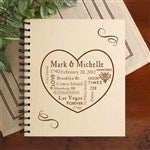 Wedding photo book
By
Shopper

(CYPRESS, CA) - January 22, 2013
Loved all the subjects that we could use in creating this album cover for our wedding photos...it was great listing the events and places to make it more personlized.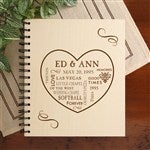 Love this album!
By
Terri D.

(Carmichaels, PA) - January 20, 2013 (
See all reviews by this customer
)
I bought this album for my niece's wedding. I can't wait to give it to her. It is beautiful. Much nicer than I thought it would be! What a great price too!!!!

Uniquely personal
By
Shopper

(Castle Rock, CO) - January 14, 2013
The ability to personalize this gift was the sole reason for its pruchase.
Providing flexibility in structure made this a one of a kind gift that is not likely to be duplicated.

perfect
By
Taylor G.

(Atlanta, GA) - January 2, 2013 (
See all reviews by this customer
)
Absolutely perfect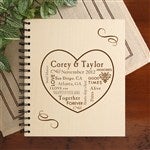 Very nice album
By
Shopper

(VANDERGRIFT, PA) - December 23, 2012
Looks even better in person than it did online. Great quality, would buy again!

Perfect 1st Anniversary Gift
By
Joanne F.

(Plainview, NY) - October 27, 2012 (
See all reviews by this customer
)
I could not have found a more personal gift to give my nephew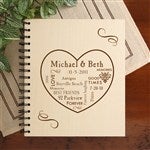 Perfect anniversary gift
By
Shopper

(Burdett, NY) - October 25, 2012
This album made the perfect gift for my husband for our 5th anniversary (wood anniversary). My husband is not the hopeless romantic type and even he really liked it! Thank you so much!!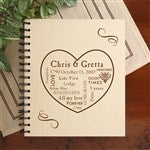 50th wedding annivarsary gift.
By
Tammy D.

(Logan, OH) - October 23, 2012 (
See all reviews by this customer
)
I ordered this for friends that will be celebrating 50 years of marriage. I wanted something special and this caught my eye. I liked that I could put special wording on it that fit their life together. Their reception isn't for a few more weeks, but I can't wait for them to see it. I'm sure they will like it as much as I did. It was made of great quality and the price was great also. I am very pleased with the item.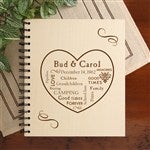 Photo Album
By
Shopper

(Carnegie , PA) - September 25, 2012
I ordered this item as an engagement gift for my daughter and her future husband. It was perfect. It exceeded my expectations. I am going to order more of these for other family members as anniversary gifts. My daughter and her future husband loved it. They already have it sitting out on their coffee table and can not wait to start filling it. I would definatly recommend this product. Thank you.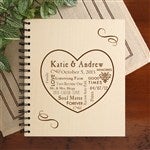 Loved it * Loved it * Loved it * Loved it
By
Grisel S.

(Aguadilla, PR) - September 19, 2012 (
See all reviews by this customer
)
Beautiful... absolutely gorgeous, one of the best thing I bought in Personalization mall....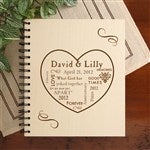 wedding gift
By
Shopper

(Canton, OH) - September 6, 2012
This gift was perfect to take to an out-of-town wedding, thin, easy to fit in luggage and with the couple not living in the town they grew up in,,,there were lots of special sights, places that could be entered.

Anniversary album...
By
M &.

(Downers Grove, IL) - August 2, 2012 (
See all reviews by this customer
)
Wonderful keepsake album. Covers are high quality-back and front. One suggestion is to put a blank page at the front for an inscription since these would almost always be given as a gift. It is a unique, personal gift that drew "oohs" when opened. Not sure how this was possible but I received this item within 3 days after ordering--without any expedited delivery. Great transaction.

Wedding Gifts
By
Sheri S.

(Gordon, NE) - August 1, 2012 (
See all reviews by this customer
)
I have been extremely pleased with each item I have ordered from your website. I love your website and always find the perfect gift. The items are always shipped out quickly and I enjoy doing business with you.

Renew Your Love!
By
connie V.

(pateros, WA) - July 10, 2012 (
See all reviews by this customer
)
This Photo Album is like renewing your Vows, but much cheaper. FYI the engraved cover was so much more professional than the preview picture looks. Every year on our anniversary, I put out our wedding album. Now, I will put out our personalized photo album also; it keeps our love alive.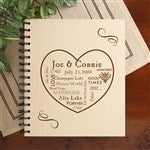 Amazing
By
Shopper

(Palatine, IL) - July 7, 2012
The poto album was more then I expected the thickness of the front and back was unbelievable for the price. The couple loved it.

Many Lines to Personalize, actually engraved in the wood
By
Shopper

(Portland, OR) - June 26, 2012
I loved how I personalized 10 lines of text, not just the name and date like many of the other items offered. The engraving was actually carved into the wood, making it look and feel beautiful. It came with 18 sheets of plastic-covered photo sheets that can hold 72 4"x6" photos(Four Pictures per sheet)! The rings are plastic and may bend if not taken care of properly, but overall, I highly recommend this photo album!

Happy Couple Loved it
By
Misti H.

(Denver, CO) - June 18, 2012 (
See all reviews by this customer
)
I was so pleased that the Happy Couple loved the Our Life Together photo album!! They had a destination wedding and couldnt wait to put their photo's in the album.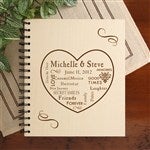 Excellent!
By
Debra B.

(French Lick, IN) - April 28, 2012 (
See all reviews by this customer
)
This album looks exactly like it does in the picture. No suprises. Great quality, fast service and this makes a wonderful gift

Personalized photo album
By
Jocelynn R.

(National City, CA) - March 15, 2012 (
See all reviews by this customer
)
This Album is so pretty and the cover is amazing. I was very satisfied with it and my boyfriend was really surprised. He thought it was great and all our pictures are in it. I recommend it.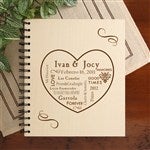 wonderful gift
By
Shopper

(Howell, , NJ) - March 9, 2012
I was very pleased with quality it exceeded my expectations.
What a wonderful gift for memories.

Exactly what I wanted!
By
Shopper

(PROSPECT PARK , PA) - February 27, 2012
Very satisfied with the item. Fast shipping.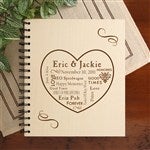 Great Anniversary Gift
By
Kathleen L.

(Flagstaff, AZ) - February 21, 2012 (
See all reviews by this customer
)
My friends were so pleasantly surprized with this album. I recommened this as a gift for any one with Anniversary.

Great purchase
By
Elizabeth N.

(Bristow, VA) - February 17, 2012 (
See all reviews by this customer
)
My husband loved the album!

Perfect!!!
By
Shopper

(Grants Pass, OR) - February 9, 2012
I LOVE this photo album. I was looking for a personal Valentine's Day present and this album was perfect!!! I love that the pictures are secure in the album, and I will actually be buying one for myself soon!!!

Product Quality
By
Shopper

(Hayward, CA) - February 7, 2012
My fiance and I decided on this product for our friends wedding. When we received it we thought it to be of great quality and a piece of artwork they'd cherish. I'd recommend this product to other prospective buyers.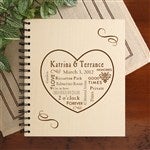 Great Gift
By
Shopper

(Cary, NC) - March 21, 2014
I have bought several of these wooden photo albums for birthdays, baby showers, and wedding engagements. The printing is well done, and the album itself is of good quality.

bridal shower gift
By
Shopper

(Bellingham , MA) - September 1, 2013
It was very easy to add, move delete phrases from the cover to see the different combinations. The quality was very nice. Better than expected. And at the shower i was told i have the best gift by far and it was very very thoughtful.

Love the Photo album
By
April S.

(Combine, TX) - October 17, 2012 (
See all reviews by this customer
)
Album looks great and I am very pleased with it. I think I only wish everything on the front could be our words instead of the few ones they chose to fill in the blank spots. I really like it tho and will probably purchase another one as a gift.

looks better in person
By
Shopper

(Gulf Shores, AL) - October 13, 2012
Its nice, buy it. Seems smaller than illustrated online but so cute though

AWESOME!!!!!!!!
By
Shopper

(Wall, NJ) - June 15, 2012
This photo album is above and beyond what I expected! For the price I wasn't sure about the quality of the item but after reading other reviews I decided to take a chance. I LOVE IT!! It arrived in just a few days. The only reason I didn't give it 5 stars is because the lettering is stamped on as opposed to being pressed into the wood cover. I suppose that's a personal choice that I thought would have made the final product have a "Wow Factor". I did add the couple's last name at the top and am very happy that I did - again a personal choice. I'm thrilled with this purchase and I can't wait to suprize my daughter and new son in law with this gift when they visit next week. Don't hesitate to order this album - you'll be so happy you did!!