Perfection
By
Shopper

(Lake Jackson, TX) - May 7, 2014
I ordered this for my step mom so she had something sweet to wake up to when she got out of surgery. It turned out so perfectly! Everything about it is perfect! The names and everything comes out just like in the preview. It's great!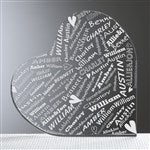 Commemoration of Love
By
Kathleen K.

(Winthrop, MA) - May 3, 2014 (
See all reviews by this customer
)
I ordered this item because I wanted to show my love to my cousin who is a woman, mother, and grandmother. She now has all females in her immediate family
since her divorce. I wanted to make it apparent to her, as well as others the love that surrounds her, ever present in her, her daughters and grand-daughter.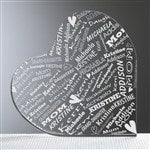 Heart plaque
By
Yvonne M.

(Rochester, NY) - April 30, 2014 (
See all reviews by this customer
)
I love it it's beautiful I think my Mom will love it!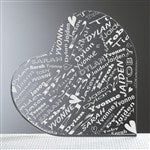 Beautiful
By
Chelsea G.

(New Hyde Park, NY) - April 8, 2014 (
See all reviews by this customer
)
I just received this item in the mail, I made it for my mother for Mother's Day as a cute gift. It is everything I was looking for. The heart itself is neither too large or too small it fits in well with other decorations. I also like how the personalization came out (I used four names).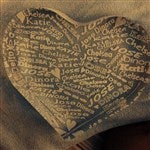 The Perfect Gift <3
By
German A.

(Los Angeles, CA) - February 20, 2014 (
See all reviews by this customer
)
I'm not one to leave reviews on what I purchase.. But this was a very well made gift.. Wasn't expecting so much detail.. My girlfriend loved it! Tears and all.. Thanks a lot for the quality and delivery speed.. God bless..

Love you CYNTHIA <3 Inglewood CA <3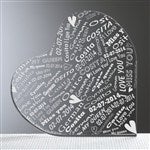 Great Gift For Grandma
By
Shopper

(Cowiche, WA) - February 10, 2014
Bought it for my grandma she loved it.its bigger then what I thought it would be and she could see the names perfectly.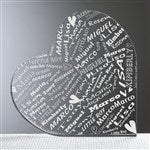 Perfection! !
By
Jennifer V.

(Houston, TX) - January 12, 2014 (
See all reviews by this customer
)
Mom loved it! !!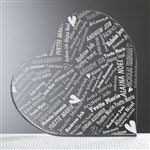 beautiful
By
Mabel D.

(Rocky Point, NC) - December 30, 2013 (
See all reviews by this customer
)
was leary but when I saw it, it was beautiful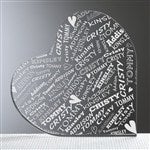 LOVE THIS
By
destini S.

(chatt, TN) - December 21, 2013 (
See all reviews by this customer
)
I WOULD GIVE THIS 10 STARS IF I COULD CAN'T WAIT TO GIVE IT TO MY MOM FOR CHRISTMAS SOME REVIEWS SAID IF WAS SMALL BUT THE SIZE IS GREAT JUST OVERALL VERY HAPPY ABOUT THIS AND NOW I WANT ONE AND I DID THE NAMES LIKE YOU WOULD FIRST AND LAST AND GOT ALL 13 GRANBABIES ON IT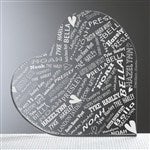 so & so
By
Shopper

(Morris, IL) - December 19, 2013
I thought the etching would be on the front but it's on the back. It looked shinier and pretty in the picture. Not sure if my sister-to-be-in-law and sister like the hearts yet but we'll soon find out. The title says its a personalized keepsake but it's just a bona fid paper weight. So am a bit disappointed.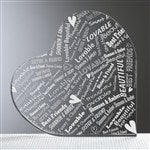 Lovely
By
Robbie W.

(Fairbanks, AK) - October 21, 2013 (
See all reviews by this customer
)
I've ordered three for my sons and their families as Christmas gifts and I have no doubt that they are going to love them! One included their four legged family. If you are looking for that special gift for someone you love.... This is it!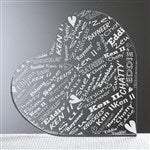 Beautiful
By
RACI B.

(Tualatin, OR) - September 7, 2013 (
See all reviews by this customer
)
When I saw this I just knew it would be the perfect present for my parents with mine and my brother's name along with my 2 son's names. I got it to give for X-mas. Can't wait!!! I even got one for myself with my son's names, it is soooooo beautiful.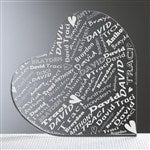 tell material it is made of please
By
George P.

(Tesuque, NM) - May 20, 2013 (
See all reviews by this customer
)
thought it would be ade of glass not plastic my wife loved it just would have liked glass memorabelia.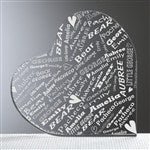 What a Heart!
By
Shopper

(Elizabeth, NJ) - April 30, 2013
I purchased this heart as a Mother's Day gift to a friend of mine and her family out-of-state. I had it delivered to me and will forward it soon. It is truly a work of art. There was enough room to wish a Happy Mother's Day, along with the date and husband's name as well as each of the children's names and even my own!
There is nothing like this! One of a kind for sure.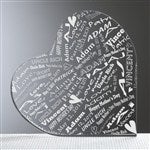 Great Gift!
By
Emily W.

(Simsbury, CT) - April 12, 2013 (
See all reviews by this customer
)
Gave this to my in-laws as a thank you gift. We have eight of us in our growing family, so this worked out perfectly! The price was right and they loved it. I've ordered from this site several times now and have already been pleased with the results.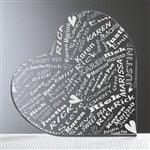 Beautiful
By
melissa G.

(lake city, FL) - April 9, 2013 (
See all reviews by this customer
)
I ordered this for my grandma in New Jersey for Mothers Day. I was very pleased with the quality of this product. It Is great that It allows up to 8 names and it is very beautiful and I'm even thinking of ordering one for myself. Definately will recommend this to anyone that wants to have a beautiful piece of work that a loved one will love. It is perfect for a dresser or even a desk. Your loved one is sure to love it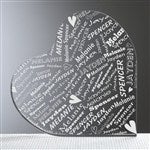 Best present ever!
By
ellen L.

(roslyn hts, NY) - March 4, 2013 (
See all reviews by this customer
)
my 82 year young mother is the most diffucult person to buy a gift for. I had this heart made up with all of her children and grandchildrens names on them and she actually LOVED it. she says it only takes up 5" of space! if you have more then 8 names you can combine them leaving spaces in between; for example
mom dad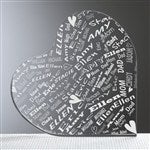 Great Birthday gift
By
Thomas S.

(Valrico, FL) - January 11, 2013 (
See all reviews by this customer
)
I ordered this for my wife for her birthday and she was thrilled.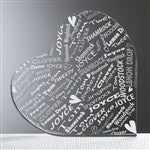 Extremely satisfied
By
Tamara K.

(Newport, MN) - December 18, 2012 (
See all reviews by this customer
)
I ordered this heart and received it within 5 days. It is beautiful and I cannot wait for my mother to open it on Christmas. It has "Nana loves" and the names of her three grandchildren. I hope she loves it as much as I do!!!!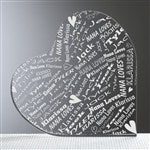 features
By
deanna S.

(Muskegon, MI) - December 15, 2012 (
See all reviews by this customer
)
I t is an awesome gift to give person I got it for loved it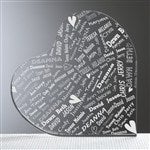 wonderful gift!
By
Wendy H.

(North, VA) - December 12, 2012 (
See all reviews by this customer
)
I ordered this for my friend for Christmas and had her grandchildrens names put on it...the item arrived quickly. The quality is great and was far prettier in person then the picture. She absolutely loved it...this is very recommended!!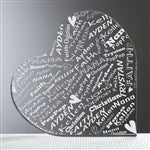 Just heart warming
By
Shopper

(Crete, IL) - December 11, 2012
I bought this item for my mother and father in law as a Christmas gift. I included the names of their two sons and four grandchildren. The craftsmanship is great.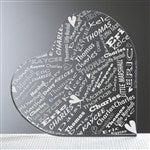 Great gift for gma
By
Shopper

(Mill Creek, WA) - December 2, 2012
I actually ordered 2 . And put all of the grandkids names on them. They both turned out really cute, and I expect both will be huge hits for Christmas presents. I enjoyed that they could be personalized and that they were a great deal for the price.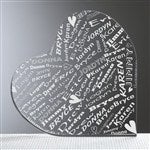 For the person who is tough to buy for...
By
Shopper

(Peru, NE) - November 29, 2012
My sister-in-law is not always the easiest to shop for and after we both lost her brother last year this will be a perfect gift. Very pleased with the way it turned out.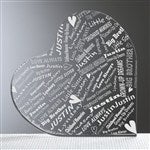 Wow!
By
Shopper

(Tucson, AZ) - November 19, 2012
Absolutely GORGEOUS! I was blown away, I wasn't expecting it to be as good as it was. It's so clear and sharp. Just amazing. Would highly recommend.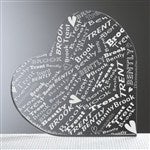 loved it!!!
By
Shopper

(Michigan Center, MI) - September 18, 2012
Got this for my sister for her birthday from my daughter and she loved it! Its a great personalized gift Idea for anyone!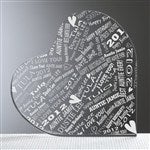 Grandparents day 2012
By
Jordan K.

(Saint Charles , MO) - September 10, 2012 (
See all reviews by this customer
)
We got this for both of the grandparents and they loved them so much. They are already up on the mantel so they can show them off.
GREAT IDEA for any occasion!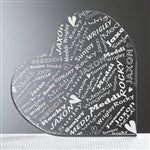 Mother's love on display
By
Shopper

(Alexandria, IN) - May 17, 2012
My mother loved this. I bought it for her for mother's day and had all three of us kids' names put on it and she showed it off to everyone. Said it was one of her favorite gifts. Its not too big or too little its just a good size. Its very cute. I'd recommend it.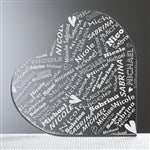 More beautiful in person
By
Jessica K.

(Mequon, WI) - May 15, 2012 (
See all reviews by this customer
)
I bought this gift for my grandmother for mother's day. The picture does not do it justice. It is absolutely beautiful, she even almost cried. It's about an inch thick, the writing is smaller than I thought it would be, which was actually a nice surprise because there were more names on it. I definitely give it 5 stars.. great keepsake!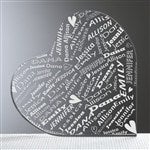 personalization
By
GLORIA M.

(MEMPHIS, TN) - May 10, 2012 (
See all reviews by this customer
)
I love the personalization, but the heart is just to small.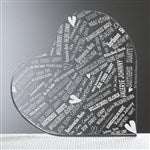 A gift for my Au.D.
By
Sandy M.

(Blanchard, OK) - May 9, 2012 (
See all reviews by this customer
)
This is beautiful and so well done. The service was great. This was made and shipped out in two days. Very fast service and very nice and beautiful glass heart.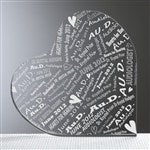 Heart of Love
By
Nancy H.

(Bradenton, FL) - May 6, 2012 (
See all reviews by this customer
)
Heart of Love is the perfect name for this item. I bought one with just my new puppy's name all over it and it sits in my bedroom and I bought one with all my grandkids names all over it and I have it sitting with all of their pictures. I totally love this item. It accents not only my home, but my love for the people (and my puppy) whose names I have on them. I have already had many compliments on this and I would buy one as a Wedding gift, for an Anniversary gift, for my kids with their name, spouses name and name of their kids on it, for the birth of each child of a friend as a keepsake for their child for when they get grown, or even as a Memorial. There are so many combinations that can be done with this and still make it a very special, unique gift to anyone receiving it. I have fallen in love with Personalization Mall but especially this Heart of Love. It is beautiful, the quality is the best, and it is a perfect size. I would buy 10 more of these and will as the occaseion arrises for it. It is a beautiful idea for the perfect "stand out" gift.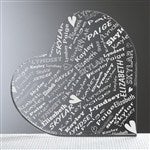 Excellent
By
Monse G.

(Aurora, IL) - May 5, 2012 (
See all reviews by this customer
)
This was a mothers day gift for my mom when it arrived i was soo excited and its beutiful now she has all of her daughters and husband and dog names to keep in her heart forever.

Her Loving Children
By
Linda R.

(Rockville, MD) - April 24, 2012 (
See all reviews by this customer
)
I gave this to a friend for her 90th birthday. It had the names of her children on it. She loves it. It came very quickly which I appreciated because I'd put of ordering it. The heart is just as seen in the photo. Perfect for someone with a flock of children as has my friend.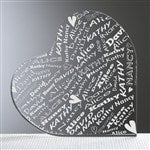 Heart
By
Brynn D.

(Lowell, IN) - March 17, 2012 (
See all reviews by this customer
)
Beautiful, but smaller then appeared.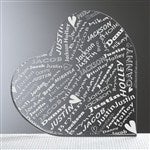 Heart of Love Personalized Keepsake
By
Shopper

(Van Buren , ME) - March 11, 2012
I was very pleased with this item in terms of appearance and size... it is beautiful and a wonderful piece to cherish. I would recommend this as a gift that is very special as it captures your loved one's names or whatever you choose to have engraved in it. This is one item that is very worth the purchase as it will bring forth a smile with its special meaning presented.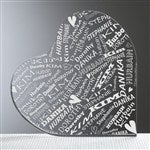 Quality Piece
By
Shopper

(PEARLAND, TX) - September 13, 2012
I ordered it one night and the next afternoon, I already received a shipping notice! How fast is that?! I only chose standard shipping so it wasn't a rush order or anything like that. When I received it, I was amazed. It looks so good and seems to be made of good quality also. I ordered this for my aunt for Christmas and put all her grandchildren's names on it. I'm pretty sure she is going to love it. It's not too big, not too small. Just a perfect size for displaying.

A Beautiful Keepsake
By
Shopper

(Australia) - October 5, 2012
I absolutely love this beautiful piece. With the names of all who are special to me, my young children were blown away to see their names in thiskeepsake. It also generates admiration and conversation from our extended family..Certainly something every family should have.

This is the first time I have shopped with PersonalizationMall and I was hesitant to trust the quality of online shopping such as this -But it wont be the last time. Customer Service, Packaging and Delivery was all 1st class!

great gift for grandma
By
Shopper

(Canada) - November 2, 2013
This item is perfect for the grandma who has everything! I had it include the names of her seven grandchildren. I had overlooked its actual size dimensions prior to ordering; I assumed based on the website picture that the item was a lot larger. Overall I was satisfied with the product but would have been alot happier if it were at least 3 times larger so it looks more like an ornament to be displayed and not so much like a small paperweight.

She loved it.
By
Shopper

(millbrook , NY) - March 18, 2012
I got this for my wife for our first anniversary and she loved it.